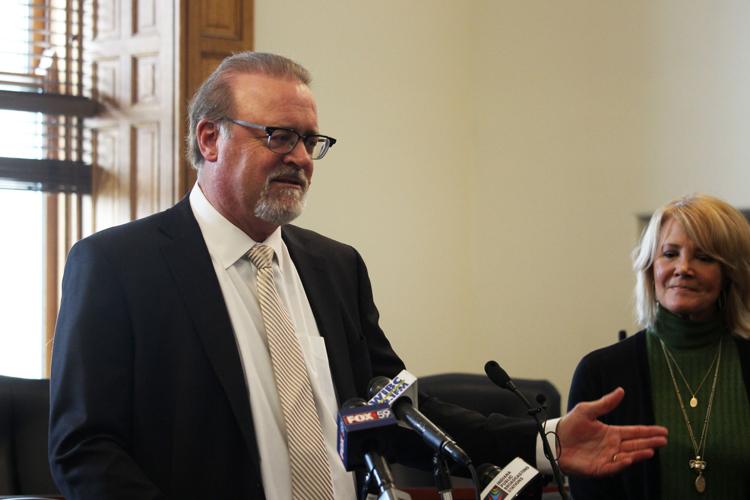 After 22 years in the Indiana Senate, the last dozen as its leader, David Long announced that he is retiring effective Nov. 6, Election Day.
The Fort Wayne Republican spent eight years as a councilman in his hometown before joining the state Senate in 1996. Ten years later he became president pro tempore when his predecessor in that role, state Sen. Robert Garton, R-Columbus, lost re-election.
Long, 62, made his announcement Tuesday as the 2018 legislative session reaches the halfway point. He pledged to continue in his leadership role until November.
"Until then I intend to continue on as the Senate president and leader and do whatever I can every day to help move our state forward," Long said. "I want everyone to know that I'm doing this for the right reasons because for me it's time and for no other reason."
Long said this decision was not spontaneous as he had considered not running in 2016. There were items he wanted to accomplish before leaving, he said, including building a stronger bench of future leaders, passing another balanced budget and helping enact a new transportation bill.
One of Long's proudest accomplishments as Senate president was tackling tax reform, both eliminating a number of taxes and lowering others, which he said created possibly the best tax climate in America.
"I do feel that I played a key role in helping to shape them and shepherd some of these major issues over the finish line," he said.
House Speaker Brian C. Bosma, R-Indianapolis, echoed Long's accomplishments and praised him for the critical role he's played in Indiana's transformation to a top-rated business, strong economy and record of honestly balanced budgets.
"David has helped drive Indiana's success story, and his leadership and experience will be sorely missed at the Statehouse. It's been an honor to serve alongside him and call him my friend," Bosma said in a statement.
Gov. Eric J. Holcomb called Long a steady hand at the Statehouse for more than two decades.
"He is a humble servant leader, and our state owes many great accomplishments to him—though he would never say so," Holcomb said in a statement "I will miss his cool head and the continuity he brought to the General Assembly. I wish him a long and happy retirement, but I know he'll remain a mentor, advisor and trusted friend to many—including me."
Long noted other senators who have also resigned, adding that it's time for the next generation of senators to step up. Luke Kenley, R-Noblesville, resigned last year and Brandt Hershman, R-Buck Creek, stepped down Jan. 1. Kenley was replaced by another Noblesville Republican, Victoria Spartz, and Hershman was succeeded by Brian Buchanan, R-Lebanon.
"The honest truth is that we're all replaceable, and the beat goes on," he said. "This next generation of senators both young and older, it's really their time to take the ranks."
Currently, Long is employed as general counsel for Pizza Hut for Fort Wayne, Inc. He intends on continuing his work as a practicing attorney while balancing time with his family.
Senate Democratic Leader Tim Lanane, D-Anderson, also took time to speak on Long's departure, praising him as a a fair leader in the Senate among other attributes.
"I wish nothing but the best for Sen. Long and his family when this new chapter begins in November," he said.
Long's replacement, who will serve the remaining two years of his term, will be selected by precinct Republican committee members.
Quinn Fitzgerald is a reporter for TheStatehouseFile.com, a news website powered by Franklin College journalism students.