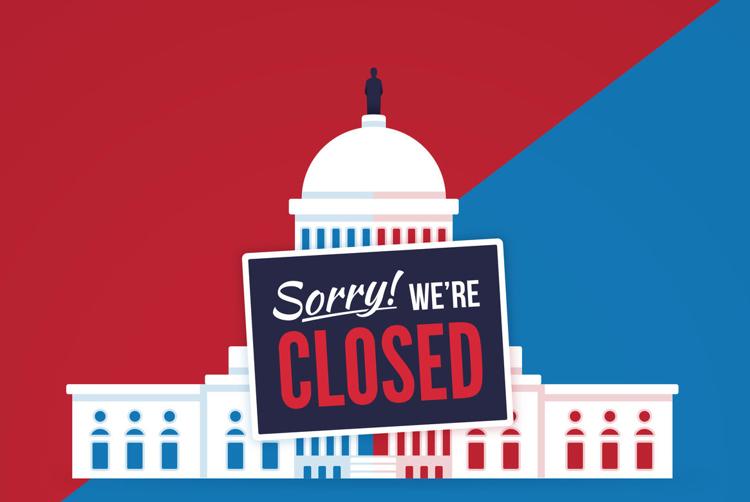 As the record-breaking partial federal government shutdown nears a month, there's little hope of a speedy resolution in sight.
On the congressional side, Democrats in the U.S. House of Representatives, including Rep. André Carson, D-Indiana, have been unsuccessfully attempting to re-open the government. 
"Every day that this needless shutdown continues, Hoosier families suffer, Hoosiers sent me to Washington to fight for them, and it is my job to ensure that their financial security does not fall victim to President Trump's government shutdown," Carson stated in a recent press release. "The debate over border security is important and should be a part of our consideration of comprehensive immigration reform. But we cannot allow the President to hold hostage countless programs that Americans rely on."
If you are a federal worker affected by the shutdown, several local resources can help you bridge the gap until you go back to work.
A great resource for any Hoosier family in need is Connect 211. You can visit the website or simply call 2-1-1 on your phone to be connected for help with housing, utilities, food clothing, health care, counseling, financial and legal assistance, and just about anything else you can think of. This is not exclusive to federal workers affected by the shutdown. Anyone in need can call the number or visit the site for help. 
In the meantime, several local businesses and organizations have created special offers and services for federal government employees affected by shutdown.
We will continue to update this article as new resources become available. If you have any additional information that would be helpful for furloughed workers seeking assistance, please contact News Editor Rob Burgess at rburgess@nuvo.net (317) 808-4614.
LEGAL ADVICE
On Tuesday, furloughed workers in the Indianapolis area will have the opportunity to speak directly with attorneys on landlord/tenant, bankruptcy, mortgage, debtors rights, and child support issues arising as a result of the shutdown at a special free legal advice program sponsored by the Indianapolis Bar Association from 11 a.m. to 3 p.m.
According to a press release from Mary Kay Price, director of marketing and communications, furloughed workers can either visit the Indianapolis Bar Association office, 135 N. Pennsylvania St. Suite 1500 in the BMO Plaza building, or call 317-269-2000 to speak with an attorney at no charge. The service is limited to furloughed federal workers.
BANKING AND FINANCIAL HELP
Fifth Third Bank
Policies are in place to help address shutdown-related hardship concerns related to loan or credit at Fifth Third Bank, including auto loans, credit cards, and loans secured by real estate. If you are experiencing shutdown-related hardship with a Fifth Third loan or credit card, now or in the future, please contact Fifth Third Bank at the following numbers
For personal loans and credit solutions, call 866-601-6391 from 8 a.m. to 5 p.m. Monday through Friday, and from 8 a.m. to noon Saturday.
For mortgage loans and lines of credit, call 866-601-6391 from 8 a.m. to 5 p.m. Monday through Friday.
For Business Banking support, call 877-534-2264 from 7 a.m. to 10 p.m. Monday through Friday, and 8:30 a.m. to 5 p.m. Saturday. Or, email bbgsupport@53.com.
Old National Bank
Federal workers affected by the shutdown can apply for a 90-day, no fee, no interest, loan. Visit a branch or call (800)731-2265 for more information. They are also offering assistance on loan payments and waiving fees.
Peter Dunn
Also known as Pete the Planner, Dunn is offering free financial services for furloughed Federal workers. Contact him by email askpete@petetheplanner.com.
HEATING AND COOLING
Love HVAC is offering free services for Federal workers having problems with their heating system during the shutdown. Call Chris at [317] 353-2141
FOOD BANKS
4202 Boulevard Place
(317) 924-3461
Clients may shop twice a month, self-selecting from staple foods, as well as meats, bread, fresh produce, and personal hygiene items. The pantry does not turn people away who come for food but live outside the boundaries.  Out of boundaries clients are served on a one-time only basis and provided with a list of pantries located within their residential quadrant of Marion County.
3333 N Meridian St.
(317) 924-7900
Serving Marion County residents. Proof of residence is required such as a state-issued identification, piece of mail with name and address, or lease agreement. Low to no income. No proof of income is required. One service per family per month.
6940 N Michigan Road
(317) 471-9064
In addition to a food pantry, CCFP can provide more information about additional food resources and other types of emergency relief assistance.
3737 Waldemere Ave.
(317) 925-0191
The Community Cupboard at Gleaners allows visitors to shop from the shelves. Need to show proof of Indiana residence. Eligible clients may shop once per week, as long as a Sunday separates visits. Gleaners also has a mobile food pantry program that visits surround counties outside of Marion. Click here for that schedule. 
111 S Downey Ave.
(317) 936-9639
The non-profit ICAN (Irvington Community Advocacy Network) organization serves primarily Irvington area clients with potential financial assistance for rent, utilities and/or other referrals through the Assistance Center and provides clothing through the Emerson Ave.Clothing Closet.  ICAN and the Affiliated Ministries, which encompasses the Food Pantry at Downey Ave. and Hope Counseling Ministries, are all supported by individuals and local Irvington churches.
MEALS
Indianapolis chef Neal Brown kicked off the local charitable offers after seeing Chef José Andrés lend a hand in other parts of the country. Brown is offering federal workers free meals at his restaurants Pizzology, Ukiyo, and Libertine. Brown has also set up a fundraiser to feed local families affected by the shutdown with 100 percent of the funds raised going to families.
Several other restaurants are following suit with special offers of free or discounted meals of their own including Punch Bowl and BurgerFuel. Shapiro's Deli is providing free meals to TSA employees working without pay at Indianapolis International Airport.
Books and Brews on the Southside has partnered with the University of Indianapolis and Quest Food Management to provide free lunchtime meals for furloughed federal workers and their immediate families Monday-Friday, 11:30-1 p.m. Call (317) 788-3530 if you have questions.
Wildwood Market offers a 25 percent discount for furloughed Federal workers and SNAP recipients.
THINGS TO DO
NOTE: To claim any of these offers, you will need to provide proof that you are a furloughed federal worker. Be prepared to show your current government ID and, in many cases, a recent pay stub verifying your employment. 
Indy Parks announced is offering furloughed federal employees free park admission and entry into drop in programs. This offer includes access Eagle Creek Park, the Garfield Park Conservatory, ice skating, weight rooms, open swim, and more. Visit indyparks.org, stop by your preferred park, or call the Indy Parks Customer Service Center at 317-327-PARK to explore options.
The Cat Theatre in Carmel is offering 2 free tickets and free popcorn to furloughed government employees for their production of Jerry Mayer's "2 Across," which runs Jan. 24 - Feb. 3. Visit thecattheatre.com for more info.
With valid government ID and a recent pay stub, furloughed Federal workers can also take advantage of offers at a variety of Indianapolis museums and events including:
Children's Museum: Free admission for worker and up to three immediate family members.
Indianapolis Zoo: Free admission and parking for Federal workers and immediate family through March 31.
Conner Prairie: Free admission for furloughed Federal workers and immediate family.
AT&T
Tammy Rader, AT&T media relations, Indiana, forwarded the following information Wednesday:
"AT&T customers affected by the federal government shutdown are eligible for flexible payment options to keep their service running. Our goal is to help ease the burden of trying to pay bills on time during the shutdown. As long as the shutdown is in effect, our customer service team will waive late fees, provide extensions, and coordinate with you on revised payment schedules.
"For our customers affected by the shutdown, you are eligible for flexible payment options to keep your service running. Just because the government shut down, doesn't mean that your phone, TV, and internet should stop working too," read a Jan. 9 statement.
Consumers who pay their bill on att.com can get started here and DIRECTV customers can go here for instructions on how to take advantage of these flexible payment options. Business and FirstNet customers should direct inquiries to their AT&T billing contact which can be located on the account statement.
EITELJORG
The Eiteljorg Museum of American Indians and Western Art is offering free admission to federal employees who have been affected by the federal government shutdown.
Federal government employees and their immediate family members can visit the Eiteljorg Museum at no charge by showing their federal employment ID at the museum admission desk. The Eiteljorg has taken this step in light of the financial hardship experienced by federal workers who have been furloughed and are receiving no pay or who are required to work without pay during the shutdown.
Free admission for those federal employees and families impacted by the shutdown will continue until the closure ends and the federal government is up and running again.
Visitors can see the final weeks of the Hollywood Westerns exhibition The Reel West, which concludes Feb. 3, and enjoy the new exhibition in the renovated Western galleries, Attitudes: The West in American Art.
The Eiteljorg is open regular museum hours: 10 a.m. to 5 p.m. Monday through Saturday, and noon to 5 p.m. Sunday.
Not a federal employee? To purchase tickets online or learn about Eiteljorg exhibitions and programs and other types of ticket discounts, please visit the museum website, www.eiteljorg.org.
CARSON HOSTS RESOURCE EVENT FRIDAY
On Friday, Rep. André Carson, D-Indianapolis, will partner with the City of Indianapolis to connect federal employees affected by the government shutdown to resources in Indianapolis. The event will feature community organizations offering assistance in a variety of areas to qualified federal employees who are impacted by the shutdown.
"I hope we can end this shutdown and reopen the government immediately, before this situation gets any worse for federal employees," stated Carson in a Wednesday press release. "Today, over 5,000 Hoosiers are struggling to pay their bills and put food on their tables. I will continue to fight to end this shutdown. But in the meantime, I feel it is imperative that impacted federal workers and their families have access to community resources that may help them during this difficult time.
"Over the last month, we have seen countless examples of Indianapolis residents, business owners, and non-profits stepping up in the midst of the federal government shut down," said Mayor Joe Hogsett. "That's what Indianapolis does—care for one another when neighbors need help. I applaud the work of Congressman Carson and the many City and community service providers who are coming together to help impacted employees navigate this difficult time."
The Community Resource Event for Furloughed Federal Employees and Contractors will last from 10 a.m. to 2 p.m. Friday at the Julia Carson Government Center, 300 E. Fall Creek Parkway N. Drive
INDYHUMANE FREE POP UP SHOP ON SATURDAY
IndyHumane, formerly The Humane Society of Indianapolis, will be providing a one day, free, emergency pop up shop from 10 a.m. Saturday at 456 North Holmes Ave. for furloughed employees affected by the current government shutdown.
By showing their federal government badge, furloughed workers can get free pet food for their animals, according to a Wendesday press release.
Only federal employees will be allowed in, and they must show their government identification card to participate. The pop up will be hosted by IndyHumane's Rescue Relief Program. Both dog and cat food will be available.
"Shutdowns affect more than a government employee's day-to-day routine," stated David Horth,
CEO of IndyHumane. "In many instances it impacts their ability to provide for their family. Pets are just as much a part of those families, and they need to be taken care of. We are happy to help keep those animals fed, safe and healthy."
Through the IndyHumane Rescue Relief Program, the organization rescues bags of pet food and supplies from local pet supply companies that would otherwise be trashed or discarded, and redistributes them to animal welfare organizations. In 2017, over 430,000 pounds of food and supplies were rescued and distributed to rescues and shelters in the Midwest. Click here to learn more about IndyHumane's Rescue Relief Program, to volunteer or to get involved.
INDIANA WIC SERVICES AND BENEFITS
The Indiana Women, Infants, and Children program is providing services as usual during the federal government shutdown and has funding to support benefits through March. Clients are not currently experiencing any changes to their benefits because of the shutdown.
Indiana WIC will continue to work with federal and state partners to make plans should the shutdown extend past March and will provide additional updates as needed, according to a Wednesday press release.
WIC provides healthy food, nutrition education, breastfeeding support and referrals to social service programs for families and is available in all 92 Indiana counties. The Indiana WIC program currently serves an average of 145,000 women, infants and children each month through a statewide network of 138 WIC clinics.
Individuals and families who are currently enrolled in WIC can keep their appointments at their local clinics and can continue to use their WIC EBT cards to redeem benefits at WIC-approved vendors. Any WIC clients experiencing problems redeeming their benefits should contact their local WIC clinic or call 800-522-0874.
Individuals and families who are interested in finding out whether they qualify for WIC can visit www.WIC.in.gov to complete a prescreening tool, find local clinics and learn more about the program.
Visit the Indiana State Department of Health at www.in.gov/isdh for important health and safety information, or follow us on Twitter at @StateHealthIN and on Facebook at www.facebook.com/isdh1.
We will continue to update this article as new resources become available. If you have any additional information that would be helpful for furloughed workers seeking assistance, please contact News Editor Rob Burgess at rburgess@nuvo.net (317) 808-4614.