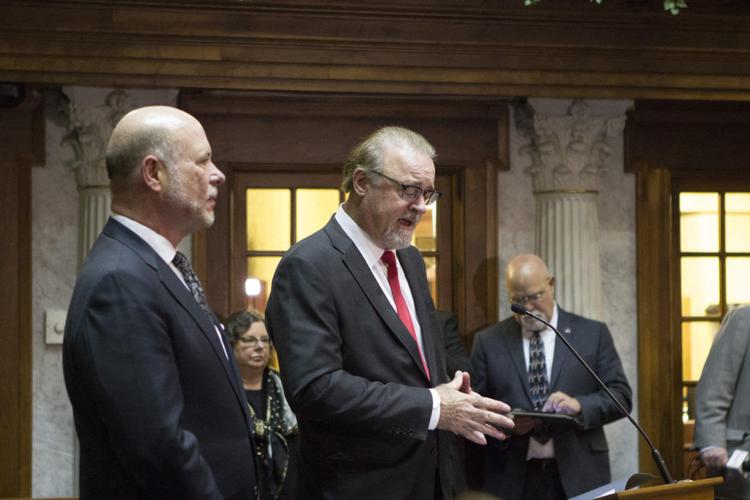 As Gov. Eric Holcomb presented his second State of the State address, Republicans applauded his words while Democrats criticized him for not recognizing the issues affecting Hoosiers.
Senate President Pro Tem David Long, R-Fort Wayne, said Holcomb "nailed" the theme of expressing the needs of Hoosiers while House Speaker Brian Bosma, R-Indianapolis, called him "one of the most genuine public officials."
House Democratic Leader Terry Goodin, D-Austin, and Senate Democratic Leader Tim Lanane, D-Anderson, criticized Holcomb for not offering specific proposals to address issues in the Indiana Department of Child Services.
The former executive director, Mary Beth Bonaventura, quit in December saying she didn't have the resources and staffing to care for children in care of the agency.
"Any time that someone talks about the life of a child being in danger, that is serious business to me as legislators, just as a human," Goodin said. "I can't find the term for it. It's not disappointment, it's not frustration, it's almost anger. Those folks have got to understand the seriousness of this as we move forward."
Long and Bosma said the speech does not reflect all that Holcomb has done for the issue, and that much more time has been spent on DCS than many realize.
Another top priority in Holcomb's address is workforce development. Goodin and Lanane said they expected Holcomb to being "more bold" when address the workforce system and his goals.
"It seems to be sort of a scattered approach that we have to workforce developments," Lanane said.
Bosma said the goals Holcomb set were long term and he appreciated that. He said Holcomb put specific "metrics" to his goals.
"I can't remember when we've had a governor to take the lead and said we're going to do this number by such and such date and we're going to do this number and this number," Bosma said. "I thought it was bold and accountable."
Lanane said he was shocked Holcomb failed to mention redistricting reform along with other issues.
But Bosma said he is not disappointed that Holcomb did not weigh in on some other issues because he stuck to his goals.
Emily Ketterer and Kirsten Nielsen are reporters for TheStatehouseFile.com, a news website powered by Franklin College journalism students.