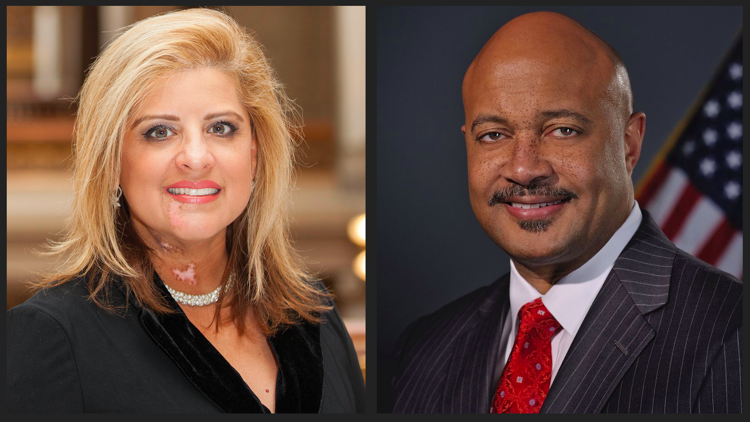 One of the four women who has leveled accusations of sexual misconduct against Indiana Attorney General Curtis Hill has filed a series of bills Friday which aim to prevent and punish such behavior. 
Rep. Mara Candelaria Reardon, D-Munster, stated that, along with Gov. Eric Holcomb's zero tolerance policy, the bills would be aimed at those who "who commit sexual harassment in Indiana, including elected officials and employers in the private sector."
"Through my own experience and through conversations with law enforcement officers and the public alike, it is clear that there are many loopholes in a system that should protect women and men from having to face sexual harassment in the workplace," she stated. "It is not a problem confined to government agencies but includes businesses across this state. It is important that our elected officials set the standard for behavior and provide a clear idea of what will happen to penalize those who choose to consistently engage in this conduct. That is what we are trying to achieve with these four bills."
On Oct. 23, 2018, Special Prosecutor Dan Sigler announced no criminal charges would be filed against Hill. Sigler simultaneously released a seven-page report to the Marion Superior Court Criminal Division. The same day, the Indiana Office of the Inspector General released their own separate 25-page report announcing no charges would be filed.
Afterwards, Candelaria Reardon joined Niki DaSilva, legislative assistant for the Indiana Senate Republicans; Gabrielle McLemore, communications director for the Indiana Senate Democrats; and Samantha Lozano, legislative assistant for the Indiana House Democrats, in announcing they were taking initial steps to proceed with a civil lawsuit.
The bills filed by Candelaria Reardon are particularly relevant to the Hill case and those like it.
"What we want to emphasize is that people should look upon their workplace as somewhere they can be treated with respect," she stated. "A better work environment leads to better productivity. All people—women and men alike—deserve the right to come to work without fear that they will be harassed or subject to behavior that should not be tolerated in a civilized society. The standards outlined in these four bills protect their rights and send a clear message that people who sexually harass others will face the consequences of their actions. It is my strong hope that the Leaders in the General Assembly will join me and the chorus of people who have been affected by this broken system in seeking these necessary workplace protections for all Hoosiers."
The four bills filed include:
This bill would set up a process for the removal of elected officials who engage in sexual misconduct, certain sex crimes, or the type of conduct inconsistent with the high ethical standards of their office.
"HB 1573 creates a 12-member officeholder oversight commission to investigate complaints against officials who do not hold Constitutional offices and are chosen in statewide elections, including the attorney general and the superintendent of public instruction," she stated. "The commission would have the ability to remove an official who is found guilty from office. It also indicates that a lawmaker can be removed from office for sexual misconduct, committing certain sex crimes, and engaging in conduct inconsistent with the Legislature's high ethical standards. It defines sexual misconduct as unwelcome sexual advances, unwelcome requests for sexual favors or unwelcome verbal or physical conduct of a sexual nature."
HOUSE BILL 1581
This bill would prevent a public official from using taxpayer funds to pay for private legal counsel or settlements in the event that the official is either charged with a crime or sued personally because of misconduct.
"HB 1581 would prevent statewide officeholders, members of the General Assembly, special state appointees, and elected county, city, town, and township officials from using taxpayer dollars to pay for legal counsel or damages in the event that official is found to have acted outside the scope of his or her duties or charged with a crime unrelated to the person's official duties," she stated.
This bill would expand the definition of employers who can be charged with workplace discrimination.
"Current state law provides that civil rights laws cover most Indiana employers with six or more workers," she stated. "HB 1577 would expand the scope of the law to include employers with one or more workers."
This bill would create the crime of lewd touching, which will cover any person who knowingly or intentionally rubs or fondles another person's covered or uncovered genitals, pubic area, or female breast without the consent of the other person. The severity of the crime would be elevated based on specific criteria.
"HB 1574 enhances the penalty for lewd touching from a Class A misdemeanor to a Level 6 Felony if it is committed by using or threatening to use deadly force, committed while armed with a deadly weapon, committed by providing the victim with a drug or controlled substance without that person's knowledge, committed by a statewide officeholder or a legislator, or committed by a repeat offender," she stated.