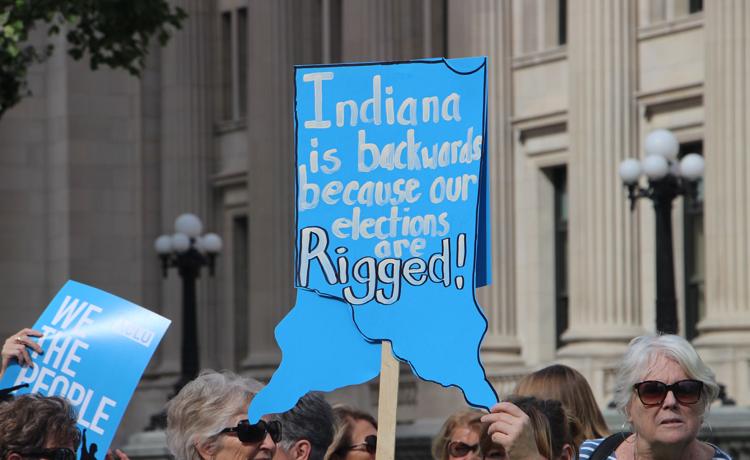 The turnout was impressive. There were signs, cheers and active participation at Monday's Indianapolis City-County Council meeting, showing the city's councillors their support for comprehensive redistricting reform.
And the city's voices were heard as the council passed Proposal 285 with a 15-10 vote, imploring the Indiana General Assembly to support redistricting reform.
The tone of the audience was clear as they applauded councillors in support or booed those opposed.
"To affect change, we must use public pressure on those who would manipulate and rig the system to maintain the entrenchment of individual office holders and the power of one political party," said Dem. Christine Scales.
Among the councillors who voted no on Proposal 285 was Republican Minority Leader Michael McQuillen whose concern was around the fact that the Indiana General Assembly draws the maps and the Supreme Court of the United States is ultimately who would make the determination.
"My remarks will be brief and won't be followed by a round of applause," McQuillen said. "It seem(s) unwise to me to make a political decision tonight, and a feel-good vote."
About 100 people showed up on the steps of the south lawn at the Statehouse Monday for the rally, many carrying handmade posters in support of drawing new district lines for the state.
Rep. Marianne Pfisterer echoed similar concerns through her "no" vote saying that Monday night's vote was nonbinding and the 2020 census would require the maps to be redrawn again.
"Until I know some of the details and we take a little deeper dive into what is being requested and especially since its nonbinding, I cannot support this," Pfisterer said.
Pfisterer also argued about the money behind redistricting. According to her, it can take anywhere from $500,000 to $750,000 to enact redistricting reform.
"If this were to become effective before the 2020 census and that redistricting, it would be money that was spent unnecessarily or, in my mind, perhaps even frivolously," Pfisterer said.
Still, there seemed to be confusion around the purpose of Monday night's vote.
According to Dem. Zach Adamson, Indianapolis is following in the footsteps of 18 other Indiana cities and counties, including: Anderson, Bloomington, Carmel, Crawfordsville, Green Castle, Kokomo, Lafayette, Michigan City, Monroe County, Montgomery County, Muncie, New Castle, South Bend, Tippecanoe County, West Lafayette, Valparaiso, Vanderburgh County and Vincennes.
"The state of our republic is in dire straits," Adamson said. "There is a cancer that eats at our democracy and at the core of that sickness is the gerrymandering of districts."
"When I was growing up, I hated playing Monopoly with my sisters because they made up the rules as they went," Dem. Blake Johnson said. "And every 10 years, that's exactly what politicians do. We draw these maps to benefit our own party, to secure our own power. Democrats are guilty. Republicans are guilty. Everybody is guilty. Tonight is not about changing the law. We don't have the power to do that. But it is about speaking with one voice and saying very clearly that we think political gerrymandering is corrupt."
Needless to say, the crowd erupted with cheers and applause.
And yet the purpose of the vote still seemed to be lost on several councillors, like Rep. Janice McHenry.
"There are some very odd districts," McHenry said. "I happen to live in one of them. It's the strangest horseshoe shape that I've ever seen in my life. But I think that there was probably some reasoning behind some of that."
McHenry could hardly finish her thought around the reasoning behind her no vote before the crowd booed and laughed at her saying things like "Because you won," or "Yeah, because it benefited you." "I mean, did she really just say that?"
"Why wouldn't you vote for fair elections and fair districts?" said Ann Stack, member of Women4Change Indiana, and strong proponent for redistricting reform.
Stack got involved when she began to feel like citizens were losing the right to vote. She can only assume the reasoning behind the no voters is either pressure from the party leaders or campaign dollars.
"Right now the districts are drawn so that the members of the council, members of our state legislature and senate are not accountable to their constituents," Stack said. "As a woman, I want equal pay for equal work, I want work and family balance, I want safe child care, I want civility, and I want respect."
Stack echoed Johnson by saying the goal is to use the one collective voice of the cities in Indiana that passed these redistricting reform proposals to speak to Indiana's representatives in both the House and the Senate.
"It's about being heard and being represented," said Ben Snyder, District 16 resident. "It's what our democracy is all about. Every one of us gets to be a part of our country's future. And we get a say in that… I'm proud that my councillor, Jeff Miller, a republican, voted to turn this common practice on its head."
Miller, a swing vote, touched on his experience as a councilor, saying that when he first joined the council, there were maps drawn by Republicans that the Republicans favored and then maps drawn by Democrats that the Democrats favored.
When a third set of maps were drawn using, what Miller says are similar policies and practices being recommended in Proposal 285, everyone ended up disliking those maps.
"Everybody hated them because there was no preference given to City councillors. There was no preference given to a neighborhood," Miller said. "When it scares everybody, it is probably the right thing to do."
Rep. Colleen Fanning is confident that there is a better way to keep neighborhoods in geographical boundaries together and not favor elected officials.
"Having competitive districts is so important," Fanning said. "If you look at every level of government, you see the people who are working the hardest for you and working hardest to represent their constituency are those in competitive districts."
But regardless of the way the districts are drawn, Miller argues that it's crucial for voters voices to be heard. In Miller's 50/50 district with 65,000 eligible voters, only 3,100 voted in the last election.
"No matter what our districts are like, we have to vote," Miller said.