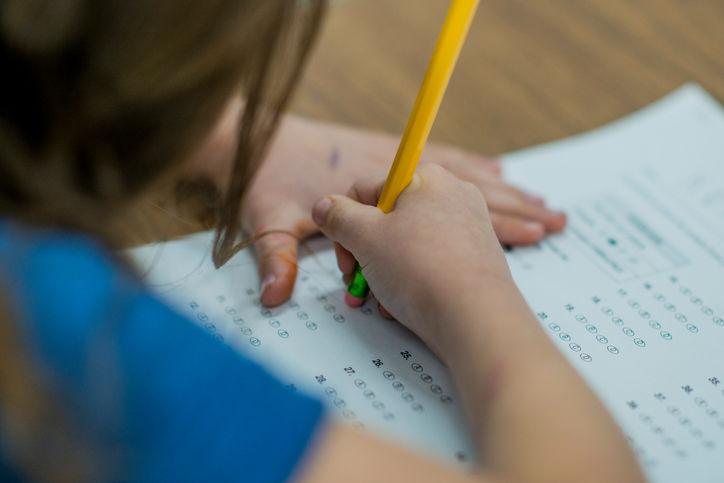 The wait for parents, students and teachers to see the spring 2018 ISTEP+ test results finally ended this week.
The
Indiana Department of Education
postponed the planned release of the results in early September because two issues with the test were discovered.
IDOE wanted to wait until the issues were resolved. They involved a 10
th
grade mathematics graphing item and third though eighth and 10
th
grade document image reconciliation associated with the final ISTEP+ spring 2018 results.
The overall ISTEP+ scores showed slight changes statewide for grades three through eight and 10.
Only grade 10 English language arts – ELA – and math scores showed improvement.
The ELA scores climbed 1.7 percent from last year to reach 60.7 percent of students passing. Math scores rose 2.3 percent to 36.9 percent passing and the percentage of students passing both tests increased to 34.4 percent, a gain of 2.2 percent.
Everywhere else the scores were flat or showed slight decreases.
Some of the biggest losses were in the sciences, where the percentage of students passing dropped between 1.7 and 2 points at several grade levels. Fifth and seventh-grade social studies scores also revealed a 2 percent decline.
Many of the drops were the most severe among minority and poor students.
The Indiana superintendent of public instruction said the test scores are only one piece of the puzzle.
"ISTEP+ is one of the many tools Indiana uses to measure student achievement and this year's results indicate we are moving in the right direction," said Jennifer McCormick, in a statement. "Indiana's classrooms are full of dedicated educators who spend each day preparing our children for academic success, and I am grateful for their hard work."
The executive director of the Indiana Association of Public School Superintendents also issued a statement lauding the work of the state's educators.
"
IAPSS appreciates and congratulates all Indiana public schools for the tremendous job they are doing in providing high quality instruction and education to 97 percent of the state's eligible students," J.T. Coopman's statement said. "Without high-quality teachers and leadership in Indiana public schools, we could not begin to have our students well prepared for careers and post-secondary education as we prepare for Indiana's future and economic stability."
The president of the Indiana State Teachers Association issued a less glowing statement.
"Again, after another delay we are now learning the results of the ISTEP test taken seven months ago. Some of our schools have been in session for nearly 10 weeks. This data is already old and limited in its usefulness in the classroom," Teresa Meredith's statement said."With only half of our students passing English and math, maybe we should be asking, 'What is the real purpose of all these tests?' Is it about judging the adults in the buildings? Mostly these results confirm what many studies and any teacher can tell you – a student's household income determines their test score. This year, only 18 percent of low-income high school students passed both math and English portions. If parents truly want to know how their students are doing in school, I encourage them to talk to their teachers."  
The IDOE
said a total of 2.6 million assessments were given successfully online across all grades and content areas.
In 2015, the state made their standards tougher and overhauled the test to match the higher standards. That year the statewide test results dropped drastically. The numbers have not rebounded since.
One change educators dealt with this school year was the state's continued transition to ILEARN assessment for grades three through eight. Those students will take the test for the first time in spring 2019.
According to IDOE,
ILEARN assesses the same Indiana Academic Standards as ISTEP+, but educators reframed content priorities and item presentation to ensure each item solicits evidence of proficiency based on the Indiana Academic Standards.
ISTEP+ for grade 10 will continue to serve as the accountability assessment through the class of 2022.
James Polston is a reporter for TheStatehouseFile.com, a news website powered by Franklin College journalism students.