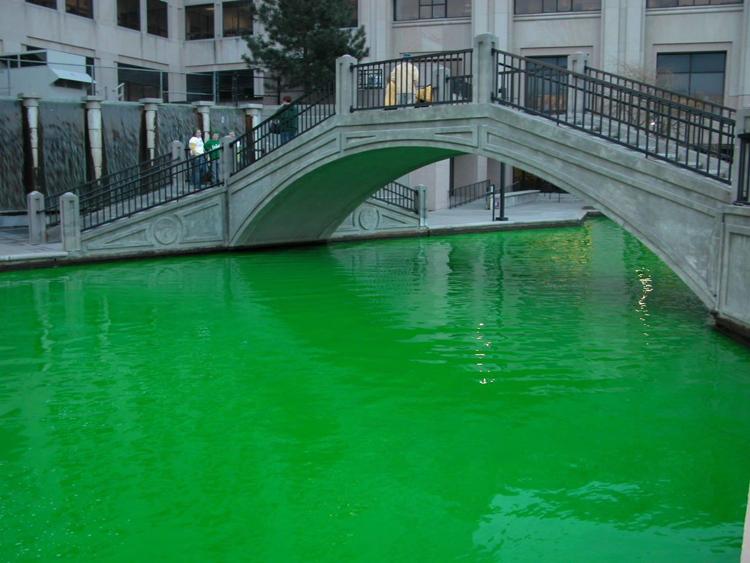 When the Central Canal turns green, on the Thursday before St. Patrick's Day, you might wonder if that all that dye in the water has an effect on the environment.
But Kelly Brown, Metrics Manager and Collective Impact Coordinator of Reconnecting To Our Waterways  (ROW) says that the dye used for the greening of the Central Canal is non-toxic. 
ROW, which works to improve the ecology and quality of life along Indianapolis waterways and surrounding neighborhoods, sees the dyeing of the canal as an opportunity for people to consider their impact on water pollution—to consider what they put in the water. There are things, Brown says, that individual members of the public can do to help prevent the fouling of Indy waterways.  
"If you live in a house, how you take care of your yard has a major impact on what goes into the local waterways," says Brown. "So not using any fertilizer at all on your lawn would be great but if you do want to use fertilizer, to really follow those directions so you're not putting too much of that product on your lawn."
Brown also cautions against fertilizer containing phosphorous.  
"It can cause those blue green algae blooms, especially if you live on a lake or on a reservoir," she says. "It's bad for human health. It looks bad. And nitrogen also has a negative impact as well."  
Another common source of water pollution, Brown says, is pet poop.
"Another one that can be done is picking up after your pet," she says. "Septic system failing is another source of pollution."
So making sure that septic system is functioning properly and having it cleaned, is important in the effort to improve local waterways, she says.
And according to Brown, dyes are a tool in assessing and preventing water pollution. 
Said tools are to be found in the toolbox, as it were of Adam Rickert, Manager, Water Quality with the Marion County Public Health Department.
'We take samples of a stream, when we notice there's a high E.coli count or low dissolved oxygen or we might get a call that the stream smells," says Rickert. "So it helps us say 'OK we have an idea that these five properties might be connected to this problem downstream where we're getting this impaired water.'"
Using tracing dye, for the Marion County Health Department, is an inexpensive way of determining the particular source of pollution in this type of situation. They are able to see, for example, if a particular house or business ever had their sewer correctly connected to the sanitary sewer.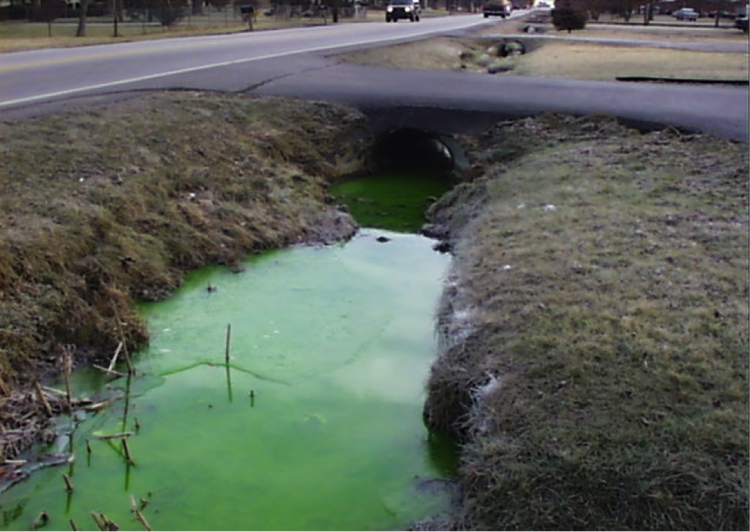 If the dyed water happens to drain into a drainage ditch, they can see pretty easily that there's a problem.   
"So we can put the dye in their waste water plumbing and in a couple of days we can confirm [whether] it is connected to the sanitary sewer correctly," says Rickert. "Or if we see that dye in the storm sewer or that stream then we at the very least we know that property is part of the issue. Then we have to work with that property."