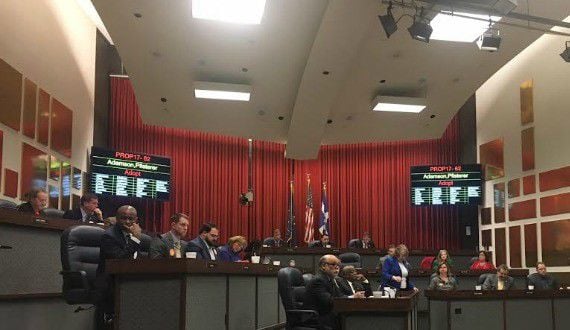 [Editor's note: After this story was published, Democratic councillors voted unanimously to kick Stephen Clay from the Democratic Caucus.] 
It won't be the Gunfight at the O.K. Corral, but figuratively speaking the City-County Council meeting later this month will likely be just as dramatic.
The 25-member legislative chamber is set to vote Feb. 19 on a motion to remove Council President Stephen Clay, a Democrat who has only held the position for one month after ousting his predecessor. "It's a pain to do it like this but it's a good thing," said Council Vice President Zach Adamson, also a Democrat. 
According to Adamson, Clay's maneuver to oust former President Maggie Lewis was "morally bankrupt" and "puts the city at grave risk." "I believe Clay is intelligent enough (to do the job) but he lacks the temperament and the disposition to do the job," Adamson said. "He (Clay) believes he has the authority to do whatever he wants, and that speaks to his temperament. Anybody who puts their own well-being above that of the Council and the city puts the city at risk."
Clay's Coup
Democrats currently hold a 14-11 edge on City Council. But the Democratic caucus has been up in arms since the Jan. 8 meeting when Clay cobbled together a coalition with five Democrats and nine Republicans to elect him president, defeating Lewis, who had been Council president for about five years.
In a nearly unheard of post-election move, given that Democrats hold the majority, Clay immediately appointed Republicans to chair three committees — public works, rules, and ethics. A move Adamson and other Democrats called payment for the "bribe" Clay offered the GOP to get their votes.
They believe Clay's committee appointments violated standard political protocol by giving the minority party top leadership positions on committees. "That's never done — giving leadership positions to the minority party," he said.
Additionally, the appointments risked overall public safety, Adamson said, because members were appointed to chair committees they have never been on nor do they have any institutional knowledge on how those committees function.
As an example, Adamson said he was replaced as chair of the public works committee by Scott Kreider, whom he says has only attended one meeting. "The whole process is breaking down," Adamson said.
But that process is part of the problem, McQuillen said. "We (Republicans) did not like how business was going for the last couple of years."
Normally in committee assignments, the majority party has a one- or two-vote majority on committees. But under the previous administration, "most committees had a two or more vote majority, a super majority," McQuillen said. "We were being disenfranchised and that's not fair to the city or to the people who elected us."
While there are no council meetings scheduled before Feb. 19, both Adamson and McQuillen confirm there are discussions taking place behind the scenes on possible candidates for the job.
Adamson would not comment on who he would like to see in the position, although over the weekend a published report stated that Democrat Vop Osili has emerged as a frontrunner. (At press time, Adamson had not responded to a request asking for confirmation, nor has Osili).
McQuillen said he would "wait and see" which of the "25 strong personalities on City Council" emerges. "My guess is we will have a new president," says McQuillen. Though he questions the basis of the argument for another change.
Adamson doesn't feel compelled to provide a reason. "The Council . . . can remove him for any reason."
Status quo shakeup
Due to second thoughts or intense public pressure, several of the Democrats who supported Clay in the January election switched sides and voted late last month to place Clay's removal on the Feb. 19, agenda.
McQuillen, the Republican, had attempted to place action on Clay's removal first in the Ethics Committee, which he currently chairs. But the Council's attorney, Fred Biesecker, who also acted as Council's parliamentarian, shot that down, saying it was unnecessary. Council President Clay then fired Biesecker, whose contract with Council had already expired at the end of last year, McQuillen said.
The Republican attempt to have Clay's removal first placed in the Ethics Committee "was an improper motion and merely a tactic to delay the process," Adamson said. "It was a way to drive a wedge between Democrats."
"Democrats have successfully driven a wedge in their own caucus," McQuillen answered.
Both sides said they hoped the Council could move forward after the Feb. 19 vote.
"It's been needlessly frustrating," Adamson said.
McQuillen agreed, but also pointed out that the wheels had not fallen off the train. Last month the Council overwhelmingly approved a $55 million bond issue to continue construction on the city criminal justice center project.
"When President Clay was elected, it was like, 'Henny-Penny, the sky is falling.' Well, the streets are still being paved, the police are still getting paid and the sky isn't falling," said McQuillen. "It's a good thing to shake up the status quo."