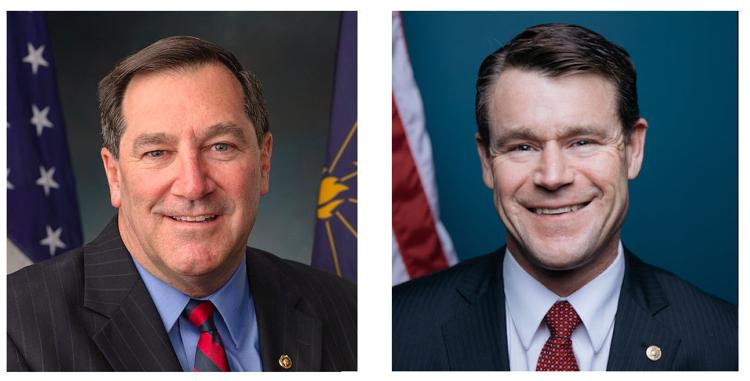 In the midst of a tough re-election campaign, Sen. Joe Donnelly, D-Indiana, came out against embattled Supreme Court nominee Brett Kavanaugh on Thursday.
The announcement comes just a day after explosive testimony before the Senate Judiciary Committee from accuser Dr. Christine Blasey Ford and Kavanaugh.

Sen. Todd Young, R-Indiana, already signaled his support for Kavanaugh after Thursday's hearings. Even before that, he had been expected to be a reliable yes vote.

All eyes then turned to Donnelly, one of only a handful of senators seen as being a swing vote on Kavanaugh, who has been credibly accused of sexual assault by multiple women.

Donnelly's announcement was released just hours before the committee was set to vote whether or not to send the vote on Kavanaugh to the full Senate. Donnelly had previously called for a delay in the vote on Sept. 17. 
Here is Young's full statement  issued Thursday:

"It was important for both Dr. Ford and Judge Kavanaugh to appear before the committee today. I watched the hearing closely and was struck by the power of both testimonies.

"I was not, however, persuaded that Judge Kavanaugh was involved in this alleged incident 36 years ago. I believe Judge Kavanaugh was truthful under oath during today's hearing, and I trust the statements of the witnesses named by Dr. Ford who said under penalty of felony that they have no recollection of the alleged incident.

"After watching today's hearing, and conducting a thorough and objective review of his nomination, I remain convinced that Judge Kavanaugh is a man of integrity who will be an excellent addition to the Supreme Court. I will be voting to confirm him."

Here is Donnelly's full statement issued just before noon on Friday:

"I do not view Supreme Court vacancies through a partisan lens, which is why I have used the same thorough process to evaluate nominees regardless of who the president is at the time. That was the case regarding the nomination of Judge Garland and also when I voted for Justice Gorsuch, who was President Trump's first nominee. It has remained my approach with Judge Kavanaugh.

"As I have made clear before, sexual assault has no place in our society. When it does occur, we should listen to the survivors and work to ensure it never happens again. That should not be a partisan issue.

"My job as a Senator is to gather as much information as I can to make the best-informed decision. The allegations made against Judge Kavanaugh are disturbing and credible. In the interest of getting as much information as possible, I believe the allegations should be investigated by the FBI.

"Unfortunately, despite having the time and opportunity to do so, Senator McConnell has refused to allow that FBI investigation. Even the American Bar Association, which has previously rated Judge Kavanaugh as 'well qualified' has called for an FBI investigation, where we could learn more information and other potential witnesses could be interviewed.

"I have deep reservations about Judge Kavanaugh's nomination to this lifetime position and, as I stated, we have been unable to get all the information necessary regarding this nomination, despite my best efforts. Only 113 people have ever served on the Supreme Court, and I believe that we must do our level best to protect its sanctity.

"While I would gladly welcome the opportunity to work with President Trump on a new nominee for this critically important position, if Judge Kavanaugh's nomination comes before the full Senate for a vote under these circumstances, I will oppose it."

Donnelly's Republican opponent in the midterm elections, Mike Braun, filed an ethics complaint against Donnelly relating to his recorded meeting Kavanaugh last month. Braun issued the following statement afterward Donnelly's announcement Thursday:

"This entire process has been an embarrassment to our democracy as Hoosiers watched firsthand how Senator Donnelly's liberal colleagues used uncorroborated allegations to create a media circus designed to smear and destroy Judge Kavanaugh's reputation. Donnelly's decision to oppose President Trump's highly qualified nominee is a grave mistake, but proves he is more concerned with standing with his liberal Democrat leaders than standing for Hoosiers. I continue to strongly support Judge Kavanaugh's confirmation to the Supreme Court."