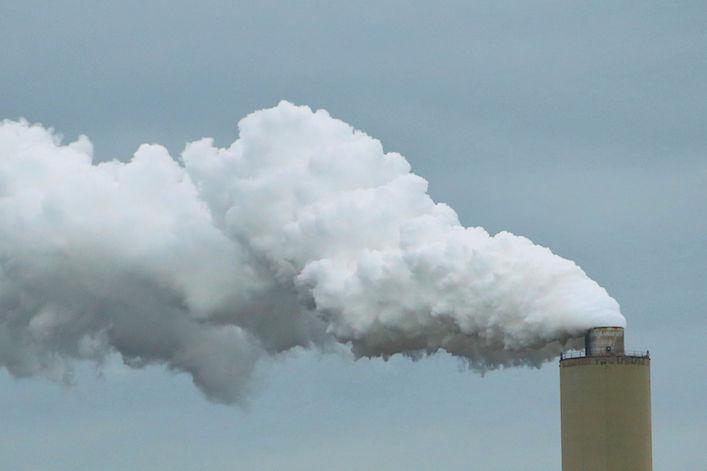 All politics is local, as the saying goes. And, there are few issues which hit as close to home for cities as climate change—even as state and national lawmakers have found little time or energy to address the ongoing crisis.
Despite this legislative gridlock on a macro level, local leaders from around Indiana gathered together for the third year in a row at an invite-only event to "discuss resiliency in the face of climate impacts."
Earth Charter Indiana—and its signature program, Youth Power Indiana—along with title sponsors Cummins, Indiana University Environmental Resilience Institute, and the McKinney Family Foundation, partnered Thursday at Englewood Christian Church for the Climate Leadership Summit.
After introductory remarks by Jim Poyser, executive director of Earth Charter Indiana, and a serenade by the students of DayStar Childcare and Infant Learning Center, Joe Bowling, co-director of Englewood Community Development Corporation, addressed the seemingly unlikely location for the conference.
Bowling said over the last quarter century his organization and the congregation itself has tried to set themselves on a path separate from other evangelical churches on the issue of climate change.
"It was unusual venue choice to say the least and we're just really honored," he said. "We mourn the fact that auditoriums and sanctuaries like this are often places that are more divisive and closed to conversations like this one. And, certainly, evangelical congregations don't have a wonderful resume when it comes to climate change issues."
Just the facts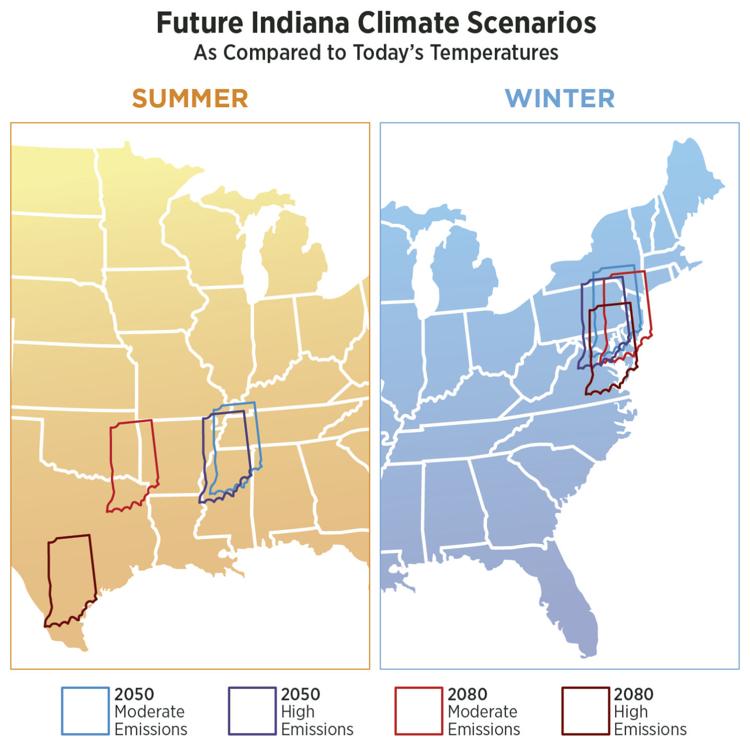 Before going any further in the day, the stark realities of the challenge facing humanity were placed on full display.
In a harrowing presentation, Jeff Dukes, director of the Purdue Climate Change Research Center and professor at Purdue University's departments of Forestry and Natural Resources and Biological Sciences, presented findings from the PCCRC's Impact Assessment Reports.
Dukes said projections for the state were based on different climate models including a high-emissions scenario, or "business-as-usual," or medium-emissions scenario "where we're working hard to avoid the impacts of climate change." In either scheme, Hoosiers are looking at a much warmer future.
If nothing changes, Indiana will experience 6 to 10 degrees of warming by mid-century, while the state will see 5 to 6 degrees of temperature increase under the medium-emissions scenario.
Dukes said this will cause more extreme heat in the summer, less extreme cold in the winter, a longer growing season, and increased cooling demand.
"We expect quite a bit of warming in the state," he said.
In addition to being hotter, the state will also be much wetter.
Dukes said using the projection models, the state will see an increase of 6 percent to 8 percent increase in annual rainfall by mid-century, and a 5 percent to 10 percent increase by late century.
"It's going to change, depending on the seasons," he said.
The study showed that in the future, winter will see a 16 percent to 20 percent increase in rain, and spring will see 13 percent to 16 percent more precipitation.
Dukes said with these increases will manifest themselves as more rain, and less snow when combined with the increased temperatures. He said this will mean increased runoff, higher streamflows, and more flooding. By contrast, summer and fall will show slight declines in rain, with less certainty in the projections.
Water will become increasingly valuable under the projections, as demand will increase due to the increased heat. All the while, water quality will be degraded.
Dukes said the conversation should be less about if the climate is changing, but to what degree.
"By the end of the century, essentially how bad the problem is [will] depend on our emissions in the meantime," he said. "The choices that we make between now and then are going to determine what people are going to be experiencing at the end of the century. And the choices that we make now in terms of our infrastructure and how we prepare for those changes are going to affect how the changes that are inevitable are going to impact our populations, our communities, our economy over time. So, it's critical that we're thinking about this sort of thing."
Cities lead the way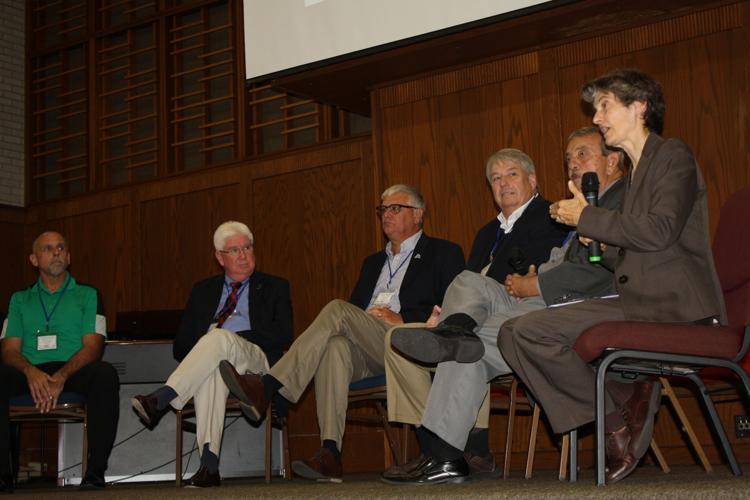 After lunch, the sanctuary's stage was populated by an assembly of Indiana mayors from around the state on the front lines of the issue.
The roundtable was moderated by Janet McCabe, senior law fellow at the Environmental Law & Policy Center, and featured mayors Richard Hickman (Angola), David Kitchell (Logansport), Denny Spinner (Huntingburg), Mike Bettice (Batesville), and Greg Goodnight (Kokomo).
Hickman said aquifers have become quite important to his constituents in Angola, as access becomes increasingly valuable.
"We don't want to end up like California, Colorado, or Nevada where we're wondering where our water is coming from," he said. "If there's anything that's sustainable it's water. We've got to have water."
Kitchell said nearby Miami County had pumped the brakes on wind energy turbines, while neighboring Tipton County has allowed them.
"A lot of people don't want wind turbines," he said. "They're afraid of what they do to property values, what they do to groundwater and all this sort of thing. But, we've got to think about the backup grid that's out there."
Spinner said when his community saw a foot of rain in 24 hours in July 2016, he told his constituents it was a once a millennium event. But, after 11 inches of rain fell in 24 hours in April 2017, and the same occurred just the previous weekend, the idea of this sort of disaster being a freak occurrence was far less plausible.
"To be quite honest with you I'm really new to these ideas, but I came here today to learn and to hear more," he said. "I don't know what I can do immediately to affect climate change, but I know at the city we can do better by planning and responding to events that we know are going to happen. There's things that we cannot change, but there's things we have to plan for."
Bettice said he agreed with Hickman that access to clean drinking water was the new "blue gold" for cities like his. He said stormwater pipes would have to be modified to handle the increased strain from more frequent rains.
"We're doing these projects now, and maybe we need to start rethinking and having conversations with our engineers," he said. "Obviously there's a cost associated with that, but you have understand that there's a benefit associated with that cost."
For Kokomo Mayor Greg Goodnight, the summit held special importance. During the inaugural conference in 2016, his city was hit with devastating tornadoes. That was the second tornado outbreak in less than two years. Added to that, Kokomo had also experienced two 100-year floods during his tenure. Goodnight said urban sprawl, which he called the "enemy of civilization," was an aggravating factor in all these instances.
"Climate change is expensive. It's something we won't be able to control, but it's something we have to deal with," he said.
An uphill battle with lawmakers
Between June and December 2017, teams of volunteers across our state roughly doubled the number of solar arrays in their cities. Where city governments partnered with these volunteers, the results were particularly remarkable: 97 new arrays in Goshen and South Bend, 56 in Bloomington, and five times the previous number in the Hamilton County area.
Yet, all this progress on the local level is in spite of, not because of, the actions of lawmakers in the Statehouse, who have been decidedly unhelpful.
After Gov. Eric Holcomb signed Senate Enrolled Act 309 last May, Hoosiers looking to invest in solar panels will now receive significantly less money for the extra energy generated by their rooftop panels.
Hoosiers who currently use net metering are grandfathered in for 30 years. Those who install solar units in the next five years will be grandfathered at a full retail price until 2032.
After that, solar investors will be compensated at a lesser, wholesale rate plus 25 percent. Currently, solar generators receive between 11-13 cents per kilowatt-hour for extra energy they produce.
The bill dropped that to roughly 4 cents.
"The only people speaking in favor of [the legislation] were utility companies," said Darrell Bogges, charter member of the Solar Indiana Renewable Energy Network, during the Jumpstarting Solar in Your Community afternoon breakout session. "The energy policy in this state is written by the monopoly utility companies. There is something wrong with this picture."
Boggess said his house been net zero on energy consumption for the last six years.
"I provide valuable daytime energy when the grid is at risk of brownouts," he said. "[Rural Electric Membership Corporations] measure what goes out to the meter and you get paid for it wholesale. That's what this bill was all about. The big investor-owned companies want the same deal REMCs have because they make more money."