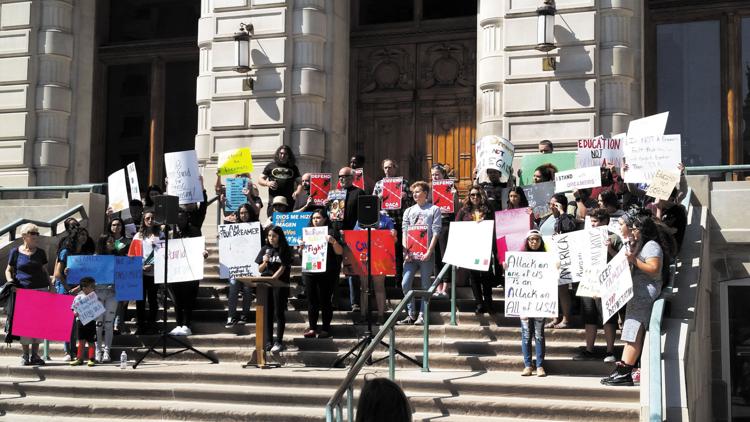 A bill that would allow DACA recipients to pursue occupational licenses passed the Indiana House Monday by an 88-8 margin.
Under Gov. Eric Holcomb's administration, the Indiana Professional Licensing Agency changed the license application forms to include questions regarding citizenship status. As a result, the agency said those in the DACA program are not qualified to obtain a professional license under an Indiana immigration law passed in 2011.
Rep. Ed Clere, R-New Albany, said the new license application forms had no provision for DACA participants. Clere authored an amendment adding language to Senate Bill 419 that would allow them to receive licenses.
DACA refers to Deferred Action for Childhood Arrivals, a program established in 2012 under former President Barak Obama to protect immigrants brought to the United States illegally as children. DACA protects these individuals from deportation and allows them to obtain legal work status.
"It simply says if someone has DACA status then that person would be able to obtain a professional license," Clere said of his amendment. "These folks already have the ability to work, if they have that status, this just clarifies that they can also obtain a professional license."
Clere said this would help Indiana employers and address issues such as the nursing shortage in the state.
"It's also good for our employers. Especially those struggling to fill positions such as in nursing," he added.
Holcomb, while saying his agency acted correctly, encouraged the General Assembly to act.
"Ultimately, Congress needs to clarify federal immigration law regarding DACA. But, until they act, Indiana state law should allow DACA recipients to skill up and work here in Indiana," the governor said.
Clere added the amendment to SB 419, which prevents duplicate licensing within the state.
"This piece of legislation prevents local units from adding license over and above a state license," Rep. Robert Morris, R-Fort Wayne, said. "It also allows for health and safety licensure for local units of locals, who feel it is necessary."
Abrahm Hurt is a reporter for TheStatehouseFile.com, a news website powered by Franklin College journalism students.