Indiana House of Representatives Speaker Brian C. Bosma, R-Indianapolis, joined several House Republicans on Monday at the Statehouse to release their top legislative priorities for 2019, including passing a balanced state budget, strengthening school safety, and increasing teacher pay. 
Indiana House Democratic Caucus Leader Rep. Phil GiaQuinta, D-Fort Wayne, called the Republican list "thunderous in its nothingness." Indiana Senate Democrats released their legislative priorities—including $150 million in wage hikes for teachers, legalizing medical marijuana, and protections for Hoosiers with pre-existing medical conditions—in November.
Meanwhile, members of the Indiana Black Legislative Caucus, led by the group's chair, Rep. Robin Shackleford, D-Indianapolis, said Monday they will pursue "an aggressive agenda of reform" including proposals to finally enact a hate crimes law, and giving teachers a "long-needed" increase in pay.
Bosma said the top priority this session is to pass a balanced state budget while maintaining healthy reserves and the state's AAA credit rating.
"The GOP priorities listed are the same ones that have been a part of Republican agendas stretching over the past three administrations: Cut spending at all costs in order to increase the surplus. When in doubt about what to cut, study and delay making any decisions…unless it comes to cutting taxes for big business," stated GiaQuina. "Republicans continue to talk about the same things: Maintaining an honestly balanced budget…as if our state Constitution doesn't now require it. Education funding…which usually means more experimentation with the education-for-profit industry. Workforce development…which generally leads to additional tax credits for large corporations."
Bosma said other priorities include "increasing protections for Hoosier youth, strengthening the House Republicans' commitment to students and teachers, better aligning workforce initiatives and supporting Indiana's veterans," according to Erin Reece, director of communications and technology for the Indiana House Republican Caucus.
"Will any of this help Hoosiers? As we have seen in recent years, those who are in charge find it better to talk about such things, instead of working to find pragmatic solutions to real issues," stated GiaQuinta. "House Democrats believe that there are immediate issues facing Indiana and that the time to talk is over. We need to increase pay for teachers now. We need to protect Hoosiers with pre-existing medical conditions now. We need to expand pre-K throughout the state now. We need to protect funding for our public schools now. We need to make the charter, voucher and virtual school programs accountable now. We need to pass a hate crimes law now. We need to reform the scandal-plagued [Indiana Department of Child Services] now. We need to reform our tired election system now. All of these things can be done. We should do them."
DCS REFORMS
The Indiana DCS will annually require an additional $286 million over the next two fiscal years, which Bosma said narrows the first fiscal year's budgetary focus to funding the state's key priorities, including K-12 education, which accounts for over half of the state's $32 billion biennial budget.
In response to the Child Welfare Group's comprehensive evaluation of DCS over the summer of 2018, State Rep. Greg Steuerwald, R-Avon, authored House Bill 1006 to implement the legislative recommendations needed to help reform DCS and improve the outcomes of children in the child welfare system.
The bill aims to provide better balance to family case manager caseloads, allow foster youth to receive collaborative care, and participate in independent living programs into their early 20s, and give caseworkers greater flexibility in both their reporting and in how they prioritize cases in order to reduce court involvement, according to Reece.
SCHOOL SAFETY
Bosma said it's clear Indiana must do more to protect school children in light of two recent shootings in Noblesville and Richmond.
State Rep. Wendy McNamara, R-Evansville, authored House Bill 1004, which would implement recommendations from Holcomb's school safety report to improve physical security at schools and mental health resources for students.
INFANT MORTALITY
House Republicans say they will continue their focus on reducing Indiana's infant mortality rate, which is currently ranked seventh highest in the nation.
State Rep. Cindy Kirchhofer, R-Beech Grove, authored House Bill 1007, which would help engage at-risk expecting mothers in early prenatal care, and require medical providers to give verbal substance use screenings to pregnant women to improve and increase referrals to addiction treatment.
TEACHER PAY AND SCHOOL FUNDING
To help direct more dollars toward teacher compensation, and recruit and retain high-quality educators, House Republicans worked alongside the Indiana State Teachers Association, Teach Plus Indiana and Stand for Children Indiana to craft several new policy initiatives.
While teacher pay decisions are made entirely at the local level through collective bargaining and budgeting, House Bill 1003 would strongly encourage schools to shift more existing and future dollars to Hoosier classrooms.
Bosma said while many schools currently spend about 80 percent of their state funding on instructional expenses, other schools' operational and overhead costs have ballooned—taking critical dollars away from teachers.
This legislation, authored by State Rep. Dale DeVon, R-Granger), would set a target for public schools to spend at least 85 percent of state funding on instructional expenses.
This new target percentage would not impose any new administrative requirements on school corporations because this analysis is already being reported to and tracked by the state.
Bosma said if all Indiana's public school corporations meet this goal, Republicans anticipate over $350 million in new resources for classrooms—enough for a 5 percent salary increase or more for teachers.
Bosma said this year's renewed emphasis on classroom expenditures coupled with coming increases to the K-12 school funding formula will begin the process of lifting statewide teacher compensation.
He said HB 1003 is a significant first step toward making collective progress on these widely shared goals and House Republicans will continue working with their education partners to get more dollars into Hoosier classrooms.
"Teachers in Indiana are not valued for the important work they do for our next generation of workers," said Sen. Eddie Melton, D-Gary. "I am proposing that we increase the salaries for teachers across Indiana for two reasons. We need to combat the crisis caused by a shortage of teachers by making the profession more enticing to future educators. We also must send a message to current teachers that we value their efforts on behalf of our children." 
Rep. Bob Behning, R-Indianapolis, authored House Bill 1008, which would establish career ladders to help experienced educators step into new roles and advance in the profession.
DeVon also authored House Bill 1009 to provide critical support for new educators by creating residency programs to pair new teachers with mentors in the classroom.
WORKFORCE DEVELOPMENT
Rep. Holli Sullivan, R-Evansville, authored House Bill 1002 to encourage early and continuing career exploration and navigation, reinvigorate career and technical education courses and encourage completion of certifications or postsecondary credentials.
In addition, the bill would prioritize funding for workforce programs with proven results and provide additional flexibility for schools to partner with employers in order to establish work-based learning opportunities.
EQUAL PAY WAGE DISCLOSURE
Rep. Carolyn B. Jackson, D-Hammond, introduced House Bill 1047, which would make it an unlawful employment practice to pay wages that discriminate based on sex for similar work.
"Further, it would secure an employee's ability to inquire about, disclose, compare, or otherwise discuss their wages," stated Jackson.
This bill additionally provides that the Civil Rights Commission would have jurisdiction to review any disputes and allegations of wage discrimination.
PARENT EDUCATION ASSISTANCE
IBLC member Rep. John Bartlett, D-Indianapolis, seeks to create a pilot program offering $15 per hour to any parent that receives government assistance, to obtain childcare while attending school or a trade program.
"There will be a volunteering component that will require the parent to volunteer in their child's school in order to meet the requirements for the program," stated Bartlett. "The program provides funding for child care, support of educational goals, and increased parental involvement in their child's school, and ultimately leads to self-sufficiency and no longer requiring government assistance."
HOOSIER VETERANS
Working in coordination with Gov. Eric Holcomb, Rep. Bob Cherry, R-Greenfield, authored House Bill 1010 which seeks to phase in an income tax exemption for military retirement pensions, along with ratcheting up the assessed value eligibility cap for the disabled veterans property tax exemption.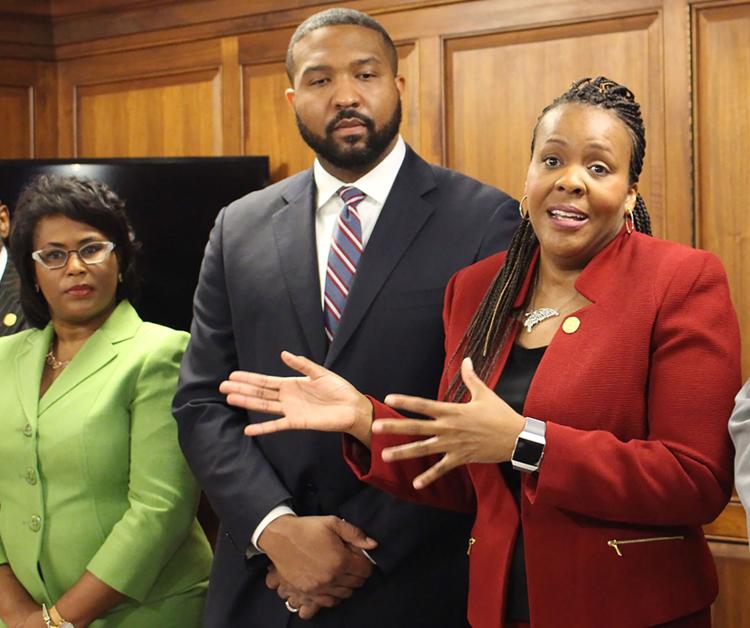 HATE CRIMES LAW
One issue which was conspicuously absent from Bosma's list was the long-discussed hate crimes legislation. Indiana is one of only five states without such a law on the books.
IBLC members, including Sen. Greg Taylor, D-Indianapolis, and Rep. Gregory W. Porter, D-Indianapolis, who has been advocating for such a law for over 15 years, listed this as one of their main areas of concern.
"The law I am proposing would cover age, race, religion, ethnicity, color, disability, gender, gender identity, national origin, ancestry, and sexual orientation," stated Porter. "In the last few years, there has been a verified statistical increase in hate crimes across this country. This bill is important to the social, cultural, and economic future of Indiana. Most of our state's major corporations and business trade organizations support this legislation, and the time to act is now. Hate crimes should be fully debated and voted on by all members of the General Assembly, rather than the people in one caucus."
Porter stated the bill would allow an individual that suffers a personal injury or property damage because of a criminal offense to bring forth a civil action to recover damages, if the person who committed the offense selected the individual because of the individual's actual or perceived race, color, creed, disability, national origin, religion, sexual orientation, gender or gender identity.
It would also establishes a sentencing procedure that requires the court to impose an additional fixed term of imprisonment, if the crime was committed based on bias.
STUDY OF VIOLENT CRIME
IBLC member Rep. Vanessa Summers, D-Indianapolis, said she seeks to create a summer study committee formed around the idea that violent crime must be studied as a public health issue.
"Gun violence is a significant public health danger that has had devastating effects, both nationally and in our state," stated Summers. "Far too many people have lost their lives through this senseless violence, and it becomes particularly hard to bear when the victims are children. We must consider the implications of this wave of violence and act, much as we would in any public health crisis."
On a similar note, IBLC member Sen. Jean Breaux, D-Indianapolis, seeks to pass legislation which would require public high schools contacted by the CDC to take part in their "Youth Risk Behaviors Survey," to actually participate in administering and completing the survey.
"The completed survey provides excellent data on the youth of our state and their health and wellbeing," stated Breaux.
TRAFFIC AMNESTY
Shackleford said the IBLC supported her traffic amnesty program reducing the amount of unpaid obligations based on a person's income.
"Nearly 500,000 Hoosiers currently have their driving privileges suspended, due to unpaid financial obligations," said Shackleford. "These obligations include everything from parking fines to traffic violations to reinstatement fees. A suspended driver's license prevents people from maintaining a regular job, keeping financial commitments, and helping other family members […] It would allow productive residents to regain their licenses immediately and provide additional revenue for local services. 
RACIAL PROFILING
IBLC member Rep. Cherrish Pryor has introduced House Bill 1050, which would prohibit a law enforcement agency or a law enforcement officer from engaging in racial profiling or conducting pretextual stops.
The bill would require a law enforcement agency to adopt a detailed policy that defines the elements of racial profiling and pretextual stops; and requires a law enforcement agency to collect certain data relating to stops made by law enforcement officers.
It would also require cultural diversity awareness training and training on unlawful racial profiling and pretextual stops for law enforcement officers.
The bill specifies that a law enforcement agency must transmit to the attorney general information concerning racial profiling complaints, investigations, and any action taken, as well as data collected relating to stops made by the law enforcement agency.
DRIVER INSTRUCTIONS ON TRAFFIC STOPS
IBLC member Sen. Lonnie Randolph authored Senate Bill 295, which would require driver instruction on law enforcement procedures during traffic stops.
The bill would require that the driver license handbook include a description of law enforcement procedures during traffic stops and the actions that a motorist should take during a traffic
stop, including appropriate interactions with law enforcement officers.
The bill would also requires that the handbook be provided free of charge for use in a program of driver education offered at public high schools.
RESIDENCY OF PUBLIC SAFETY OFFICERS
IBLC member Ragen Hatcher, D-Gary, said she is proposing legislation that provides that a city may adopt an ordinance requiring a member of the police or fire department to reside within the municipality within a specific time period, but no sooner than six months after the ordinance is adopted, or a member is hired by the department.
SICKLE CELL DISEASE GRANT PROGRAM
Porter is also planning to introduce a bill to requires that sickle cell disease centers providing care to underserved areas be opened in all regions of the state.
Porter stated the bill will give financial assistance to low income residents for sickle cell disease care. The bill will provide free counseling to residents for the symptoms and care of the sickle cell disease and establish an educational outreach program. The bill establishes that the State Department of Health will issue a report every two years detailing the many factors associated with the sickle cell disease in Indiana.
FOOD INSECURITY
IBLC member Rep. Earl Harris, D-East Chicago, said he plans to introduce a bill to conduct a study regarding the prevalence of homelessness, housing insecurity, and food insecurity among students at Indiana colleges and universities during the 2019 academic year.
The bill would Provide that the study must determine, as accurately as practicable, the number of
Indiana college and university students who are homeless, housing insecure, or food insecure.
DISTRESSED UNITS APPEAL BOARD
Current law requires Indiana House and Senate minority leaders to alternate every other year when appointing minority party members to the Distressed Units Appeal Board.
IBLC member Rep. Vernon G. Smith, D-Gary, plans to introduce legislation to provide that both the Senate and the House minority leaders can appoint members annually.