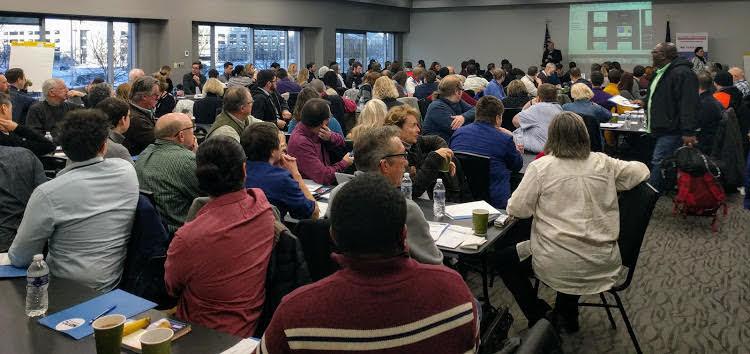 The Indiana Democratic Party held a training session for Hoosiers interested in running for office last month with a record number of 200 registrants, diverse in gender and race.
"This is what the future of the party looks like," says John Zody, Chair of the Indiana Democratic Party, who was ecstatic at the number of new faces and first time candidates. "You need a diverse party. You need a diverse governing body, whether that be the Congress or the state legislature or a local office, counsel, commissioners," Zody says. "You need diverse leadership in elected office. We need to do everything we can to foster that."
While the Indiana Democratic Party has offered training sessions in previous years, this is the first year they've partnered with the National Democratic Training Committee (NDTC), an organization that travels the country training the party's future candidates.
The goal of the training is to inspire a more diverse field of candidates in terms of gender, age and ethnicity.
"[Politics] have become really divisive," says Poonam Gill, who's running for a seat in Indiana's state House of Representatives. "I think people are sick of it." Gill emphasizes that the community is the party, and if voices are wanting to be heard, people have to show up and actively be part of it. 
"What motivates me is wanting to create change," Gill continues. "I think if people don't like what they're seeing in their community, they have to step up and get involved. I think we need a change in our leadership. We need new ideas, we need new perspectives, and we need people from all different kinds of backgrounds to be represented."
Naomi Bechtold, who's running for the House in District 24, said that there hasn't been a Democrat on her district's ballot since 2010.  "There was no reason for people to go out and vote," she says. 
After the 2016 election, Bechtold realized if she wanted to see change, she needed to get involved and run for office and give people a reason to show up and vote. "If there's anything good that has come out of that election," Bechtold said, "it's that it has lifted the Democrats back up. We were a sleeping giant, and now that giant has awakened."
While the political climate has changed, for better or worse, Zody stresses that the state political climate hasn't shifted at all, and the Democratic Party's challenges haven't disappeared due to that lack of change. 
According to Zody, Indiana still has wage problems, not enough kids in early childhood education, too many kids in the child protective system, and more. 
"Those things have not gone away, and I think that has inspired people to get out and be active."