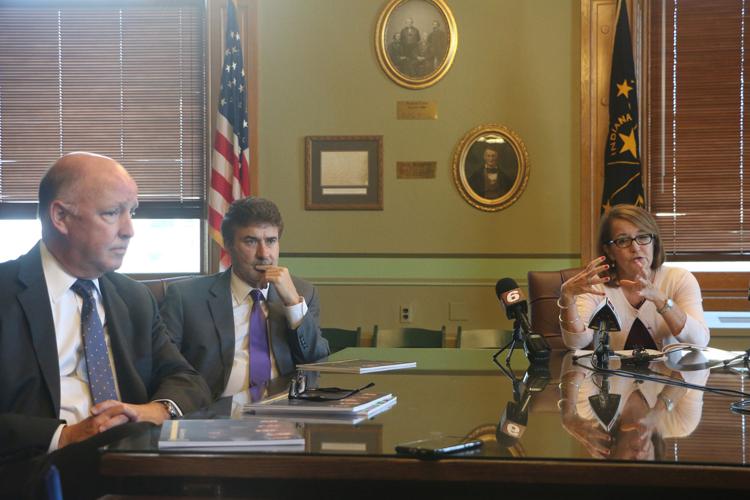 Indiana Supreme Court justices envision a future where accessing most court records can be as easy as opening a laptop.
E-filing is expected to be used by every county in Indiana by the end of next year or by the beginning of 2019. According to the Indiana Supreme Court's annual report, roughly two-thirds of the state are currently using the digital case management system, Odyssey Supervision.
The initiative for an electronic filing system for court documents began in July 2015.
"In the old days, you might get data from one court and try to extrapolate or determine if that court is representative of the rest of the state or not and that's no longer the case," Indiana Supreme Court Justice Steven David said Tuesday.
Electronic filing allows for the streamlining of legal sources which in turn saves time and money, because documents are readily available. This also creates easy access for average citizens who wish to obtain some legal documents.
"It's a few million boxes, hundreds of millions of pages and that all has a cost to create, copy and distribute," said David.
Electronic filing will allow for greater efficiency as trial court judges will be able to view their workloads from home. They can also save time as they will not have to sort through records to find a specific document. This also reduces the chances of losing important documents.
"If you spent a couple of hours under the old system and a couple hours under the new system you'd find that the hours under the new system translates into giving you more time," said David.
David said this is good for Indiana lawyers, businesses, citizens, and helps bring down the cost of filing and travel time. However, he also said it will take some time before they are able to quantify the savings due to e-filing.
Barriers to adopting the electronic filing system included education, willingness to accept a new system and proving the credibility of a new system.
"Everyone having the willingness to slow down a little bit so that you can learn so that you can speed up after you learn, that's been the challenge," said David.
Justice Mark Massa said the structure of Indiana's court system also puts them at a disadvantage when trying to switch to a new system. Indiana has 92 separate counties, and Massa said that makes it difficult to impose change.
"We've done everything I think we can to underscore the independence and impartiality of each court and give whenever possible the opportunity to enhance the data sharing and communications," said David.
David credits the courts' involvement and willingness, the collaborative efforts of the executive and legislative branch, and the leadership of Chief Justice Loretta Rush for allowing this project to happen.
"Indiana is one of the leading states in moving to the 21st century," said David.
Makenna Mays is a reporter for TheStatehouseFile.com, a news website powered by Franklin College journalism students.