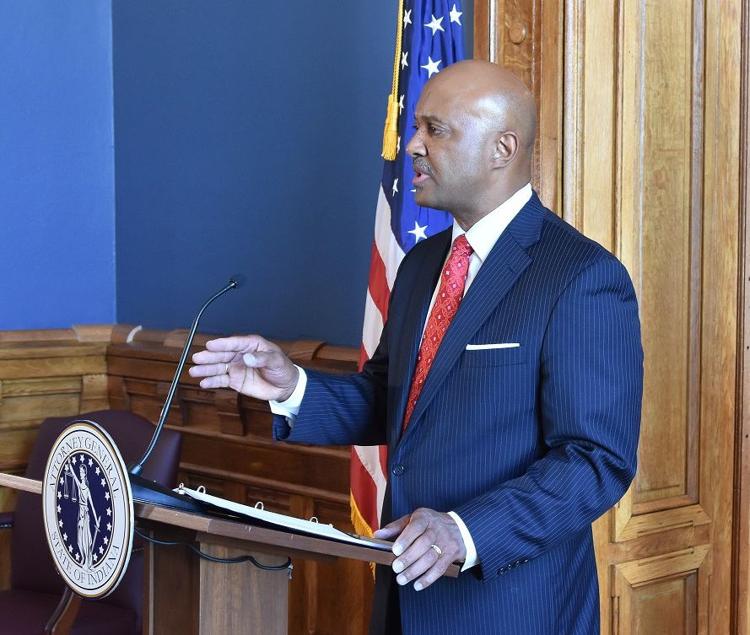 Indiana Attorney General Curtis Hill continues to deny any wrongdoing after a Statehouse investigation over allegations of sexual misconduct found he behaved inappropriately toward several women at an event last March.
On Monday, July 9, Hill made his first public appearance since the allegations and investigation were reported. Dressed in a blue suit, white shirt, and red tie, standing at a podium flanked by the American and the Indiana flags, Hill read a dramatic statement denying all allegations against him and casting himself in the role of victim.
"I now stand falsely and publicly accused of abhorrent behavior," Hill said. "These false accusations have irretrievably damaged my reputation. I stand before you a condemned man. Condemned without trial, condemned without notice, condemned without the benefit of any basic rights that ensure fairness.
"These past several days have witnessed my name and reputation dragged through the gutter in ways I would have never imagined. Apparently, in this climate, the standard is guilty—and who cares if you're innocent.
"This is America, and in America, we cannot overlook the presumption of innocence until proven guilty," Hill continued.
One of Hill's accusers, Rep. Mara Candelaria Reardon released her own statement following Hill's press conference.
"When we take the oath of office, to serve the citizens of Indiana, we agree to be held to a certain standard and honor the trust the public has placed in us. Curtis Hill, through his actions has betrayed the public trust, and lied about his actions to the very citizens he serves.
"I will continue to cooperate with any and all investigations into this matter until such a time that Curtis Hill is held accountable for his abhorrent behavior."
The Indianapolis Star broke the story of the allegations last week after obtaining a copy of a memo summarizing the investigation conducted at the request of the Legislative Services Agency (LSA) acting on behalf of the Indiana House and Senate.  
While the memo and initial press releases kept the identity of Hill's accusers private, Rep. Reardon has come forward as the woman Hill groped at a Downtown bar in March of this year. The incident occurred at a gathering of lawmakers, staffers, and others who were celebrating the end of the 2018 legislative session.
According to Reardon's interview with investigators, Attorney General Hill was "very intoxicated" when he approached her at the bar "put his hands on her back, slid them down her back, and grabbed her buttocks [...] She told him to back off and walked away, but Hill approached her again later and again reached under her clothing and grabbed her buttocks. She again told him to back off."
The report details interviews with five other women who attended the party that night and were harassed by Hill in a similar manner or witnessed the behavior.
Since the memo was leaked and the allegations made public, lawmakers on both sides of the aisle have called on Hill to resign, including Gov. Eric Holcomb.
"Four women had the courage to step forward to report sexual harassment by the Indiana Attorney General," Holcomb said in a statement last Thursday. "The findings of the recent legislative report are disturbing and, at a minimum, show a violation of the state's zero tolerance sexual harassment policy. [...] Attorney General Hill should resign, and I support a thorough investigation by the state's Inspector General." 
In addition to Holcomb, chairmen of both the Indiana Republican Party and Indiana Democratic Party have called for Hill, a Republican, to resign, as have Speaker of the House Brian Bosma, a Republican, and the Senate President Pro Tem David Long, also a Republican.
"It makes no difference that these incidents did not occur in a workplace environment. Curtis Hill is not our employee; if he was, he would already have been fired. Because we cannot terminate his employment, we ask instead for him to own up to his actions, apologize publicly to the victims, and tender his resignation immediately," Bosma and Long said in a joint statement.
Hill not only denies any wrongdoing, he steadfastly refuses to resign. In a statement sent to NUVO last week, Hill called the allegations "deeply troubling" and bemoans the lack of fairness in the investigation that did not include his version of events.