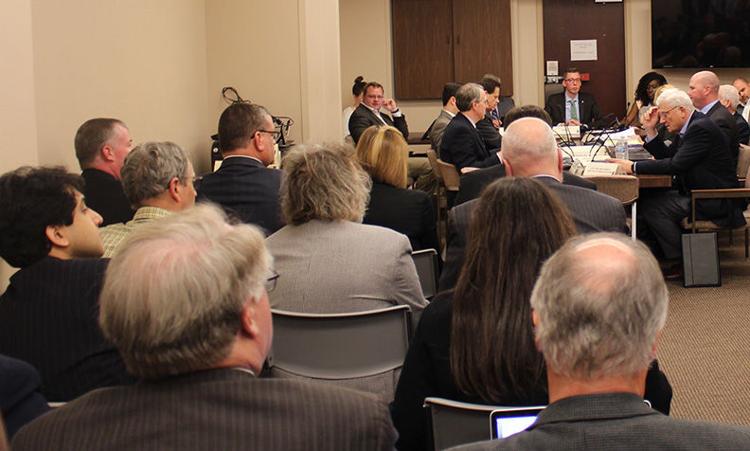 Hoosiers who invest in solar energy and big utilities that hold the energy industry's reins will each have to make sacrifices with the version of the solar bill that passed out of a House committee Wednesday.
Committee chairman, Rep. David Ober, R-Albion, said he found virtue on both sides of the issue, and tried to find a balance between the competing interests of the state's electric utilities and the fledging solar power industry.
"We're not trying to slam something through without listening," Ober said. "We've been very thoughtful and listened very intently to what folks are saying."
Senate Bill 309, which opponents fear will reduce and eventually remove incentives for using solar technology in the future, passed the House Utilities, Energy and Telecommunications Committee with an 8-5 vote.
The controversy has centered around net metering, a billing mechanism that credits individuals who generate more solar power than they need back to the electric grid.
According to the bill's author, Sen. Brandt Hershman, R-Buck Creek, those who currently have net metering would be grandfathered in for 30 years. Those who install solar units in the next five years would be grandfathered at a full retail price until 2032.
After that, solar investors would be compensated at a lesser, wholesale rate plus 25 percent.
Ober said it's important for the General Assembly to get the policy for net metering right.
After listening to Hoosiers' concerns about the reduced amount they would be credited for generating excess energy, Ober proposed an amendment would bar utilities from seeking even lower reimbursement rates in the future from the Indiana Utility Regulatory Commission.
Currently, there is no set price at which a utility is able to ask for a reduced rate.
"It didn't really set a floor. It mentions wholesale, but it could be lower than that wholesale rate," Ober said of the original version of the bill. His amendment passed.
However, the amendment would not change the fact that those who benefit from net metering after 2022 will still be credited at a lesser wholesale rate than the current higher retail rate.
Rep. Matt Pierce, D-Bloomington, who voted against the bill, said what the bill is aiming to do is unusual.
"We're telling the experts what the rate will be and we've made a political decision that a 25 percent premium for newer net metering customers, over the average cost, is the way to go," Pierce said.
Pierce also questioned the necessity of addressing the issue of net metering at this time.  
"I can't understand was the rational is for this bill," Pierce said. "There's no crisis."
But Ober said the bill is timely, and acknowledged that this is a conversation many other states are having as well.
"We're not going to wait until this is a problem, let's be proactive," he said. "Yes it causes a lot of heartburn now, but I think as it goes further along we can see the real value."
Ober also said the bill will help create some guardrails and tailor net metering policy now so no problems will be created in the future.
"For me this is all about trying to find short-term certainty or transition to a model that has some long-term benefits to those who want to do distributed generation," he said.
Those who have opposed the bill from the beginning question why the figures used to determine net metering rates are not decided by the IURC, and think that the bill favors big utilities like Duke Energy and IPL.
"This kind of attack on solar power and net metering is happening in a lot of states, and it's because the utilities recognize their business model is going to be threatened," Pierce said. "They're doing what typically old industries do when new technology arrives – they try to sand bag it or slow it down as long as possible."
However, Hershman said the bill was not created to favor the utilities' interests.
In a statement, Jesse Kharbanda, executive director of the Hoosier Environmental Council, said that the bill would kill net metering and cause great harm to Indiana's solar industry.
"We urge lawmakers to not move this bill forward to the floor: SB 309 is wrong for Indiana jobs, wrong for our commitment to environmental stewardship, and wrong for the cause of energy freedom," Kharbanda said.
SB 309 now moves to the full House for action.