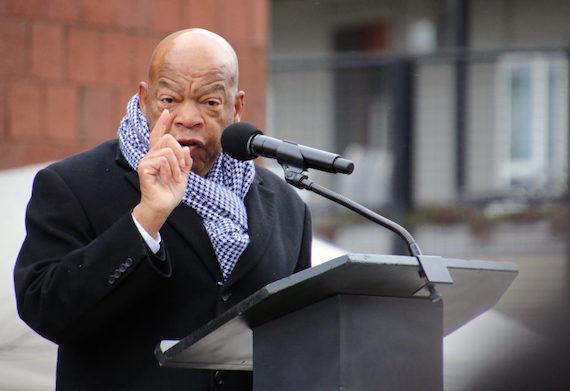 For U.S. Rep. John Lewis, a civil rights pioneer, the Dr. Martin Luther King Jr. Park in Indianapolis holds 50-year-old memories that have made it difficult for him to return.
Lewis was one of many at the park when Robert F. Kennedy shared the news that Dr. Martin Luther King Jr. was assassinated. Lewis had not been back to the park until Wednesday when he attended a commemoration for the anniversary of both the speech and King's death.  
"This is hard. This is tough for me to come back here," said Lewis, who has represented his Georgia congressional district for 30 years.
On the night of King's assassination on April 4, 1968, Kennedy, a candidate for president, was scheduled to make a campaign stop in Indianapolis at the park. It fell to him to deliver the message that the civil rights leader had been killed and in an impromptu speech, urged the crowd to follow King's example and respond to the act with peace. Indianapolis remained calm that night while other cities erupted in violence.
Despite the snow flurries and cold wind, hundreds of Hoosiers, young and old, joined Lewis at the park named for King Wednesday to commemorate the 50th anniversary of the civil rights leader's assassination and Kennedy's speech. The event also included the presentation of the Kennedy-King Memorial Initiative's Trailblazer Award to Lewis in recognition of his long journey fighting for civil rights.
Various guests, including Mayor Joe Hogsett, Gov. Eric Holcomb, U.S. Rep. André Carson, and U.S. Rep. Susan Brooks, spoke at the event Wednesday to honor Kennedy and King.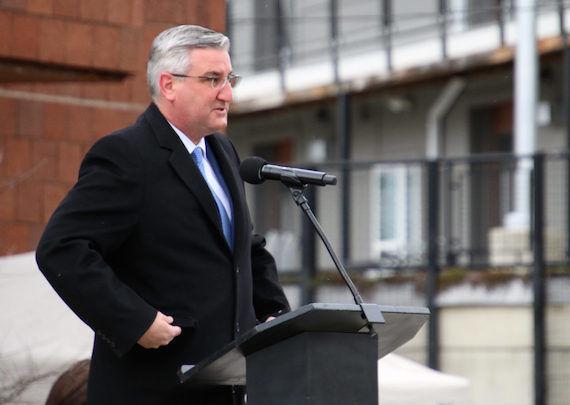 "Indianapolis has not nor will ever forget what [Kennedy] means to this city as he turned a moment of national tragedy into a very clear call for unity," Holcomb said. "It was that clear message of unity that began a healing process, a healing process for this city and our country, a healing process that continues to this day."
Kennedy's youngest daughter, Kerry Kennedy, shared about her father's successful political career as well as personal memories of the father who died while she was still a child. She recalled a day when she ran into his office crying after her brother, Michael, threw one too many magnolias at her during their playful re-enactment of World War II.
"As I recounted my woes, Daddy wiped away my tears and told me to go fetch Michael," she said. "I knew right then that I'd be saved from this horrendous assault and that justice would prevail. After all, my father was always fair, and he was the attorney general of the United States."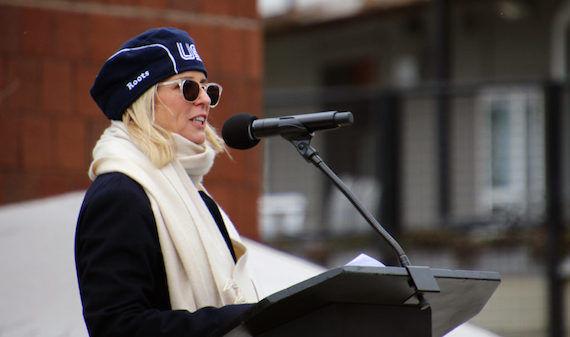 Kennedy said her father's values reflected the ones he promoted to the country. 
"As an adult, I recognize the lessons my father taught us as children mirrored the very beliefs he wanted the entire nation to embrace. We must field a system of justice that enjoys the confidence of all sides that peace is not just something to pray for, but something each of us has a responsibility to create daily," Kennedy said.
Lewis spoke at the March on Washington in 1963 and was beaten two years later during a civil rights march in Alabama. Still, he continued to advocate for civil rights. Wednesday, Lewis shared his own message with the crowd.
"It is very simple, when you see something that is not right, something that is not fair, something that is not just, you have a moral obligation to say something, to do something," Lewis said. "You cannot be quiet."
"Days like today remind us that we have come a long way, but as the old saying goes, we didn't come this far to only come this far. Let us today reaffirm our commitment to each other to remember compassion for our neighbors," Holcomb said.
Tuesday, President Donald Trump signed the Kennedy-King National Commemorative Site Act into law, which was led by Donnelly, Young, Carson, and Brooks. The law honors the Landmark for Peace Memorial and establishes it as a part of the African American Civil Rights Network.
Quinn Fitzgerald is a reporter for TheStatehouseFile.com, a news website powered by Franklin College journalism students.