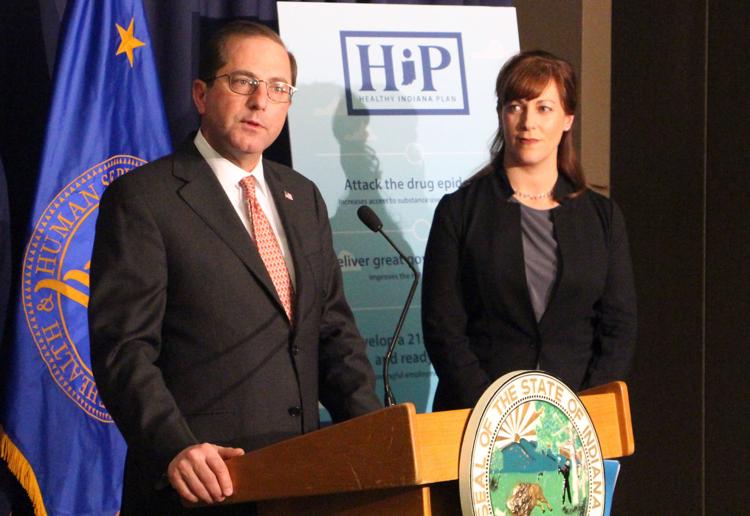 Indiana will continue to provide health coverage for low income Hoosiers under the Healthy Indiana Plan. 
In a press conference on Friday, Gov. Eric Holcomb and Alex Azar, U.S. Health and Human Services secretary, announced the Trump administration's approval of a three-year extension to HIP. 
"The new demonstration includes the historic step of work or community engagement requirements for able bodied, working age adults and this in particular is going to open up new opportunities for a lot of Hoosiers," Azar said during the event. Azar is a former Eli Lilly executive who was recently named to President Donald Trump's cabinet.
Starting in 2019, HIP members will be required to work, go to school or volunteer at least 20 hours unless they are pregnant, medically frail, over the age of 59 or taking care of a young child. 
The HIP extension will also allow Indiana to use an additional $80 million in federal funding to combat the opioid epidemic across the state. The additional funding will provide access to inpatient, outpatient and residential treatment options for addictions. 
"It's not an overstatement to say that this is not going to just change lives, this in fact is going to be able to save lives," Holcomb said.
HIP is a health care program for Medicaid-eligible or low-income individuals, which was established by then-Gov. Mike Pence. The program replaced traditional Medicaid for all non-disabled adults in the state.
House Speaker Brian Bosma, R-Indianapolis, said the extension would benefit the over 400,000 low-income Hoosiers who currently use HIP. 
"Indiana is a national model for how states can support better health outcomes while encouraging personal responsibility and reducing costs," Bosma said in a statement. "With this waiver from the federal government, we will also have an opportunity to expand critical addiction treatment options and our efforts to help Hoosiers find employment."
Democratic U.S. Senator Joe Donnelly praised the extension. 
"I'm pleased that today's announcement will ensure that hundreds of thousands of Hoosiers can continue to access health care coverage through HIP 2.0, which was made possible by the Affordable Care Act," Donnelly said in a statement. "In addition, this action will allow Indiana to expand substance abuse treatment services, which will help in our continued fight against the opioid abuse epidemic."
Holcomb said today's announcement is only the beginning and they are just getting started. 
"We are staring to go from walking to running with this program," he said. "So we're not done. Far from it in fact. 
Abrahm Hurt is a reporter for TheStatehouseFile.com, a news website powered by Franklin College journalism students.