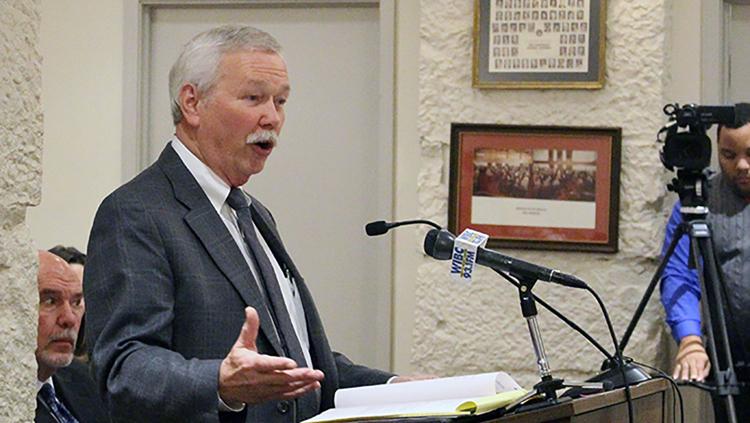 Legislation that would allow persons to carry firearms to worship services that have schools on their property passed a Senate committee on Wednesday.
"This bill would simply add and change the law where a person, who can regularly possess a firearm, can possess a firearm," Sen. Jack Sandlin, R-Indianapolis, said of Senate Bill 33 during his testimony before the Senate Judiciary Committee.
Under current Indiana law, guns are not permitted on school property. As a result, a person carrying a firearm at a church service with a school on the property could face jail time.
Sandlin said this bill allows houses of worship to protect their congregations.
"This bill does not allow or put guns in the hands of teachers," he said. "This bill would not prohibit a house of worship from establishing a policy that could prohibit the bringing of firearms onto the property."
Ryan McCann, director of operations and public policy for the Indiana Family Institute, said he strongly supported the bill.
"We see this across the country with unfortunately targeting places of worship more and more for violent attacks," he said. "This seems like a common-sense bill that would make sure that houses of worship could be protected from this kind of violence."
Ron Davault, executive director of operations at Southport Presbyterian Church, said the current law leaves the church defenseless.
"We're very concerned about some of the church shootings that have happened during worship services," he said. "We are helpless right now to do anything to defend ourselves. All we could do is hire law enforcement to stand guard."
Davault said hiring law enforcement would be both expensive and difficult given that the church is open from six in the morning to 10 at night.
During his testimony, he told a story about a man that had showed up to the church building during a school day. The man was being nonsensical, and the church staff decided to call the police and put the school under lockdown.
"It was 15 minutes before we could get a police car there," Davault said. "And I got to tell you that was the longest 15 minutes of my life when the only thing I could do to protect those kids was to stand between him and the building."
Amy Jackson, a member of Congregation Beth Shalom in Bloomington, who was representing her synagogue, a First Presbyterian Church and St. Mark's United Methodist Church, said the proposed legislation would limit her synagogue's ability to enact policies based on their faith.
"Intentional or not this legislation will supersede our own congregation's practice of our Jewish faith making it impossible for us to hold religious autonomy over our private worship and learning spaces," she said in her testimony.
Dr. Jody Madeira, who teaches Second Amendment law at the Indiana University Maurer School of Law, said the bill was poorly drafted and ambiguous.
"It is unclear whether churches will be able to exclude attendees to carry because it's lawful," she said in her testimony. "If they can't exclude these individuals, a number of angry issues raise their heads."
The bill passed in a 5-2 vote with an amendment adding that the person with the firearm must have permission from the house of worship to carry the weapon.
Sandlin said he knows many people that don't know that carrying a firearm into a church with a school on the property is illegal. He said the bill would protect the safety of the church and Hoosiers' Second Amendment rights.
"I think if this bill passes it will be a better opportunity to educate those, and also give the churches an opportunity to set the parameters if they want firearms in the church," he said.
Abrahm Hurt is a reporter for TheStatehouseFile.com, a news website powered by Franklin College journalism students.