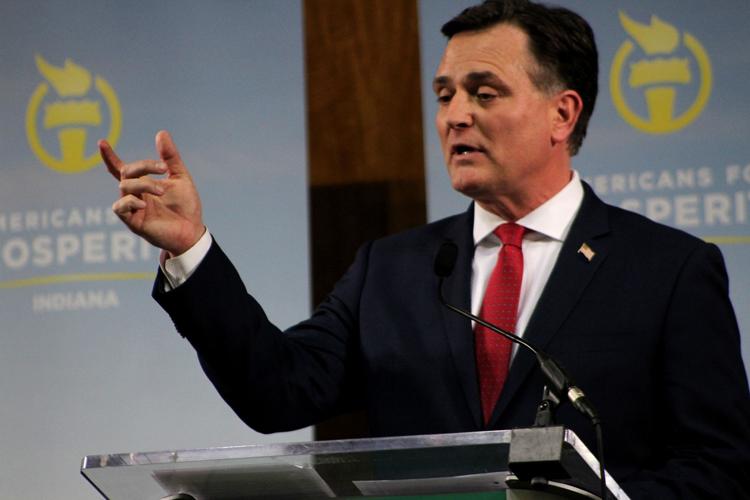 Indiana Republican candidates vying for a seat in the U.S. Senate spent Tuesday evening explaining why they were the ones to take down U.S. Sen. Joe Donnelly, D-Indiana, in their first Senate debate of the 2018 election cycle.
Former state Rep. Mike Braun and Luke Messer and Todd Rokita, both members of the U.S. House of Representatives, are in the race to unseat Donnelly in the November election. Donnelly has served since 2012.
The Republican candidates took on issues of healthcare and tax reform, jobs and infrastructure during the debate, sponsored by Americans for Prosperity–Indiana.
Americans for Prosperity is a national conservative advocacy group funded by brothers David and Charles Koch, owners of Koch Industries. The organization has funded $2 million in attack ads against Donnelly and his vote against the tax cut.
"We have to have an adult conversation about what's happening in the U.S. Senate today," Messer said. "As your Senator, I promise you we will stay focused on Joe Donnelly, beat him in this election and make sure the United States Senate never quits on all of us."
Focusing first on healthcare, all three candidates agreed on a repeal of Obamacare, calling it "devastating" for Hoosier families.
"The first thing we do is what we've continued to do—take every opportunity we can to repeal Obamacare," Rokita said. "We have a lot of businessmen, especially Republicans, in the House and Senate right now. It's not a matter of sending businessmen there, it's a matter of sending leaders who know what to do and do the right thing."
Braun said both government and "big businesses" have failed to develop the solutions needed to resolve the healthcare issue. Braun, a small business owner, said his business worked individually with insurance companies to prevent rising costs over eight years.
Taking a jab at the incumbent, Messer said what Donnelly says in Indiana is different from his actions in Washington.
"Joe Donnelly was a tie-breaking vote for Obamacare in Washington when it passed the first time, and he has consistently been a vote to keep Obamacare," Messer said. "And we need to make sure Hoosiers understand that because frankly when Hoosiers understand the truth about Joe Donnelly, Joe Donnelly's going to be in a whole lot of trouble."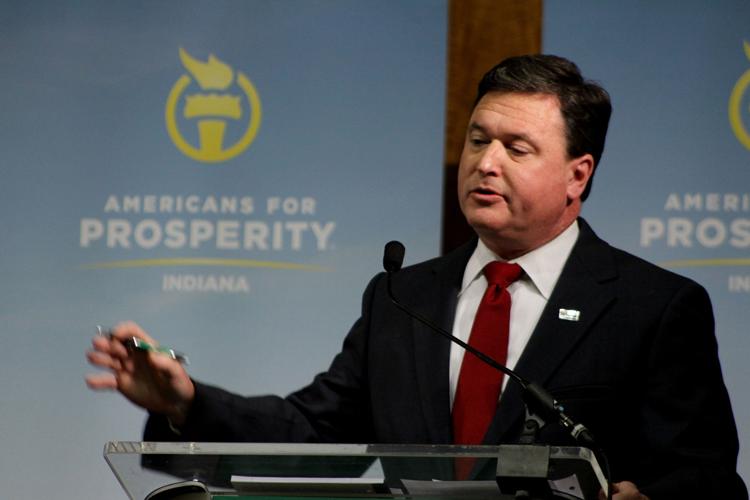 All candidates also voiced support for the right to try, including the use of medical marijuana; however, Rokita said he'd only support medical marijuana with no THC. He said the legalization of medical marijuana could potentially help his son, who suffers from Angelman Syndrome, a rare neuro-genetic disorder that causes seizures.
One issue that didn't arise during Tuesday's debate was gun rights, a topic causing a heated debate across the nation in the wake of the Feb. 14 tragedy at a high school in Parkland, Fla. A 19-year-old gunman entered the school and opened fire, killing 17 people and injuring dozens more.
Two Lawrence North High School students were among several people protesting outside Emmis Communications where the debate was held. Nick Roberts and Blake Quiroga, both 17, called on the candidates to push for the right reform.
"I feel like our lives are at stake," Quiroga said. "The votes we have and the information we're trying to give to our political leaders is more important than anybody else's because we're the ones going to school every day. We're the ones putting our lives on the line just being in that classroom."
Holding a sign that read, "Jesus was betrayed for 30 pieces of silver; how much are our children worth?" Mark Smith, 62, of Indianapolis, said he wants a lawmaker who will fight for the rights of children's safety across the country.
"When I was a kid, we weren't afraid to go to school," Smith said. "If we had beef with somebody, we'd fight. Maybe fight in the bathroom and then it would be over. These kids going into these schools and just start killing people indiscriminately. It's wrong."
Several Rokita supporters also stood outside the venue, but said they "don't support the media" when approached for interviews.
The candidates will face each other once again in a televised debate hosted by the Indiana Debate Commission prior to the May 8 primary. The commission has yet to announce details of the debate.
Shelby Mullis is a reporter for TheStatehouseFile.com, a news website powered by Franklin College journalism students.