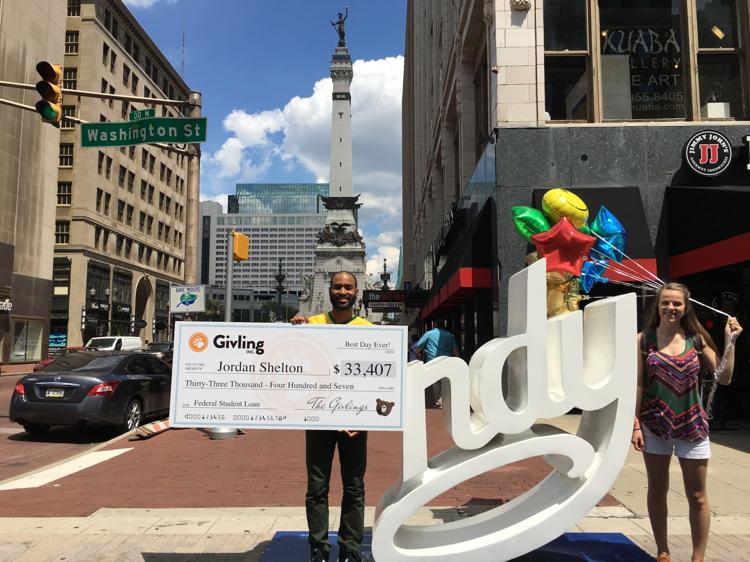 Many times at university, professors refer to a degree as one of those endeavors that people must take, "and then figure out how to pay for it." For one in three families around the U.S. student loans create crippling boundaries in postgraduate life. In reality, that is a wall of debt that now can be knocked down by playing a phone application.
Monday July 31, while walking the circle downtown Indy Jordan Shelton was surprised by the staff members of Givling with a check too big for his hands to hold, that covered the remaining $33,407 of his student loan.
Givling, a free trivia app, pays off the loans through advertising revenue and optional in-app purchases. "We have the power to pay off one $50,000 loan per day," says founder Lizbeth Pratt in a written statement. "The more people that play, the more debt we pay off. It's that simple." This marks the fifth student loan paid off by Givling, with over $550,000 paid out thus far.
Chief Marketing Officer for the company Seth Beard says that Givling actually raises its money to support students through mainly ad-profits. When playing the trivia games via the application, normal advertisements will occur between questions. 90 percent of the profit from those pop-ups that the company receives, then goes back into the funds that pay the loans. 
Beard also explained that when an individual signs up for the application they are given "Q" number, and split among chronological groups. Shelton, an Indy resident, marks the fifth person for the company to pay off, and they plan to move forward to the next Q group. In each group, 40 percent of the participants are chosen at random to receive the funds for their school loans.
Available for both Android and iPhone, over a 100,000 people interact with the application daily. The next random drawing will occur on Friday, Aug. 4 and any individual can download the app to have a chance to win.