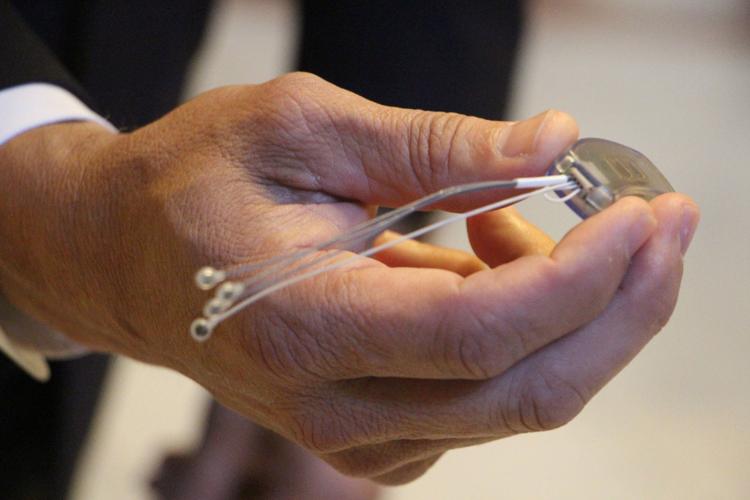 The U.S. Food and Drug Administration has approved a neurological device that could help those suffering from opioid withdrawal symptoms.
"This is something, I think, will revolutionize the country in the way of addiction and the epidemic in our world," said Sen. Jim Merritt, R-Indianapolis.
The NSS-2 BRIDGE, was created by Innovative Health Solutions, an Indiana medical technology company. The device would be installed behind the ear in the three places, like an acupuncture device, and it would send messages to the brain eliminating pain. A research study has shown that the device has led to an 84.6 percent reduction of withdrawal symptoms in as little as 60 minutes.
"Significantly reducing withdrawal symptoms lessens the dependency on opioids, allows for easier transition to medically assisted treatment and ultimately works as another tool to combat the opioid epidemic facing our country," Brian Carrico, president of Innovative Health Solutions said in a statement.
Symptoms of opioid withdrawal include nausea, vomiting, abdominal pain, anxiety and sleeplessness. These symptoms can be so severe that people often turn back to opioids within a few hours.
"One of the reasons why people sometimes go through detox 20 times and not succeed is because of the incredible pain," Merritt said.
The device is worn for five days, and then patients will receive a shot of Naltrexone or Vivitrol and enter into some form of recovery or counseling.
"This device will be the future of recovery," said Merritt.
This device will be prescription only, but will cost much less than traditional medical treatments.
With the FDA clearance, doctors will be able to prescribe the BRIDGE device to patients in withdrawal as well as those suffering from post-acute withdrawal symptoms. The device will be eligible for insurance coverage as soon as states and commercial carriers adopt the technology.
Merritt sees a lot of potential uses for the BRIDGE device in methadone clinics as well as doctors' offices for those who suffer ailments such as fibromyalgia.
"This has so much potential for our world that it's just exciting that people will not have to use opioids to be pain free," Merritt said.
Merritt has proposed bills for the 2018 legislative session that would impose stiffer penalties for drug dealers including a 10-year mandatory minimum for those dealing fentanyl, a powerful opioid.
Makenna Mays is a reporter for TheStatehouseFile.com, a news website powered by Franklin College journalism students.