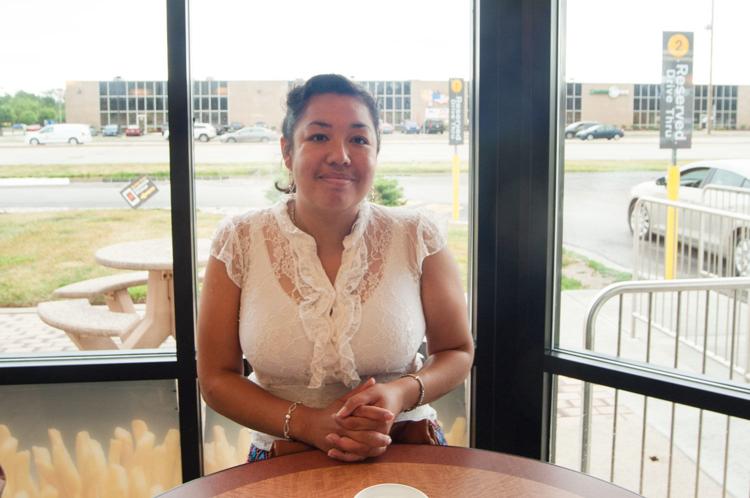 [Editor's note: This story has been updated to describe Erika Fierro's June 13 appointment at ISAP. A GoFundme account has been set up in her name to  assist her with expenses.]
On June 11, Erika Fierro arrived for an appointment at the Intensive Supervision Appearance Program (ISAP) office, located in a nondescript office park at 5652 W. 73rd St. on Indy's Westside.
 ISAP is a program for monitoring immigrants in deportation proceedings for the Department of Homeland Security administered by the private contractor Geo Group.
Fierro had been ordered to depart the U.S. on or before June 27. She is trying desperately to get passports for her U.S. citizen children. At the same time, she is unsure if her two children, 3-year-old Jennifer and 8-year-old Angel, will be allowed to travel with her to Mexico, where her husband has recently been deported.
But the reason Fierro was at the ISAP office on this day didn't have much to do with passports. She was ordered to appear at ISAP because when immigration officials knocked on her door on June 8, she did not immediately answer. (She was wearing an ankle bracelet at the time, she said, so they had to have known that she was still on the premises.) It was far from the first time she had to deal with ISAP inspectors and Immigration and Customs Enforcement (ICE) agents in the past several months.
Fierro's troubles with ICE began March 21 when she and her husband, Jesus Peña-Rodriguez, were arrested in their home on Indy's Southside.
"They came to the house in the dark. They arrested my husband as he was leaving for work," she told the Criterion Online Edition website, which is published by the Archdiocese of Indianapolis. "Then they got me out of my house, telling me they had to give me his tools, expensive tools owned by [the construction company]. They gave me nothing. It was all a lie, and they said they were arresting me too."
The 35-year-old Fierro, brought to the U.S. by her parents from Mexico when she was 5, is a 2001 graduate of Beech Grove High School.
Fierro is ineligible for the Deferred Action for Childhood Arrivals (DACA) because of her visit to Mexico in 2007. Upon returning, both she and her husband claimed to be U.S. citizens. In secondary inspection, they both admitted that they were Mexican nationals without status in the U.S. They were subsequently deported to Mexico and then crossed back across the border. These actions can invalidate a request for Development, Relief, Education, and Education for Alien Minors (DREAMer) status, which is a way to gain citizenship for those who entered the country as children—a program that Fierro otherwise would have qualified for.
Throughout her ordeal, she has had support from her church and her archdiocese.
"Erika is a beloved mother of two citizen children [who is] ensnared in [an] aggressive ramp up by ICE [that is] targeting vulnerable families who pose no danger to the community," Father Larry Janezic said at a prayer vigil outside the ISAP office on April 24. "This administration's immigration policies fail to recognize that family is the fundamental building block of our immigration system, our society, and our church."
Janezic is a pastor at St. Patrick Catholic Church where Fierro is a parishioner. (Her husband Jesus was a guitarist in the church's music ministry.)
In February, the Washington Post reported that ICE arrested 37,734 undocumented "noncriminal" immigrants in 2017. This was more than double the amount in 2016.
Fierro, perhaps a victim of this Trumped-up enforcement, has been spending the last week trying to raise money through a yard sale for expenses associated with her upcoming deportation but without much success. However, the issue of passports—where she needs her husband's help—is the one causing her the most anxiety.
"They've made it hard for us to get their passports, and now that my husband is in Mexico, he's got a 30-year-old passport. He can't get his Mexican passport because he just arrived there," she said. "So he has to have a current ID…He's got to sign all the passport forms and he has to sign in front of a notary. And they won't do it in any notary station."
The uncertainty, she said, has taken a toll on her. "You ask and they don't tell you this is happening," she said. "They just keep it so secret. It causes a lot of uncertainty. They've done different things, said so many things. It's very scary."
And throughout the whole ordeal, she said, ICE agents have seemed indifferent at best to her desire to keep her family together. "The previous week, they said that I would be deported without my kids," she said. "My kids would stay here and the government would keep them," she said.
Fierro's appointment on June 11 was over and done in less than five minutes because she was able to quickly demonstrate to the office that she hadn't violated the terms of her supervision.
Sister Tracey Horan of Faith in Indiana described what happened on her subsequent appointment at ISAP, on Wednesday, June 13. 
"She asked for an extension so that she could be sure that they [Erika Fierro and her kids] could leave together," Horan said. "And they said that they would consider it. They didn't say yes but they didn't directly say no. She's kind of in limbo, and they still have her passport. So as of now nothing really has changed.  She's still selling off her possessions and preparing to leave, hoping that she'll get an extension at least until her kids' passports come in."