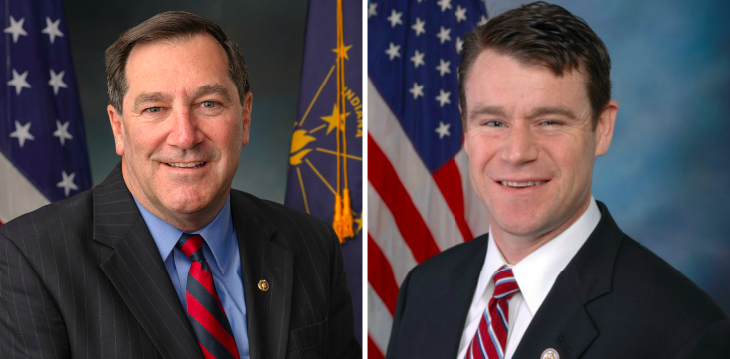 The initial reaction from Sen. Todd Young, R-Indiana, following President Donald Trump's Supreme Court nomination of Brett Kavanaugh was, as expected, a positive one.
"Judge Kavanaugh is a well-respected judge with a strong record of honoring the Constitution and upholding the rule of law," Young said in a release distributed after the Monday night announcement. "I look forward to conducting a thorough and objective review of Judge Kavanaugh's nomination over the coming weeks, and I am hopeful that my colleagues will give him the same courtesy."
Young provided a more in-depth assessment of the nomination in a conference call with reporters Tuesday morning.
"I do have a sense, in the things that I have read and my knowledge of his credentials and reputation within the legal community, that he's an originalist," he said.
Young also said he appreciates those judges who apply the Constitution as it is written rather than reading between the lines for a broad interpretation.
"I want a judge who applies the law to the facts of a given case as opposed to coming up with sweeping statements about particular policy issues."
However, when reached for comment concerning Trump's nominee, the Indiana American Civil Liberties Union referred to the prepared statement from the national organization that expressed caution and detailed the importance of determining where Kavanaugh stands on current legal precedent.
"Brett Kavanaugh may bring the requisite experience, but given Donald Trump's promise to overturn Roe v. Wade, the decision that recognized the right to an abortion, and efforts to reverse progress on civil rights and civil liberties, that's not enough," ACLU Legal Director David Cole said in the release. "It's incumbent on Congress to determine whether Kavanaugh's legal views are compatible with the powerful role he will play for generations."
Young agreed and said knowing how each nominee will review a case and make up his or her mind on issues brought before them is crucial to the nomination process.
This is the second Supreme Court confirmation for Young, the first being Neil Gorsuch in 2017. Young said he intends to use what he learned from that experience to help him make his decision this time around.
"One of the things I learned is how much support we have around here to help us make these decisions," Young said. "Coming from the House of Representatives we didn't have a staffing function. Our job was not to staff up the administration or the federal court system, so that is one difference in our responsibilities, and I found that there is an entire team of individuals with respect to federal court nominees to advise us about particular cases."
Young said he wants this to be an expeditious and fair-minded review process.
"I am keeping an open mind as I would hope others do. It has been my disappointment that there have already been some colleagues in the United States Senate who indicated that they wouldn't support President Trump's nominee before the name of his nominee was even made public," Young said. "This should not be a political process."
The Indiana chapter of Americans for Prosperity joined Young in applauding the Trump administration regarding the nominee and shared the Republican senator's view that Kavanaugh deserves the opportunity for a hearing and vote.
The organization called out Young's fellow Hoosier senator, Democrat Joe Donnelly, and encouraged him to not block the second Supreme Court nominee of the Trump presidency.
"We hope Senator Donnelly won't obstruct the confirmation of this nominee for political purposes and deny Americans the fully-functioning judiciary they deserve," AFP-IN Director Justin Stevens said in a prepared statement. "We are ready, willing and able to activate our grassroots army to drive the confirmation of Judge Kavanaugh to the Supreme Court."
Donnelly has yet to discuss whether or not he will support the president's pick for the nation's top court, only providing a three-sentence statement declaring he will treat this process much in the same manner as previous confirmations.
"As I have said, part of my job as senator includes thoroughly considering judicial nominations, including to the Supreme Court," Donnelly said in the release. "I will take the same approach as I have previously for a Supreme Court vacancy. Following the president's announcement, I will carefully review and consider the record and qualifications of Judge Brett Kavanaugh." 
Donnelly is expected to be a key vote in Kavanaugh's approval and met with President Trump on June 28 to discuss the Supreme Court vacancy. Requests for further comment from the Democratic senator were not returned.
Brynna Sentel is a reporter for TheStatehouseFile.com, a news website powered by Franklin College journalism students.