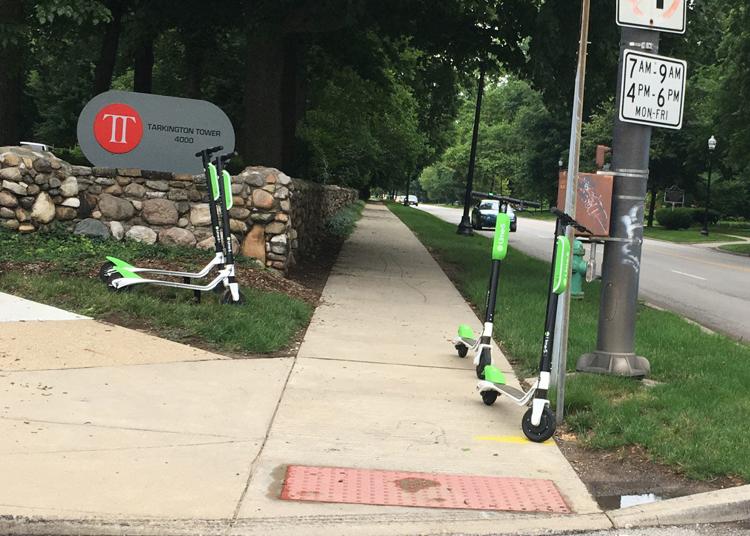 City officials issued cease-and-desist letters on Tuesday, July 3 to the two companies that dumped hundreds of dockless, electric scooters in various locations around and in Downtown Indianapolis last month. One of those companies— Lime—complied with the order. The other company, Bird, held out until Wednesday, July 11, when it started pulling its scooters off the streets as well.
It was just last week when the City Council Public Works Committee voted to regulate the scooters, or, rather, the companies that rent them out. The proposal was moved forward with a 6-1 vote to the full council. It will be considered in their next meeting July 16.
One of the city's ordinance proposals is a mandate that scooter companies must have insurance. Another insists on various safety features for the scooters, which have become very popular Downtown and in Indy's trendier neighborhoods.   
"At the end of the day, the City of Indianapolis wants to embrace new technology created by companies like Lime and Bird," Brandi Pahl, chief communications officer for the City of Indianapolis, wrote NUVO in an email. "But we also want to make sure we have the framework in place to regulate it and ensure the safety of not only users, but our residents and neighborhoods as well. The City thanks Lime for its cooperation in suspending operations until the full City-County Council can consider Amended Proposal No. 120... Once adopted, the new regulatory framework will lay out a timeline for next steps, helping to ensure each company's full compliance with local regulations and to avoid any enforcement actions by the Department of Business and Neighborhood Services."
Bird and Lime brought their business model to an Indy that had almost no regulation in place for their products, following the example set by Uber, Lyft, and other gig economy operators. The operators get their clientele hooked on their products before the local city government knows what hit them, before the cities are adequately prepared to receive them. And then their clientele becomes their best advocate.
The rental scooters could only be accessed—and rented—through a smartphone app. You can leave them just about anywhere when done. Actually, you pretty much have to leave them streetside, because there are as of yet no racks anywhere set up for them.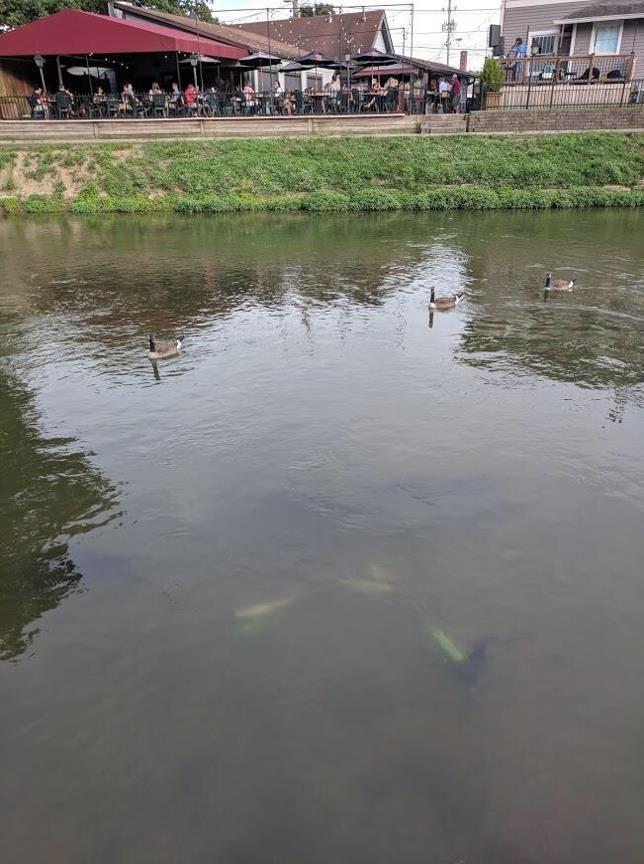 People have indeed been leaving them anywhere, in front of businesses, houses, and even in the Broad Ripple Canal. And if you're looking for a gig-economy-type job, you can earn some income by signing up to recharge said scooters in your home.
After Bird and Lime brought their scooters to Indy, you might think that the sidewalks of Downtown and Fountain Square were transformed into scooter racetracks. If you're a pedestrian simply trying to walk down the sidewalk, you may be out of luck at this point. There's not an app, yet, for simply being a pedestrian. But the next best thing might be a speed dial 911 just in case you get wacked by a scooter.
Not everyone is taking adequate precautions when riding the scooters. According to a WRTV 6 report, 21-year-old Ty Kutan lost control of his Bird scooter when he hit a pothole at the intersection of Meridian and 22nd streets. Kutan, who broke his orbital bone and needed a dozen stitches, wasn't wearing a helmet. Bird told WRTV that all riders who request a helmet can access a free one through an app but provided no other information to the station about how to obtain the helmets.
The city had advanced notice of the dockless scooter deluge, according to Taylor Schaffer, Communications Director for the City of Indianapolis, and has been working with the City-County Council since April to develop effective guidelines.   
The goal, she said, is "to embrace innovative forms of transportation while also ensuring the safety of our residents and neighborhoods."
At least one arts nonprofit is thinking of ways that it could turn the scooter craze to its advantage.  Pauline Moffat, executive director of IndyFringe, thinks that the city's arts community could ultimately benefit from the scooters. But first she wants to prevent passersby from tripping on abandoned scooters left in front of her venues. So Moffat is contemplating is a rack of some sort for the dockless scooters.
She can even imagine curated scooter tours happening during the IndyFringe Festival this August.
"There will be fun tours hosted by performers/artists who will take people to shows they never knew existed," she says. 
This story has been updated to reflect the fact that Bird started pulling its scooters off the streets of Indianapolis on Wednesday.