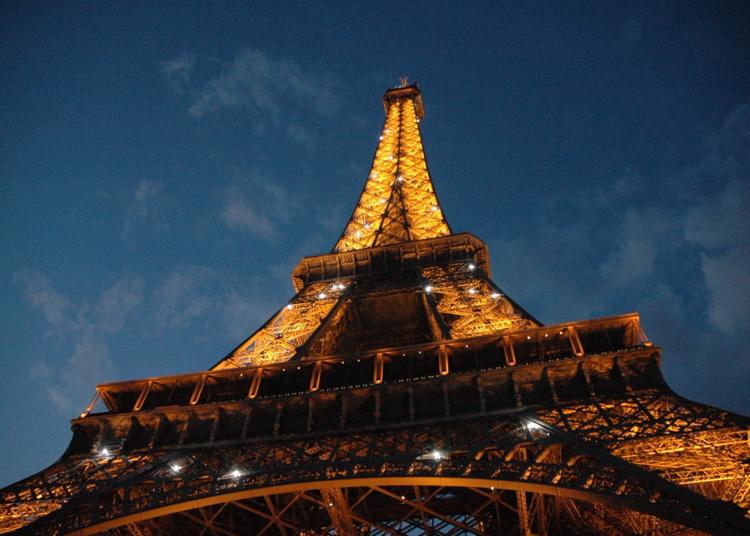 Delta Airlines announced last week that it will soon begin offering direct service between Indianapolis International Airport and Paris Charles de Gaulle. The news is a big win for city and state officials who have tried without success to attract an intercontinental flight from a major airline since the new airport opened in 2008.
Despite being named Indianapolis International Airport, the only non-U.S. destinations currently served by direct flights out of the city are Toronto, Canada and seasonal flights to Cancun, Mexico and Punta Cana, Dominican Republic. Last year, a direct flight to London was the goal but a deal with British Airlines never came to fruition.
Gov. Holcomb made international flights a legislative priority in 2017 when he lobbied for and received $10 million for economic development specifically designed to attract and support international travel in and out of Indianapolis over the next two years.
"The first-ever direct flight from Indy to Paris will help further connect Indiana to the world and the world to Indiana," Holcomb said at the time of the announcement."Adding direct flights is a major part of our 'Next Level' agenda and critically important to our state's growing economy."
Congressman Todd Rokita praised the move in a press release the same day. "I commend Gov. Holcomb and the airport board, and all the other leaders for opening the door for this flight. I know the significance of this investment in our state."
The investment in the Indy-Paris flight will cost Indiana taxpayers $5 million over the next two years, whether they make the trip or not. Indianapolis taxpayers will chip in an additional $500,000 in funds promised by the Indianapolis Airport Authority to cover fee waivers, rent reductions, digital advertising and other marketing efforts.
While it is not clear exactly how the $5 million from the state will be allocated to Delta, officials have said the amount is contingent upon the number of passengers who take the flight. This implies the agreement will be what is known as a "minimum revenue guarantee," where state funds will be used to make up any shortcomings between Delta's cost of operating the direct flight between Indianapolis and Paris and the revenue generated by ticket sales.
In 2013, United Airlines received more than $1 million to add a direct flight between Indianapolis and San Francisco. In that case, the money was used as a minimum revenue guarantee to make up for any shortfall during the first year the flight was offered. Within a year, the flight was successful enough to stand on its own, and United has gone on to offer additional direct flights to San Francisco as the popularity of the flight increased.
Similar agreements between local municipalities and airline companies haven't been as successful. In 2009, Delta received $1.5 million to add flights from Tallahassee to Orlando, Tampa and Fort Lauderdale. After five years, none of those flights proved profitable and the routes were cancelled.
In Tucson, city officials struck a two-year deal with American Airlines to provide a direct flight to New York. The deal included more than $3 million in minimum revenue guarantees. After a year, the flight was cancelled due to lack of travelers.
In Denver, a $2 million deal with Lufthansa promised direct flights to Munich beginning in 2011. The money was intended to subsidize the flight for the first year. Six months later, Lufthansa refunded some of those funds when it scrapped the flight. City officials didn't give up, however. In 2016, the flight was reintroduced with more than $5 million in incentives to the airline and continues to operate several times a week.
The Delta deal with Indianapolis for a direct flight to Paris is similar to one the city of Pittsburgh offered in 2009 for a Paris flight. In that case, Delta was given more than $9 million in subsidies over the first two years for a daily Pittsburgh-Paris flight that never proved profitable. The flight currently runs several times a week October through April and daily from May to September.
Indianapolis will adopt a similar schedule when flights to Paris begin in May 2018. Through September, the flight will operate daily and then be scaled back to two or three times per week the rest of the year. Flights will leave Indy at 6:20 p.m. and arrive Paris at 8:45 a.m. the following day. Return flights will leave Paris at 1:15 p.m. and arrive Indy at 4:35 p.m. the same day.
The direct flight cuts travel time from Indianapolis to Paris by at least five hours. It also means one less day of vacation time wasted in airports. Currently, connections have to be made in Chicago, Cincinnati, Atlanta, New York or other east coast cities, requiring passengers to travel most of the day before getting on a flight to France.
"The goal over time has been to connect IND to every direction of the globe," said Mario Rodriquez, executive director of the Indianapolis Airport Authority. "A nonstop destination into Paris puts travelers — for business and leisure — right in the heart of Europe, with access to hundreds of cities, business economies and some of the greatest attractions in the world."