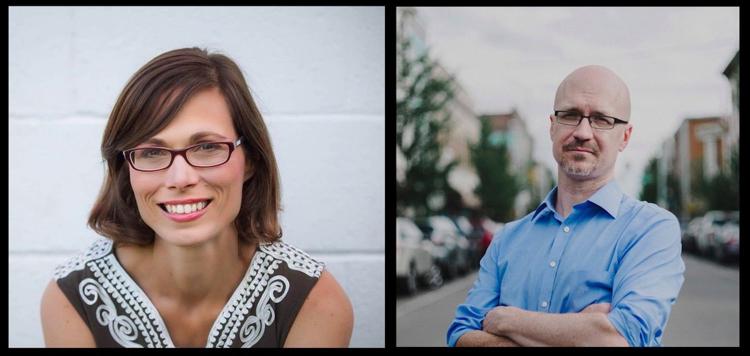 It's a shame Liz Watson and Dan Canon are running for the same congressional seat in Indiana's 9th District. Decent Democratic candidates are hard enough to find in Indiana, so excellent ones are downright mythical. Canon and Watson are both excellent candidates, and either one will be a formidable challenger to Republican Trey Hollingsworth in the fall.
Canon is a civil rights attorney born and raised in southern Indiana. He worked the Supreme Court case for equal marriage rights and sued Kentucky's governor over medical marijuana, and he is currently suing President Trump for encouraging his rally attendees to attack protesters. He's already garnered national attention for being the first Democrat to come out for the total abolition of ICE, which he isn't shy about calling "our Gestapo."
Canon sincerely believes our state can be a catalyst for national change, that Indiana Democrats can pressure "safe blue-district" Democrats by advocating for ambitious but much-needed reforms such as a guaranteed jobs program. He's been endorsed by The People for Bernie Sanders, Political Revolution, the Democratic Socialists of America's Louisville and Southern Indiana chapters, and Justice Democrats.
Related: Dan Canon looks to flip Indiana's 9th District
Watson is a Bloomington native and the former labor policy director and chief labor counsel for Democrats on the House Committee on Education and the Workforce. She's been responsible for dragging the Democratic Party toward more pro-labor policy positions. She led the policy development for the $15 minimum wage in the House while Sen. Bernie Sanders and his staff led that policy development in the Senate.
So far, 28 labor unions have endorsed Watson, and it's easy to see why. She instinctively sides with employees in employee-employer disputes, and her solutions to workplace problems are realistic and common-sensical. For example, she's for mandatory predictable scheduling and for banning employers from asking applicants about their criminal history.
For Watson, as for Canon, politics isn't a profession of etiquette and spectacle. It's about who has power and, more importantly, who has power on behalf of whom. Lives are ruined or improved depending on what the state does.
The 9th District includes a lot of people suffering from drug addiction and inadequate health care, and both Watson and Canon are in favor of Medicare for all and for legalizing opioid alternatives like marijuana. As an example, Watson points to Scott County's HIV epidemic and how, on a political level, it was completely avoidable. Cuts to public health care closed the only HIV test center in the county: a Planned Parenthood that didn't offer abortions.
Related: 9th District Candidate Liz Watson Returns Home to Run
A conversation with Watson can feel a bit like being slowly overpowered. That probably has to do with her work in D.C. Before she was a congressional staffer—where she was fighting on two fronts against pro-boss Republicans and milquetoast Democrats—she directed a program at the National Women's Law Center that represented low-income workers against serious corporate powers such as Walmart. Watson specifically focused on workplace accommodations for pregnant mothers.
From those two jobs, Watson has heard every excuse for why something can't be done and has no patience for any of them. She's also well-read in labor history. In our brief chat, she talked about her admiration for Franklin D. Roosevelt's Secretary of Labor Frances Perkins. If she could pick a slogan for the Democratic Party, it would be "We all do better when we all do better." (This phrase was coined by Minnesota Sen. Paul Wellstone. After Wellstone's passing in 2002, the AFL-CIO named a labor-organizing award after him.) She knows all the excuses of today (scarcity, competition, idleness) are the same as those from yesterday.
Both Watson and Canon are impressive and genuine. Either would make a fantastic representative for the 9th District. Watson because of her strong political will and Canon for his relentless moral clarity.
As Canon told me, "This isn't Bernie versus Hillary," by which he meant this isn't a primary between the social-democratic and neoliberal wings of the Democratic Party. Both Watson and Canon care about the right things; both probably agree on nine out of 10 policies. If your reaction to the current political situation is "this is bullshit," then you're probably for Canon. If your reaction to it is "this is ridiculous," then you're probably for Watson.