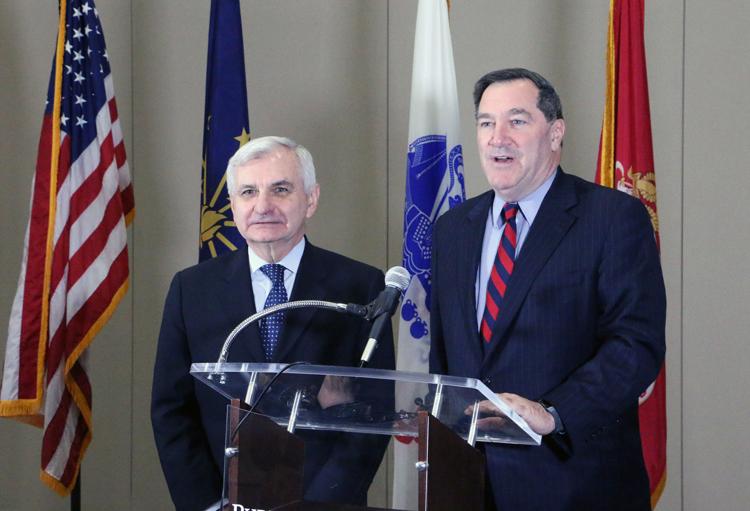 U.S. Senator Joe Donnelly continues to bring defense leaders to see the work being done at the warfare division in Crane, Ind.
Monday, the Indiana Democrat hosted Sen. Jack Reed, a Rhode Island Democrat and ranking member of the Senate Armed Service Committee. Reed joined Donnelly as they toured several labs at the Crane Division of the Naval Surface Warfare Center — a shore command of the U.S. Navy.
The two senators also participated in a roundtable discussion with local defense industry stakeholders at the WestGate Academy Conferencing and Training Center, a facility that provides training for NSWC Crane as well as hosting a variety of events and conferences.
"We had a chance to share with them some of our national technical leadership as well as some of the daily examples where we provide support to the men and women of the armed services," said Brett Seidle, NSWC Crane Technical Director. "It is always a great thing to shine the spotlight on the accomplishments of the dedicated men and women and the employees of NSWC Crane and all that they do."
Donnelly and Reed got a first-hand look at Crane's microelectronics laboratory as well as its expeditionary, strategic missions and electronic warfare laboratories.
Radius Indiana, an eight-county regional economic development organization located in Southwest Indiana, is one of many organizations that partners with WestGate. Jeff Quyle, president and CEO of Radius, emphasized the importance of partnering with Crane.
"We are entering our 10th year of activity on behalf of the citizens and communities that reside in this region," Quyle said. "Across our eight counties with over 3,400 square miles there is no economic development asset that is more important than Crane, and we are delighted we have the opportunity to work with leadership at Crane."
Reed is the latest defense leader to be hosted at Crane by Donnelly. Others in past years included former Secretary of Defense Ash Carter, General David Goldfein, and U.S. Chief of Naval Operations Admiral John Richardson.
"As the nation faces difficult and complex global security challenges, Crane's work is as critical as ever, and that's why it was important to have one of the Senate's defense leaders visit," Donnelly said. "There's nothing that can help you to understand Crane better than to meet the people, than to see the work, than to spend time here."
Reed said he learned a number of things while at Crane including the work on fleet ballistic missiles, which he said is central to the country's national security.
"Crane is deeply involved in making sure we have those missiles available, and that's where I share a little bit because every submarine in the navy begins in Rhode Island," Reed said. "But if they're not equipped with the most sophisticated missile system they're not an effective defense for the United States. We have this synergy between Crane and Rhode Island."
Last year, Donnelly helped to save 90 jobs at Crane Army Ammunition Activity that were threatened by a federal hiring freeze by urging Secretary of Defense James Mattis to exempt CAAA from the freeze. He also helped bring $24 million to Crane for construction of a needed shipping and receiving depot.
"I have seen over the last four or five years I've continued to work non-stop with Crane," Donnelly said. "We've seen over 400 additional jobs come here because Crane does so many things well."
NSWC Crane has approximately 30,000 Navy employees with about 2,000 who are scientists, engineers and technicians, according to the website.
Radius is just one of many non-profit partnership intermediaries that have provided technology-related assistance to Crane. Crane has also worked with WestGate Authority, Regional Opportunity Initiative, Automotive Rentals, Inc., and the Indiana Office of Defense Development.
"The more entities that cooperate and engage with one another and engage with Crane the better we can do to take the value that Crane provides to the war fighter––enhance it and support the war fighter––as well as to what it provides to the communities here," Quyle said.
Quinn Fitzgerald is a reporter for TheStatehouseFile.com, a news website powered by Franklin College journalism students.