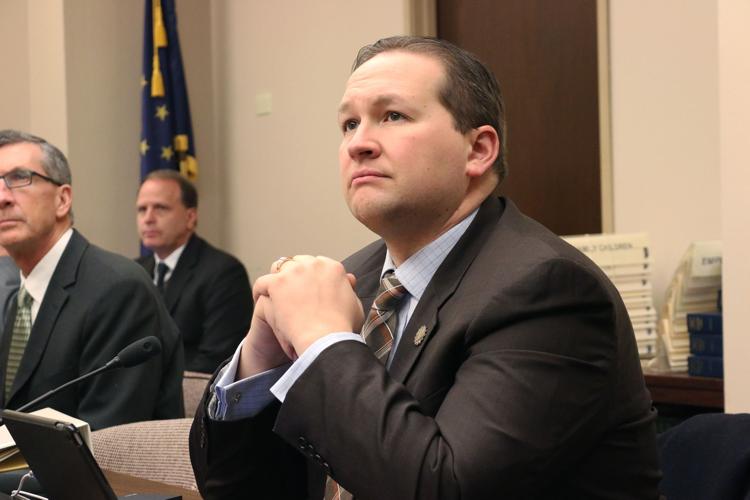 Legislation that passed the Indiana House and would have put some of the state's most economically troubled citizens at risk is not going to get a hearing in the Senate.
House Bill 1319, which would triple the allowable annual percentage rate, or APR, of unsecured consumer installment loans, passed the House 53 to 41 and was sent to the Senate Commerce and Technology Committee. Currently in Indiana, installment loans are bound by a criminal loansharking cap of 72 percent APR.
"I think, clearly, the Indiana Senate is sending a message that they want to move in the direction of protecting our most economically vulnerable Hoosiers," said Bill Chapman, lobbyist for the Indiana Friends Committee. "We could not be happier about that."
Sen. Mark Messmer, R-Jasper, who is the committee chair decided there would be no hearing on the controversial bill.
But one of the lobbyists pushing the bill, Matt Whetstone of 1816 inc., said the issue won't go away just because the Senate won't hold a hearing. Whetstone is a former lawmaker.
"It's something we still have to talk about," he said. "We still have to move forward, and we're going to keep working that angle and hope legislators, at some point, realize before it's too late that if there's nothing in the market, these folks are going to end up in a bad spot trying to find this money or hurting themselves more."
The proposed law would have allowed lenders to offer loans of three to 12 months ranging from $605-$1500 with an APR of up to 222 percent. APR measures the cost of borrowing as well as related fees and other charges. The APR for payday loans is often much higher than the advertised interest rate people see when they seek those loans.
"This provides an opportunity for people who can't get loans from banks, maybe can't get bank accounts, can't get credit cards, can't get high interest loans in the 36 percent range," said Rep. Martin Carbaugh, R-Fort Wayne, who authored the bill. "It gives them a way to borrow money in an emergency situation and be able to pay it back over time as opposed to within two weeks."
Erin Macey, a policy analyst for the Indiana Institute for Working Families, said these loans are essentially payday loans. The Indiana Institute for Working Families researches and advocates for policies and legislation that help Hoosier families achieve and sustain economic self-sufficiency.
"Calling it an unsecured loan is a bit of a misnomer because they do take access to your bank account and can debit your bank account on your payday," she said. "In that way, they have more security in being paid, and they will leave the borrower, typically, without the money to pay for their other expenses."
An individual with an income of under $17,000, who takes out a loan of $605 for a 3-month term, would be paying a $91 origination fee, $145 in interest charges and have a total repayment of $841.
Whetstone said the proposed legislation would have saved people with poor credit from seeking loans in the unregulated market.
"Those rates we know can be as high as 600 percent APR or higher in some cases," Whetstone said. "The reason for the bill is to try and bring some level of security to Hoosiers, so they come in under the state, under the Department of Financial Institutions, with a product that's regulated."
Chapman said this bill would have sent a negative message about business in Indiana.
"It is very difficult to reconcile the good things that we do to be a welcoming business community and at the other end we don't protect our most economically vulnerable Hoosiers," he said.
Chapman said if lawmakers wanted to protect Hoosiers, they should have advanced Senate Bill 325, would have set a cap of 36 percent on payday loans. That bill never made it out of a Senate committee.
He said lawmakers still need to consider the needs of Hoosiers at the lower end of the economic spectrum.
"I think the biggest challenge that we have is being able to succinctly answer where do they go, meaning if these loans are not available," Chapman said. "Where does an individual that is in need of funds go to?"
Abrahm Hurt is a reporter for TheStatehouseFile.com, a news website powered by Franklin College journalism students.