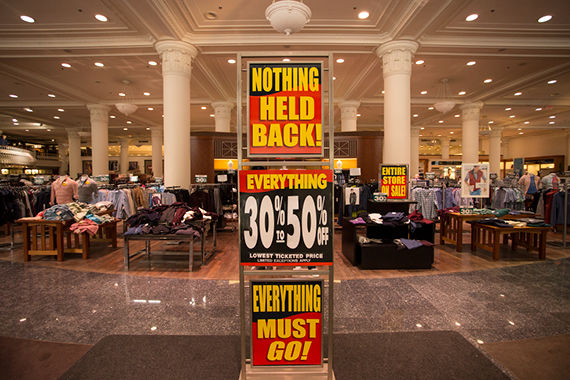 "Whaaaat? Are you kiddin' me," shouted one shopper when told Carson Pirie Scott will close its doors. "They have such good bargains."
It was shocking to some but it is real. The medium-priced department store, which anchors the downtown Circle Centre Mall, is closing, although as late as last weekend no announcement had been made regarding the closing date.
Carson's parent company, Bon-Ton Stores, Inc., announced two weeks ago it was closing five stores in Indiana, including the 145,000 sq. ft. Carson's store in Indianapolis, and a total of 47 stores nationwide over the next 12 weeks.
The company filed for Chapter 11 bankruptcy protection at the beginning of February.
"We remain focused on executing our key initiatives to drive performance in an effort to strengthen our capital structure to support the business going forward," company president and CEO Bill Tracy said in a statement.
Regardless of Carson's reason for closing, it still begs the question: Where does Carson's departure leave the Circle Centre Mall? 
The store sits at the corner of Meridian and Washington streets and occupies more than 18 percent of the mall's approximate 800,000 square feet of space. And its departure deals a devastating blow to the city's downtown image at a time when city officials are trying to lure major businesses to the area, including the second headquarters for Amazon.
Representatives from the mayor's economic development office declined to comment for this story, directing NUVO to contact Simon Property Group, which also declined to comment.
Carson's, which extended its mall lease last year to run through 2023, has been the only department store anchor since the high-end Nordstrom store closed its door in 2011. Part of that space was renovated to house The Indianapolis Star. While Simon manages the mall, the city owns the buildings the mall occupies. And according to The Star, the city stopped collecting property taxes on the store in 2014, saving them roughly $300,000 a year.
Both consumers and business officials say rethinking the space, such as what Simon Property did when Nordstrom's left, is probably necessary to protect the viability of the mall and Downtown Indianapolis.
"I want to see them get another store or something, to get people to shop in downtown," said Abbi Brown, a 30-year-old professional who works north of downtown. But Brown said she enjoys the ease of shopping online.
The ease of online shopping demonstrates one of the ironies the city faces. It is seeking Amazon, which plans to invest $5 billion and add 50,000 workers to the area where it plans to build a second headquarters. But it is the ease of online shopping at sites such as Amazon that is killing brick-and-mortar stores like Carson's.
The National Retail Federation reported a "robust holiday season" in 2017. Overall sales rose 4.9 percent, but online sales jumped 18 percent.
"I do at least 50 percent of my shopping online," said Brown, whose shopping habit illustrates the dilemma facing those considering what to do with the space left by Carson's. Brown said when she shops, she compares an items store's price against its price on Amazon. If it's cheaper online, she buys it and gets it delivered in only two days.
 "Absolutely, everybody wants easier options," she said.
The Indy Chamber helped spearhead the offer to lure Amazon. And its chief economic development officer, Maureen Krauss, said she was disappointed in Carson's decision to leave the mall but "it wasn't a big surprise."
However, she said it presents an "exciting opportunity."
"You don't often get good, solid space in your (downtown) core," Krauss said. "Repurposing the space does give the city the opportunity to look at the space trends for the future."
Krauss said she did not know what Simon and the city will do with the space but "I'm just thinking of a hundred things to go in there." She could envision a mixture of retail, restaurant and even residential space.
"Retail has changed, evolved," Krauss said. "But people still like to feel and touch things. That hasn't changed."