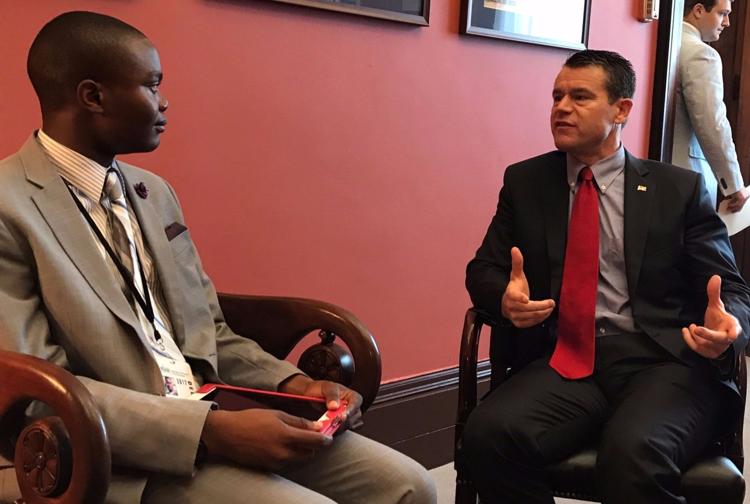 "Myself along with members of this upcoming nation of leaders can really be at the forefront of reinvigorating global institutions," said the aspiring 16-year-old Christian Omoruyi, a Center Grove high school junior who grew up in Greenwood, Indiana.
The Washington Youth Summit in D.C. took place the last week of June. Attempting to choose the most talented future leaders from around the nation, Omoruyi was one of 250 students who received an invitation to attend as a delegate. That's a ton of environmental firepower getting ready to graduate high school.
Designed to fuel the passion in the hearts of young environmentalists interested in contending with the political aspects of environmental protection, the summit discusses global sustainability issues with regards to various regions of the world and the issues they are dealing with.
"I was nominated by the board over at George Mason [University], but I felt that politics in the environment are very much intersecting. Policy is crucial to our political process," said Omoruyi. "I felt I could really go to this conference and get a multidimensional view point, about the nexus of education and the environment, and even religion and the environment." 
Mark Bauman, Senior Vice President of the Smithsonian Institution's Enterprises Division and by Joe Sacco, Educational Director for the National Zoo, respectively co-head the preceding's of the summit.
The conference is greatly sponsored by the National Geographic Society, the Smithsonian Institution's National Zoo and George Mason University. These connections allow for student leaders to learn hands on experience with leading experts and insiders.
"Climate change is not a cause just for 'leftist tree huggers' — this should involve everyone," commented Omoruyi in summary of his experiences at the conference. "Climate change is not a controversial issue in the realm of science, it is a reality." 
The conference allows for ambitious students to interact with environmental leaders from the United Nations Framework Convention on Climate Change (UNFCCC) to the National Oceanic and Atmospheric Administration (NOAA), the United Nations Foundation, Congress and the list goes on all the way to the nation's Environmental Protection Agency.
 "I met with people from so many different perspectives, I have never been a partisan, [so] just being exposed to so many people of different views and perspectives really humbled me. It really reinforced the need for civility and mutual respect," said Omoruyi.
Upon returning to Indiana Omoruyi, who still has two years before graduating, desires to continue studying in the field, and to be trained with the next group of 21st century leaders, looking into college programs at NYU, and Colombia University alike.
"We are the change we seek," said Omoruyi. "[and] right now we are seeing the greatest threat to internationalism and multilateral collaboration based on the precepts of liberty and equality."