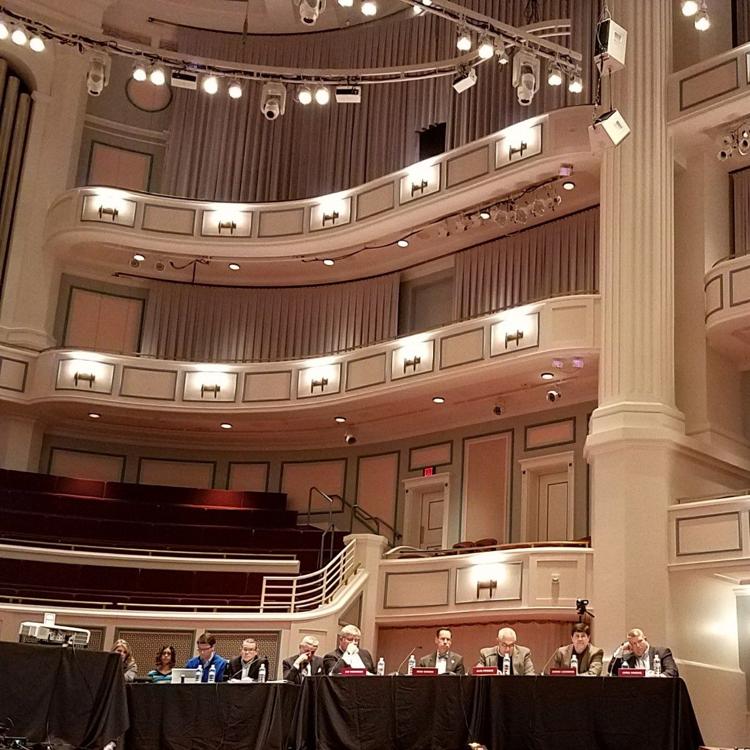 Monday evening, the City of Carmel Board of Zoning Appeals (BZA) voted 3-2 to approve the building of a new Islamic Life Center.
The 28,000-square-foot mosque will be built on a five-acre piece of land at Shelborne Road and 141st Street that is located in a primarily residential area.
Roughly 500 people attended the meeting (from Hamilton County and beyond), with more than 200 of those signing up to speak for or against the proposal in a marathon meeting lasting more than five hours.
The Islamic Life Center was proposed by the Al Salam Foundation, a congregation currently meeting in a temporary location in Indianapolis near the Pyramids south of 96th Street. Each week, as many as 150 people pack the crowded space for Friday prayers. Many of the congregants live in Carmel, and they had been seeking a permanent place of worship closer to home.
The BZA's regular meeting in January, held at the Monon Center, drew such a large number of citizens wanting to speak for and against the granting of a special use permit allowing the construction of a new mosque that a second meeting had to be scheduled for this week and moved to the much larger Palladium.
There, many Muslim residents spoke of the pain and frustration of not having a mosque — and not being able to fully take advantage of their rights under the First Amendment — in an otherwise increasingly diverse community. More than one speaker stated that the mosque would fit well into the Carmel community, which has welcomed many churches, including recently a Mormon temple and a synagogue as well.
Speakers also addressed concerns by neighboring homeowners from the Jan. 22 BZA meeting, pointing out that Muslim prayers take place on Friday, so the mosque would therefore not add to Sunday church traffic, that mosque activities were quiet, that there would be no five-time-daily call to prayer, etc.
Carmel City staff had recommended approval of the Islamic Life Center to the BZA. Almost as a matter of course, the BZA views petitions to build houses of worship as a use compatible with residential neighborhoods.
According to Carmel resident Eyas Raddad, proponents of the mosque have worked to assuage the concerns of residents of the surrounding neighborhoods during the time that passed between the January and February BZA meetings.
"We've crossed all the T's and dotted all the I's to basically finish this application in a way that is consistent with all the laws and regulations," says Raddad, 43, a senior research advisor with Eli Lily. "We want to be here; we love it. We've been here for many, many decades, and we want a home."
Opinion seemed evenly divided between those speaking for, and those speaking against allowing the mosque to be built.
The mosque proposal before the BZA seemed less ambitious to numerous opponents than a recently released video promoting the project. Many expressed concerns that the Islamic Life Center would expand past the five acre lot onto an adjacent nine acre lot. 
A number of speakers who opposed the project spoke of how they feared the Islamic Life Center would depress home values. They expressed support for  the Muslim community and for the mosque, as long as it be built somewhere else.
"I live directly across from the proposed site, and I oppose the issuance of the variance for all the reasons cited by people before me and likely those following me," said longtime Carmel resident John Haskell.
"I have only one request: give serious consideration and thought to the group of people [who] lived there prior to being annexed by the city ... respect our wishes to continue to have this small area of now Carmel a rural, low-density residential area."
Even though the often exasperated BZA President Alan Potasnik reminded speakers to keep to the topics of land use and keep religion (and presumably religious bigotry as well) out of the conversation, there was the occasional speaker whose predisposition and/or temperament didn't allow him or her to do that.
Carmel resident Paul Knutson, who lives adjacent to the five acres under contention, was a case in point.
"As a Christian, I'm supporting ministries that are helping Christians that are facing persecution," he told NUVO, after inciting Potasnik's ire at the podium. "I've seen when Islam takes over a region, it's dominant. I've seen it in this country, where places have become no-go zones like in Michigan. I've seen it in France. These are the kind of things I'm worried about, but the main thing is that I'm opposing Islam by supporting my brothers and sisters financially and through prayer. It's not so much a land issue. But it is a land issue in a sense that I live right next to it and I'm going to see it."
When it was his turn to speak, Carmel City Councilor Kevin "Woody" Ryder didn't pick a side, but he passionately defended the BZA process — and singled out Knutson in his remarks.
"I'm basically standing up to defend the process," Ryder said. "People have lost sight of what this is. This isn't about religion. This is a zoning issue. It's not about the use. And I had to get up because of social media and the press [...] making Carmel out to look bigoted or racist."
"This neighborhood is one of the most diverse neighborhoods I've seen," he continued. "Of the 900 communications I've received, none have been anti-Muslim. I've worked to represent everyone in Carmel [but] the gentleman sitting next to me who said he doesn't want to see the spread of this religion, especially in Carmel, I don't represent him anymore."
Carmel resident Erica Drew also criticized the minority anti-Muslim rhetoric that had come up during the hearings.
It's... worth noting that national organizations such as Pew Research Center and ACLU who've extensively studied land use discrimination against Muslims note that often traffic, parking, and noise concerns are excuses for anti-Muslim sentiment," said Drew. "It is an understatement for me to say I'm disappointed in the degree of opposition there's been to this application. Don't let Carmel's zoning law be the excuse for blocking this mosque. Carmel is a vibrant and diverse community that embraces the First Amendment. Let's keep it that way."
And the BZA, while it might not have totally been on board with her reasoning, voted to do that.