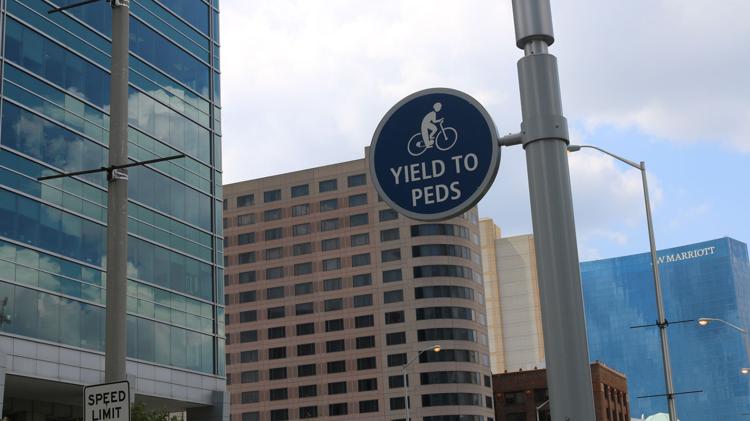 Every day is Car Free Day for Michael Gatto, who rides his bike to work and runs at least five times a week.
"Exercise and the environment, those are the main ones," he said when explaining the reasons why he avoids using a car.
More Hoosiers will be joining Gatto on foot and on bike on Friday, Sept. 22 for Car Free Day. Organizers are encouraging people to try transportation options different from driving in a car alone.
For the second year, Commuter Connect is challenging Hoosiers in Central Indiana to take the bus, bike or walk to work. Commuter Connect offers free services to help people find options for everyday travel, including carpools and public transportation.
Among those agreeing to the challenge are community leaders, including Indianapolis Mayor Joe Hogsett, Greenwood Mayor Mark Myers and Gene Berry, OneAmerica senior vice president and chief technology officer. Berry plans to ride his bike across downtown to work.
"It's a great way to exercise, is environmentally friendly and promotes Indy's bike trails/greenways," Berry said in an email.
Berry hopes his decision to go car free will inspire other employees. Anyone who is interested in making the pledge can do so at CarFreeDayIndy.com and can be registered to win prizes such as Colts tickets and Pacers suite tickets.
On Sept. 22, Commuter Connect will be at various locations around Indianapolis with refreshments and live music. All online pledge participants will receive a free emergency ride home pass from Commuter Connect.
Indianapolis is one of many cities including Paris, Copenhagen, and Long Island, New York, that will be participating in World Car Free Day.
While Gatto is no stranger to going car free, he believes that Car Free Day Indy could have a positive impact on the city.
"It would just bring awareness to the situation and make people think about it who maybe haven't thought about it," said Gatto.
Makenna Mays is a reporter for TheStatehouseFile.com, a news website powered by Franklin College journalism students.