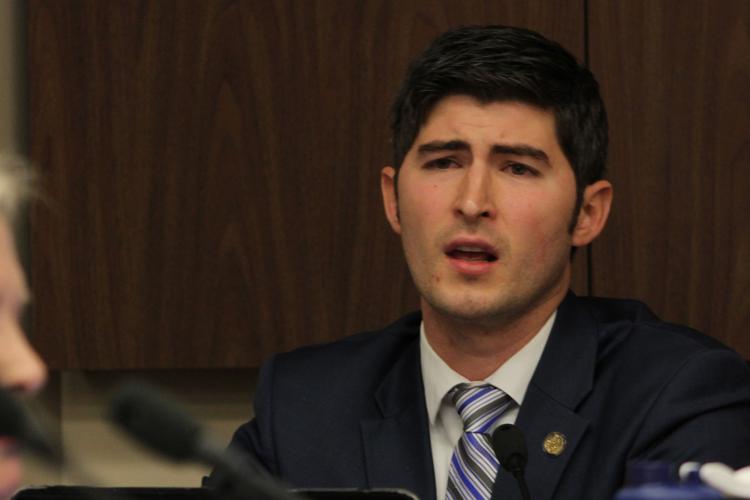 Law enforcement and community representatives packed the House Public Policy Committee Wednesday to testify on a bill to lessen restrictions on handgun ownership.
Instead, author Rep. Timothy Wesco, R-Osceola, told the room to "forget the bill."
Soon after the hearing convened, Wesco proposed an amendment that retracted his original proposal and replaced it with one that slightly changed existing regulations.
"We operate in the realm of possibility," he said in defense of the change. "What we passed out was possible and had broad support. You can't get a better bill than that."
Wesco would not confirm whether the move was a response to a lack of votes.
"There's been concern," Wesco said. "Obviously, that was not a slam dunk. We're glad to make some steps forward, though."
In its original form, House Bill 1424 would have done away with the requirement that Indiana residents apply for a license to carry a handgun.
With the amendment, HB 1424 still requires handgun owners to apply for either a five-year or lifetime license. A $40 fee for the lifetime permit, however, is waived.
Additionally, those who apply for the five-year permit would also be granted an exemption from background checks conducted through the National Instant Criminal Background Check System (NICS) when purchasing guns for the entire five-year period.
Wesco said this is to the benefit of citizens who routinely buy or sell guns. Applying for the five-year permit would still require an initial background check, but they would not have to undergo additional checks until the permit expires, he explained.
Christopher Kopacki, a state liaison for the National Rifle Association, said 27 other states have a NICS exemption for gun owners.
Currently, any transaction with a federal firearm licensed dealer is only legal if consumers undergo a background check, according to federal law. This requires additional resources, time and navigating a database that could crash and halt operations, Kopacki added.
"Any opportunity you have to decrease the burdens for law-abiding people to gain permits and protect themselves in public is a positive step forward," Kopacki said.
Joseph Sayler, a prosecutor for the Johnson County Superior Court, said that, in his legal experience, the burdens on lawful citizens who wish to own guns are a reality.
Sayler said current law penalizes citizens, even if they have no criminal history or intent, with a misdemeanor if they possess a handgun but do not have a permit on file.
"That has always struck me as incredibly problematic," Sayler said. "Because I am to make a person a criminal, I am to subject them up to a year in jail and I am to do it solely because they did not pay a tax and fill out a form."
Becke Bolinger, a representative with Moms Demand Action for Gun Sense America, said she was pleased with Wesco's decision to keep some licensing requirements.
"Permits are a valuable tool for the community to keep us safe, because it's the first line of defense against unqualified people buying a handgun," Bolinger said.
The Indianapolis mother said permit fees do not interfere with Second Amendment rights. Money collected through those fees benefits entire communities by providing law enforcement with the means to keep people safe, she added.
"If you can't pay $30 for a gun permit, how can you afford to pay $400 for a handgun? It's not logical," she said. "Having a gun permit does nothing but keep people safe."
Dr. Jody Madeira, a professor of Second Amendment law at Indiana University-Bloomington's Maurer School of Law, also cited permits as a key tool in promoting public safety.
"Thank you very much for using Indiana's police power to continue to regulate firearms in a way that both protects the Second Amendment and keeps us safe," Madeira said in her testimony.
Rep. Jim Lucas, R-Seymour, voted in favor of HB 1424 but said he did not agree with the changes.
"I am going to vote yes, but I'm going to hold my nose doing it. I am absolutely appalled and disgusted that the state is concerned about revenue on the licensing of a constitutional right," Lucas said.
Wesco's amendment to HB 1424 was approved 9-4. The new version of the bill passed 13-0.
Erica Irish is a reporter for TheStatehouseFile.com, a news website powered by Franklin College journalism students.