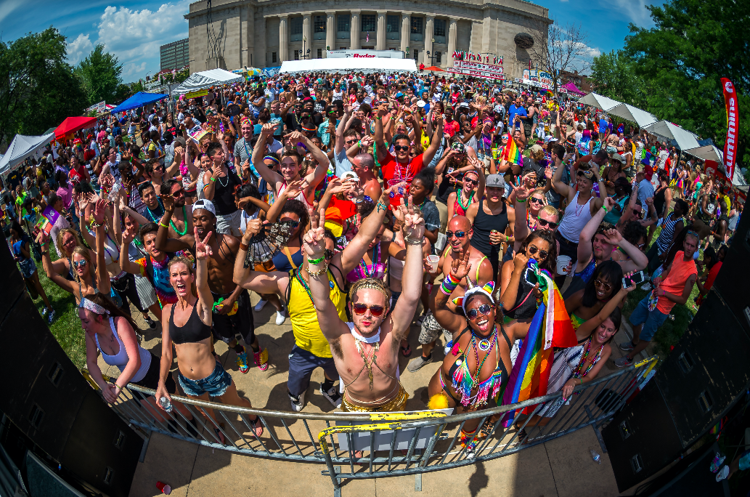 The very first Indy Pride festival was itself an act of revolution. 
"The first pride in Indy, people walked around with bags over their heads to preserve anonymity," says Kit Malone, a new board member of Indy Pride and the Transgender Education and Advocacy Coordinator at the ACLU of Indiana. 
Now Indy Pride, the host of Indianapolis' Circle City IN Pride, is being called on by the community to be more. 
To do more. 
And, most of all, to truly represent LGBTQ Indy. 
… And that is something that is causing growth, and well, growing pains at Indy Pride.
Today, Indy Pride seeks to be more inclusive and to not just exist as a booze-soaked (albeit wonderful and more important than ever) festival. Indy Pride is doing something that they have never done before: evolving physically to look like the community that they represent and become an incubator for the growth of LGBTQ organizations in Indy.
Showing diversity
The transition started with Jason H. Nolen-Doerr, current president of Indy Pride. Jason came on as the volunteer director when he noticed something: nearly everyone on the board looked exactly like him — a gay, cisgender, white male. 
"When I came onto the board as a volunteer director, that was three years ago, the board was primarily white," says Nolen-Doerr. "There were three women and one trans person in that room at the time." 
When he returned to Indy for the second time, (he attended law school in Tennessee, moved to Indy, left, then returned and became involved with Indy Pride) he could feel a change in the air.
"I would see that not only had [my friends in Indy] changed, but the community had changed as well," says Nolen-Doerr. "It was rapidly shifting. At that point (2010-2012 time period), we didn't have same-sex marriage, RFRA hadn't happened yet. So there was a sense of community, but not like it is now. I think that as we have gone through same-sex marriage becoming the law of the land, as we battled through RFRA in 2015, then as we came together to mourn the loss of life in Pulse [a LGBTQ nightclub in Florida targeted in a mass shooting], those things created more of a community feeling.
"... When you look at the LGBTQ community you have all of the diversity that comes in that spectrum. When you go a layer deeper, there are all these intersections of the different life experiences that impact and shape our frame of perspective. Within that as a community, and as a Pride organization, you have to balance all of the diversity in the spectrum and see the perspective that is the intersection between all of that. 
"So as a gay cisgender male from a relatively poor background, those are my frameworks," says Nolen-Doerr. "While I have been blessed and privileged to have gone through an extensive educational experience, I also know that there are individuals in our same spectrum who are gay white men who don't have those privileges; there are lesbian women of color, there are trans men of color, there are trans women of color who have a totally different experience. 
"As a pride organization we are trying to look at that all of the time and assess what we do and how it touches lives. I don't know that as a community we always thought about that."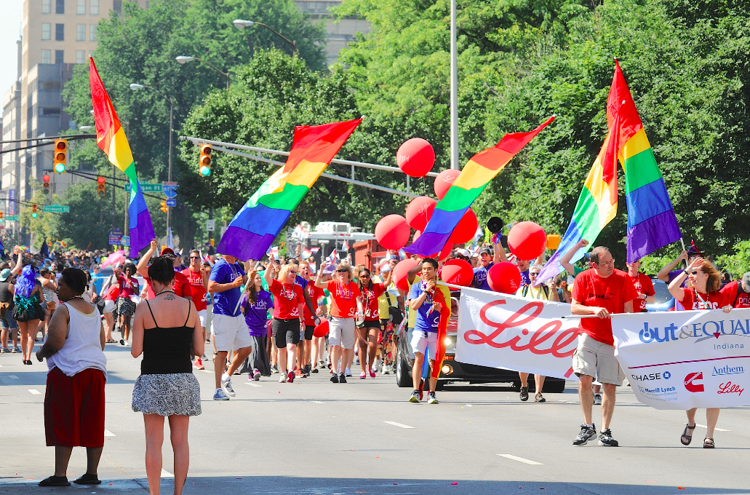 To reach a community outside of your own, first you have to let the members of that community have a seat at the table. For Indy Pride, that meant following the slate model to fill empty seats on the board.
A slate model is exactly what it sounds like; a process to diversify the board of Indy Pride by allowing existing board members to slate in candidates that they choose; then, have the membership (currertly 639, up from 230 in January of 2016) vote. 
"The board itself can select an entire slate of candidates but the board itself can vote that entire slate down," says Malone, who was chosen by the board in the winter of 2016. "Not entirely un-democratic at all." 
"It's an opportunity for the board to choose people based on a variety of things," she continues, namely on qualifications and racial, economic and gender diversity.  According to Malone, this year holds the largest amount of women on the board in Indy Pride's history.
The current board includes two cisgender white women, one transgender white woman, and eight cisgender white men. Nolen-Doerr notes that, "six of these men are from the original popular election model that placed 11 cis white men onto the Board despite having a diverse pool of candidates. These election results in 2015 were the driving force behind the adoption of the slate model. The typical slate process once adopted, takes at least two cycles to full diversify a non-diverse board."
"As a point of clarification, I never experienced any hostility, blatant discrimination or fear of being unwanted because I happen to be a person of color serving an organization primarily composed of white males," says Rick Burt, former secretary of the Indy Pride board. "I do believe my work, although limited, impacted the overall growth goal of Indy Pride to illustrate a more inclusive governance model. ... I also believe that the public illustration of a person of color on the Board welcomes openly other members who may not have felt they had a voice, vote or role within the overall governance of Indy Pride. 
"Overall, as an association professional who has worked with nonprofit organizations my entire career, I know and believe that Indy Pride will ultimately be successful in its efforts to involve and engage more diverse members of its community in the governance of the organization," says Burt. "It takes time to change course of an organization such as Indy Pride. I like to compare it to the analogy of a cruise ship vs. a speed boat. The cruise ship is large, has a steep tradition of history and lots of stakeholders; as such it takes slow steady turns in order to make change a reality, whereas a speed boat is small and nimble and often times doesn't have as much baggage and stakeholders, as it can quickly make turns on its journey."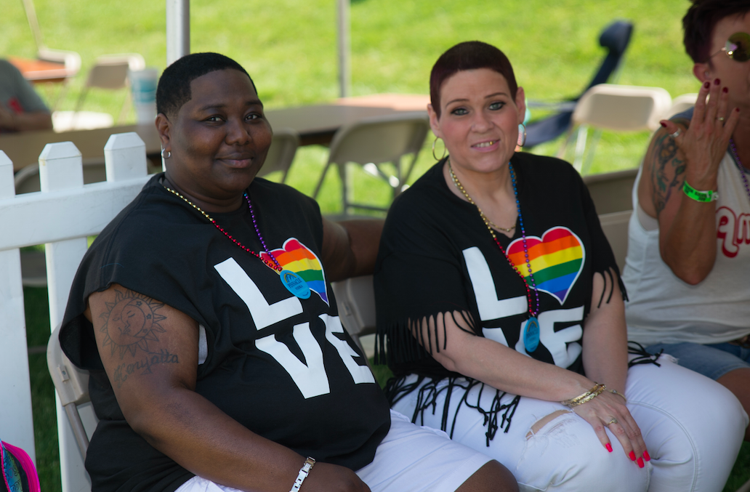 The slate model is the beginning of a slow steady change. When the slate model was introduced, there was a heated debate. Some thought that the board would pick candidates who were their friends. Malone notes though, that this round there were more community members than board members who ran. 
 Malone feels this is a deep-seated issue. 
"What is really going on here is that Pride, for a long time, has been struggling with diversity on its board," she says. 
After the election at the end of 2015, which brought on now-president Nolen-Doerr, there were 17 board members. One of them was a person of color. The other 16 were all white. 
"That's not for lack of diversity in the applicant pool," says Nolen-Doerr. "There were individuals who are women who were not elected. There were individuals who identify as non-binary who were not elected. All white men were elected [at the time]." 
He recognized that there was something wrong. 
"If we are going to say this organization is representative of this community, it needs to take steps to represent this community," says Nolen-Doerr.  
The problem, to him, is that some non-profit election models favor the majority — gay white men in Indy Pride's case. 
Traditionally the election ran how you would expect: submit an application, run for an empty seat on the board and the members vote on whether you get it or not. 
That is where the slate model helps — after a few round of elections it will ideally be a visibly different board makeup. The model is common among non-profits. Nolen-Doerr says it helps to avoid a popularity game. He goes onto say that the method works well if they're trying to fulfill a specific need on the board, like a treasurer. It lets them pick someone with actual experience. 
"The popular election model doesn't always let us get that person," says Nolen-Doerr. "They could be the best treasurer in the world… but because their name is unrecognized on a ballet they don't get voted into the position. The organization suffers as a result. 
"The idea is that if we create a mechanism where people of diverse backgrounds get into positions we are creating a future where they will seek out positions," he says.  "If there is a person with a diverse background who wants to lead the organization, I am going to push them to do that. And I am going to step out of the way." 
The finalists for the newly created Executive Director job — the first and only full-time and paid position within Indy Pride as an organization — are both white men. 
The two finalists who advanced to the town hall meeting were representative of strong backgrounds in business and nonprofit management," says Nolen-Doerr. "Although Indy Pride strives to be a community-focused organization, it must also consider the business aspect of non-profit development. (As of publication, the executive director has not been announced.)
 When NUVO asked Nolen-Doerr why the board selected two white men as the finalists, especially in light of the attention to the slate model, he said: 
"The Selection Committee was an independent committee consisting of board members, general members, and community partner leaders. The committee reviewed 65 applicants, completed 15 phone interviews, and four in-person finalist interviews. While we do not know the racial makeup of all candidates during the initial review process because of legal requirements within job applications, two of the four finalists interviewed in person identified as African American women. The two finalists that advanced to the town hall were chosen based on interview performance, past experience and perceived ability to connect to the ever-broadening diversity within the LGBTQ+ community." 
The position will carry a lot of weight. First and foremost, extending Indy Pride into a year-round voice for the LGBTQ community. 
More than one day a year
Nolen-Doerr will be leaving Indy later this year to move to Boston with his husband. Until then he is trying to be in as many diverse spaces as possible to listen and help guide the new executive director. One of the things he has done over the last year is push Pride to be active in more than just June. 
Sadly that was kicked into action by tragedy last year. After the Pulse shooting, Indy Pride hosted 11 reaction events and memorials. 
"Pride isn't just one day a year," says Nolen-Doerr. "It's 365 days a year trying to give people hope, trying to give people opportunity, trying to give them resources and enhance their lives. There are people doing it far better than Pride would ever hope to be; so why try and create our own stuff?" 
He visualizes Pride as a wagon wheel — with Indy Pride being the hub and other LGBTQ organizations in the city all connecting to one another. 
"The first of those steps is our partnership with IYG," says Nolen-Doerr. Indy Pride is moving into the third floor of the new Indiana Youth Group building on Meridian Street. Indy Pride also announced a commitment to $165,000 in donations to IYG over the next three years. 
The idea is to provide a leadership space for youth as they age out of IYG. Currently, only those under 21 are permitted to attend IYG events. The hope is that when kids are too old to attend IYG events, they can literally walk upstairs and find the same community there. And Nolen-Doerr hopes that they become leaders in that realm. 
"If we can enhance the developmental time period that a youth is in … that 13-18 to 21 range, if we can help them be in a space where they are safe and able to develop, we are creating the future leaders of Indy Pride," says Nolen-Doerr. "There is a little bit of a selfishness there knowing that if we can help there, they are going to long-term help us."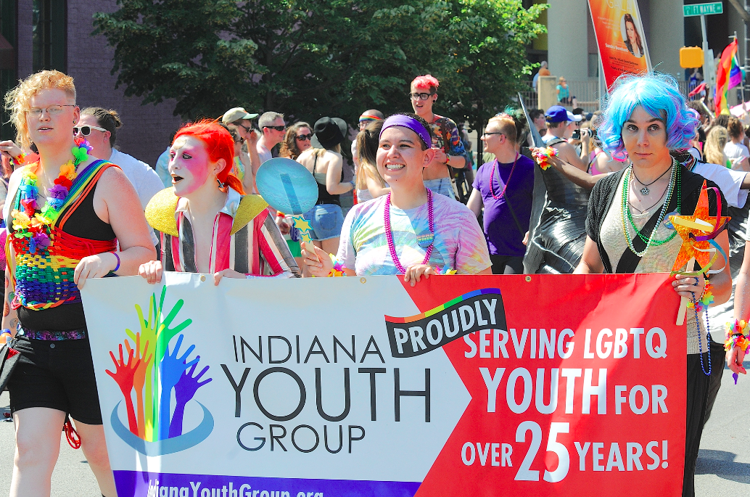 Pride has discussed holding a "youth seat" on the Pride board, reserved for someone to add a youthful perspective and voice to the decisions they make. 
Chris Paulsen, this year's campaign manager of Freedom Indiana, a two-year member of the IYG Facilities Committee and the honorary co-chair of the Capital Campaign, has helped foster the relationship between IYG and Pride. 
"It gives youth somewhere to go, to feel useful, to help, and it gives Indy Pride stronger members," says Paulsen. 
IYG started their $2.6 million dollar capital campaign in August 2016, and has met 90 percent of the amount they need for construction on the new building. The space will offer youth protection, safety, creative outlets, counseling and on-site testing for diseases and infections like HIV. IYG noted in a recent press release that they need the last 10 percent of the $2.6 million by the end of June. 
Indy Pride hopes to someday be able to help more groups like IYG. They want to be a grant and funding source, increasing the amount of money that can go back into the community. 
"We can't do that when our sole source of revenue is alcohol sales at a festival," says Nolen-Doerr. 
Festival changes 
Indy Pride announced earlier this year a new $5 admission for Circle City IN Pride — and that was met with push back. 
Many have criticized Indy Pride for the admission charge; saying that if pride is about being inclusive then how can they add an element that might prevent some from attending? 
Also announced is a change in location; the festival will be held at Military Park instead of the American Legion Mall. 
According to Nolen-Doerr, the choice to charge admission didn't come from a lack of funds, but rather an institutional shift. He mentions that Indy Pride's budget is at a place where they can start to give back to the community in large sums like they have promised IYG. And that's not to mention that sponsorships for the festival are the highest they have ever been. 
"I don't want an admission fee to keep us from being successful," says Nolen-Doerr. "Knowing that there were time periods when I grew up, that we didn't know what lunch was going to be… I think about that time period. I think about the individuals coming to pride [events] where pride is their one time a year to be who they are." 
He gave the example of someone leaving home, saying they are going Downtown to shop for the day wearing one outfit and carrying another to change into — all in pursuit of Circle City IN Pride being the one time a year that they can safely dress as, identify and be who they are. 
"I don't want anyone in that position, and no one on the board wants anyone, to be in a position where they couldn't come and enjoy pride," says Nolen-Doerr.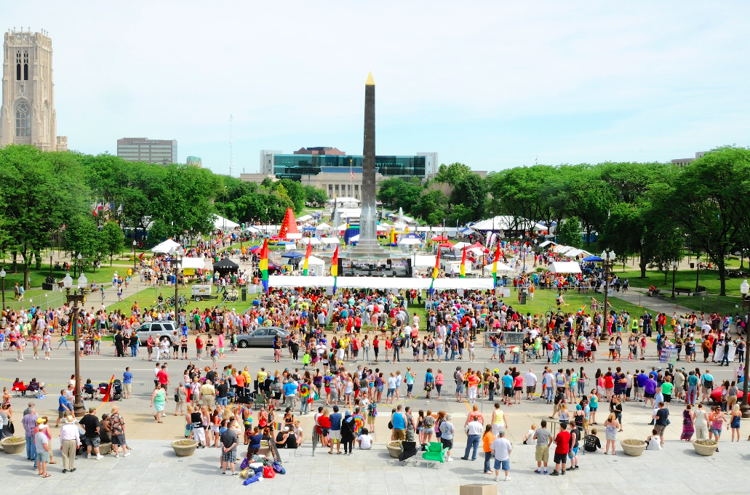 Indy Pride is offering solidarity tickets that people can buy in advance for those who can't afford it. Those will be held at the gate and if someone can't afford the price, those tickets are there to cover their entrance.
Indy Pride also wanted to make sure and give community partners like the Damien Center, IYG and more plenty free tickets to hand out at their facilities.  
"The intention of the admission fee is to enhance your life, to give that right back to the community," says Nolen-Doerr. "No one makes money from pride." 
The festival costs $350,000 to run smoothly. Most of that is covered by sponsorships. Historically much of those sponsorships came from alcohol vendors. However, Nolen-Doerr would like to diminish the reliance on alcohol as a source of income. 
"In our community we have higher rates of alcohol and substance abuse than any other segment," says Nolen-Doerr. "We have to be acknowledging that." 
(Salesforce, Delta, PNC bank are all large sponsors.) 
Alcohol sales and donations have both decreased in the last two years, but that is not impacting the Pride budget, Nolen-Poerr says. They still have a large reserve and, according to Nolen-Doerr, can now give back to the community. Nolen-Doerr hopes that people will see the $5 charge — $4 if bought in advance — at the gate as a donation to organizations who are fighting for the safety, protection and lives of LGBTQ people in Indiana. 
"In the past year, the Indianapolis LGBTQ+ community presented a need for more resources that the admission fee positions Indy Pride to provide," says Nolen-Doerr. "What the admission fee is used for ultimately hinges on the success of the festival, this year and in the years to come. Unfortunately, I cannot give firm numbers until we see how June goes.
"As a baseline, the admission fee goes to fund several key initiatives and campaigns," says Nolen-Doerr. "Our $165,000 three year commitment to IYG is one example. We hope to be able to offer similar commitments to other LGBTQ+ supporting community partners over the course of the next several years. We will also be increasing the amount of scholarship funds granted back to high schoolers and college students looking to advance their education. We will be in a position to offer grant funding through an application process. Finally, enhancements to the festival with increased entertainment, security, and the larger Family Fun Zone will be possible. We view the admission fee as an investment in the future and something that will allow us to support, not just the festival and not just Indy Pride events, but a broad spectrum of programs and organizations that serve our LGBTQ+ community, day in and day out, far beyond the month of June." 
They started looking at the American Legion Mall and considering if it was the best choice to host the festival.
"The challenge is that it drops in the middle with these hills and makes it a challenge for those with any sort of accessibility needs to navigate our festival," says Nolen-Doerr. "As an organization that is moving to pride itself on being inclusive, that is not encompassing inclusivity." 
Military Park adds three usable acres more than they had before. It's also all flat and mostly shaded. 
Nolen-Doerr is concerned about security, after Pulse and terrorism attacks on festivals and concerts over the last year. Right now they can't afford to beef up security. 
"We are in a position where we can't make our event safer, and that's a really sad space to be," he says.  
 Protection in many realms is a focus of LGBTQ groups right now.  Paulsen thinks that in a few years that Indiana might actually be able to push through hate crime protections through the legislature. 
"Those groups [like Indy Pride and IYG] are going to be important to keep people together and let them know what's going on," says Paulsen. 
It is up to organizations like Indy Pride to step outside of the festival and board meetings. It is up to them to be a face for LGBTQ rights in Indianapolis. 
"[Years ago] literally just walking down the street saying 'we're here, we're queer,' that was a revolutionary act," says Malone. "I think now it takes more than just existing… you have to be an advocate, particularly for people who don't have the ability to be visible safely."