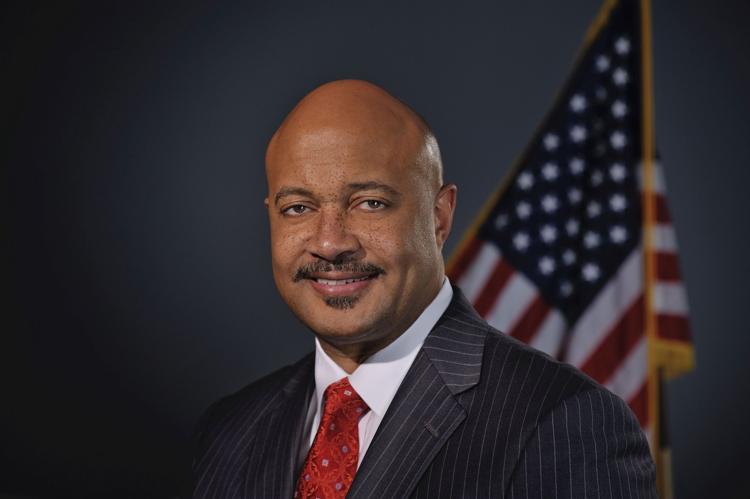 Attorney General Curtis Hill is threatening a defamation lawsuit against the person who leaked a confidential memo detailing allegations that he groped four women at a downtown bar in March.
Attorneys Kevin Betz and Sandra Blevins are also seeking the identity of the person who provided what they say is wrong information to a law firm that compiled a memo about the incidents for Indiana House and Senate leaders as well as the Legislative Services Agency.
"We call on the political figures who put together this information in the memo to, one correct this memo that continues to contain this false and malicious information: two, who is the individual who included this information in the memo; three and last, who leaked this false and malicious information," Betz said Wednesday at a press conference at his law office.
Betz and Blevins said a lawsuit has not yet been filed, but they are calling on lawmakers to reveal the information about the people who they say defamed their client.
Related: Attorney General Says He's the Victim
Republican and Democratic leaders in the state House and Senate as well as Gov. Eric Holcomb have called on Hill to resign while the attorney general has maintained that he has done nothing wrong. Threatening a defamation lawsuit through Betz and Blevins is the most forceful action Hill has taken against his accusers since the allegations first became public in early July.
The memo in question was prepared by Blake Burgan of Taft Stettinius & Hollister LLP and delivered to George T. Angelone, executive director of the Legislative Services Agency. It was supposed to be confidential but became public when it was leaked to The Indianapolis Star.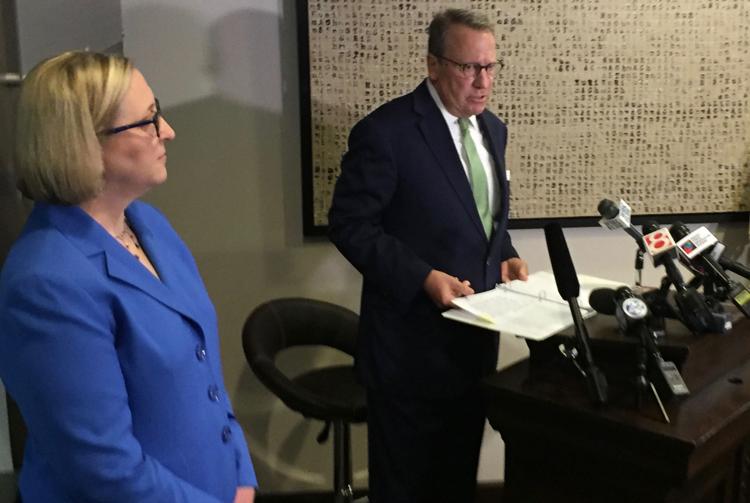 Betz and Blevins have focused on inconsistencies in accounts described in the memo and what two of the women, state Rep. Mara Candelaria Reardon, D-Munster, and Republican legislative aide Niki DaSilva, wrote in letters to The Star.
"We respect the right of the women to come forward," Betz said. He said he and his partner are targeting whoever supplied the information in the memo, which made the incidents sound worse than what the women described to the newspaper, and the person who leaked it.
Betz called the information in the memo false and malicious and said the governor and legislative leaders were wrong to demand Hill's resignation before knowing all the facts. Their client, Betz said, never had a chance to tell his side of what happened.
Related: Gov. Holcomb calls on Attorney General to Resign
"No independent entity or person conducted the investigation. Instead the political leaders and their agents interviewed the women. The same person or persons did not interview each woman so we know the same questions were not asked to each of them," Betz said.
He also suggested that perceptions of what happened might have been distorted by the alcohol flowing that night. When asked, he declined to say how much alcohol Hill consumed at the gathering.
Even though Burgan based the memo on erroneous information, Betz said he concluded that the actions "did not raise a substantial question as to Attorney General Hill's honesty, trustworthiness or fitness as a lawyer, and we agree with this conclusion."
Reardon, through a spokesperson, declined to comment on Hill's latest action, saying she will await the outcome of an investigation by Indiana's inspector general and a special prosecutor, who has not yet been named.
Related: Rally to Support the Victims of Curtis Hill
Hill, through another attorney, James Voyles, has filed a motion in Marion Superior Court challenging the decision to name a special prosecutor and have the inspector general investigate.
Betz said he was engaged by Hill personally and in his role as attorney general to look into this case. He said has not been paid for his work and doesn't expect taxpayers to pay the bill.
"One thing I stand for and this law firm stands for above all is justice and I stand here today in the name of justice for all," Blevins said.
Brynna Sentel is a reporter for TheStatehouseFile.com, a news website powered by Franklin College journalism students.