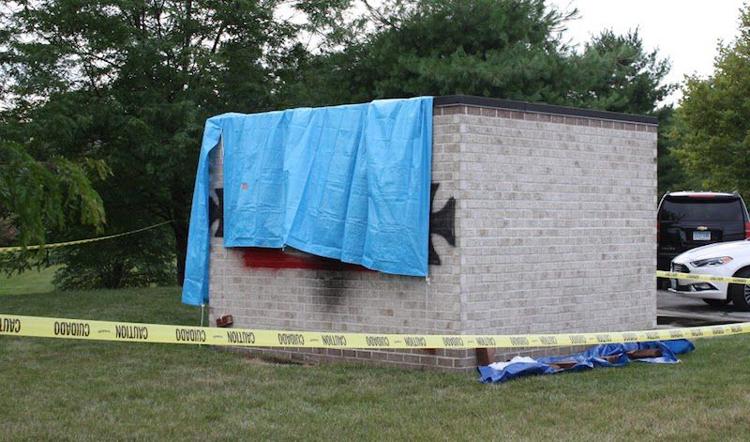 United States Attorney Josh Minkler, Federal Bureau of Investigation Indianapolis Special Agent in Charge Grant Mendenhall and Carmel Police Chief Jim Barlow announced Thursday an arrest in the recent Carmel synagogue graffiti and fire incident.
Nolan Brewer, 20, Cloverdale, was charged Thursday in federal court on criminal complaint with conspiracy to violate civil rights. An un-named co-conspirator was also arrested, but Minkler said he could provide no further details on that individual.
In the early morning hours of July 28, anti-Semitic symbols — namely two Nazi flags and two Iron Crosses — were spray-painted on a brick structure of the Congregation Shaarey Tefilla, a synagogue in Carmel.
The images measured over a foot in height and were painted on two sides of the structure. In addition to the graffiti, several areas of the grass and ground around the structure were burned, leaving visible black burn residue on one side of the structure.
In the probable cause affidavit, Bradley A. Bookwalter, FBI special agent, outlined new details in the case. 
At 2:37 a.m. July 28, surveillance camera footage provided to law enforcement officials by Congregation Shaarey Tefilla showed two people near the site of the graffiti and a fire burning on the south side of the wall.
July 30, the FBI further processed the crime scene, collecting paint, soil samples from the burned and un-burned areas, pieces of melted plastic-like substance found nearby, and a brown cardboard tubular-shaped object similar to a used fireworks container. Bookwalter stated testing of these samples are still pending.
The same day, Carmel Police received a tip linking Brewer to the graffiti. Officers and agents then began canvassing nearby stores where they believed Brewer may have purchased supplies.
Aug. 9, an FBI Task Force officer met with employees of the Walmart in Greencastle. Surveillance footage from the store showed two people who appeared to be Brewer and his un-named co-conspirator purchasing: two cans of "satin apple" spray paint, two cans of "dark walnut satin" spray paint, one roll of aluminum foil, a package of 12 disposable nitrile gloves, a package of 200 foam plates, two 80-ounce containers of Drano, eight bottles of Gatorade and bandannas. The footage also showed the two individuals entering a maroon Chevrolet Impala registered to Brewer's mother. Bookwalter further stated that the individual believed to be Brewer was "wearing a German military-style camouflage jacket while making the purchases at Walmart."
Aug. 10, Bookwalter applied for and received a federal search warrant for Brewer's residence, cellphone and the Impala. Aug. 15, FBI agents, along with state and local law enforcement agents, executed the search warrants. Brewer was stopped by a marked Indiana State Police vehicle driving away from his residence wearing a military-style camouflage jacket with a German flag on the shoulder which matched the Walmart footage.
In the trunk of the Impala, agents found the bottles of Drano and at least one bandanna matching the Walmart purchases. Also found was a tan, military-style backpack, which contained six empty Gatorade bottles, each secured with a cap and containing a rolled up piece of aluminum foil, along with four cans of spray paint matching the colors purchased at Walmart.
"According to an FBI special agent bomb technician, the Drano and aluminum foil are significant because, when combined, those ingredients react to create a gas," stated Bookwalter. "Inside a sealed container, such as a Gatorade bottle, that mixture can potentially create an over-pressure situation, which causes the sealed container to explode."
When agents searched Brewer's cellphone, they found photographs appearing to depict the site of the graffiti on the night in question.
"The photographs appeared to have been taken in the dark of night, and the painted wall is visible because it is illuminated by a fire burning on the ground in front of the wall," stated Bookwalter. "Also observed on Brewer's phone were numerous pictures of various Nazi paraphernalia, such as swastikas and Iron Crosses. Also observed was a photograph of Brewer's co-conspirator wearing a black bandanna covering a part of [their] face."
Text messages which were also found on Brewer's phone provided more evidence. Brewer received a message July 30 noting "[w]e made CNN, Fox, IndyStar, WTHR, etc. Mike Pence even tweeted about us,"
Another message received the same day referred to online comments posted under stories about the incident.
"1/3 of the hundreds of comments think that it's fake … [t]hat looks too good for a racist. Crazy libs at it again … 1/3 thinks [sic] it was from liberals … 1/3 think it was racist KKK members," read the messages.
Following the ISP stop, Brewer was read his rights and agreed to be interviewed. During the interview, he admitted plotting with the un-named co-conspirator.
"Brewer further admitted that he and this co-conspirator had taken homemade 'napalm,' which Brewer described as a mixture of Styrofoam and gasoline, to Congregation Shaarey Tefilla where they placed some on the ground and [the] co-conspirator lit it on fire," stated Bookwalter. "Brewer explained that he and his co-conspirator had purchased both gasoline and Styrofoam for the purpose of manufacturing the napalm, and the purpose for lighting the homemade napalm on the ground was to create an 'effect' under the flag."
Brewer then showed agents several photos from his phone depicting the scene of the crime.
"When asked whether he used the Drano devices at Congregation Shaarey Tefilla, Brewer stated that they got too nervous because the napalm was creating a lot of light," stated Bookwalter.
Brewer told agents his motivation for attacking the synagogue was that it was "full of ethnic Jews."
"Brewer then referred to Adolf Hitler and his believe that Jewish people have out-sized influence relative to their population," stated Bookwalter. "Brewer further admitted that the message he and his co-conspirator were trying to convey to the Jewish people was to 'back down or something like that.' When asked whether that meant he wanted … Jewish people to 'get out,' he responded, 'kind of, maybe.'"
This case is being investigated by the FBI and the Carmel Police Department. This case is being prosecuted by Assistant U.S. Attorneys Nick Linder and Matthew Rinka. The charge of conspiracy to violate civil rights carries a maximum sentence of 10 years in prison. Brewer remains in the custody of the U.S. Marshal Service. His detention hearing is set for 3 p.m. Tuesday before Tim A. Baker, U.S. Magistrate judge.
Indiana is one of just five states in the nation without a hate crimes law on the books. When asked by NUVO if Minkler's charging in the case would have changed if that weren't true, he said it wouldn't have altered his decisions in his federal capacity.
"It's a federal crime," said Minkler. "Federal law enforcement takes it seriously. Historically, civil rights rights violations have been prosecuted by the Department of Justice. … It's one of the reasons the Department of Justice and my job exists, is to prosecute federal civil rights violations, so we take it very seriously. Speaking for myself, and I'm the U.S. Attorney, so I get to make these decisions, I would have prosecuted this case federally no matter if Indiana had a hate crimes law."