The discovery over the weekend of a pair of spray-painted Nazi Party flags and Iron Crosses outside a Carmel synagogue has sparked outrage and inspired a community solidarity gathering.
The symbols, along with burn marks, were discovered early Saturday on the brick walls around the garbage bins outside of Congregation Shaarey Tefilla, 3085 W. 116th St., Carmel.
Corey Freedman, president of Congregation Shaarey Tefilla, said "morning Shabbat services were unaffected" in a statement issued later that day.
"We are deeply disappointed in the horrific vandalism that occurred at our Congregation," Rabbi Benjamin Sendrow said in a Monday statement. "Intolerance, hatred and violent acts against Jews are significant realities today. The response to this heinous act affirms that America is collectively outraged at these hateful acts in our neighborhoods."
The assembly, featuring community and faith leaders, is planned for 6 p.m. today at the synagogue. The event is expected to last around 45 minutes.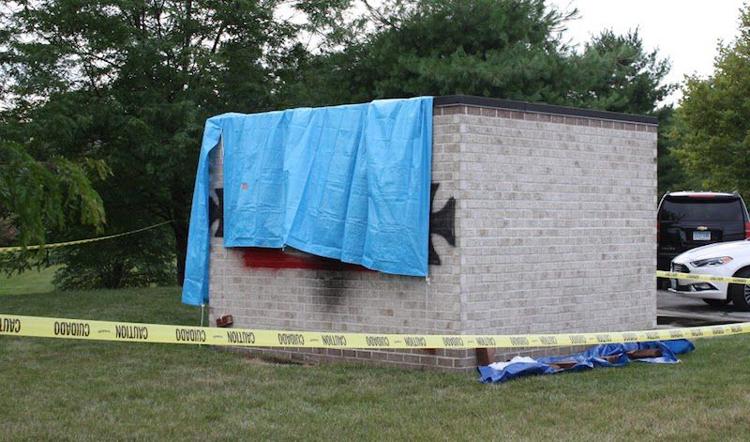 "There can be no equivocation when it comes to rejecting Nazism, white supremacy and anti-semitism," stated part of a Monday press release from the Indianapolis Jewish Community Relations Council. "We are grateful to our local, state and congressional office-holders, law enforcement professionals, civic leaders and interfaith partners, who universally and forcefully denounced this extremism."
Freedman said the synagogue is working closely with the Carmel Police Department Chief Jim Barlow on the case. Carmel Mayor Jim Brained issued a statement Sunday saying he "strongly condemn(ed) the actions of those responsible."
"There is no place for this kind of hatred in Carmel and it does not reflect the respectful and welcoming nature of the vast majority of our residents who come from many different cultural and faith backgrounds," he said. "As we are reminded each year during our city's Holocaust Remembrance Ceremony, we must never forget and never stop fighting against the hatred that led to the murder of 6 million Jews.
"These images that represent the ideas that led to those crimes are not reflective of what our City stands for. I want to assure the Congregation Shaarey Tefilla and all of our residents that our Carmel Police Department is already investigating this incident and when apprehended, those responsible will be held accountable."
Meanwhile, the Anti-Defamation League announced in a press release Monday a $2,500 reward for information leading to the arrest and conviction of those responsible.
For their part, several other local, state and national political leaders denounced the incident and those behind it. (Though, notably, President Donald Trump has so far been silent on the issue.):
"Each year for the last several years I have had the honor of introducing Rabbi Benjamin Sendrow of Congregation Shaarey Tefilla to my Senate colleagues as he offered our daily prayer in the Indiana State Senate. I was shocked and saddened to learn about the recent vandalism that occurred at his synagogue. Everyone in the United States should feel free to worship according to the dictates of his or her own conscience without fear. Anti-Semitism is an evil that cannot be tolerated and must be confronted. It is my hope that the FBI and Carmel Police Department will find the perpetrators so they can be brought to justice swiftly. I strongly condemn this behavior and encourage all of my fellow Hoosiers to do so as well." — State Sen. Mike Delph (R-Carmel)
"On Saturday, July 28th the Congregation Shaarey Tefillah was vandalized. This Carmel Synagogue, which is just outside my district has been a pillar in the community for years. Recently, I visited Normandy, France and the gravesite of over 9,000 American soldiers who sacrificed their lives to combat evil, hate and bigotry that has seemingly surfaced again. Let those soldiers and all Hoosiers never forget the atrocities the vandalized statement represents as we support the Shaarey Tefillah Congregation." — State Sen. John Ruckelshaus (R-Indianapolis)
"I am disgusted and outraged at the vandalism targeting Congregation Shaarey Tefilla in Carmel. I condemn this vile act of hate and intolerance in our community and I stand with our Jewish community tonight." — Rep. André Carson (D-Indiana)
"Anti-Semitism should be condemned in all forms. Acts like this disgusting crime are an attack on our core values of tolerance & diversity that our country was founded on. I hope Hoosiers will join me in praying for the congregation in this troubling time." - Mike Braun, Republican Senate candidate
"The vandalism at Congregation Shaarey Tefilla goes well beyond a petty crime. It was a hateful act of antisemitism that goes against everything America stands for. I've spoken with Rabbi Sendrow and members of the congregation, and I stand with them in condemning this ignorant and disgusting crime. Our nation's diversity is a great attribute, not an undesirable flaw." — Sen. Todd Young (R-Indiana)
"I condemn the vandalism at Congregation Shaarey Tefilla. There is no place for anti-Semitism, bigotry, or hatred in our communities, state, and country." — Sen. Joe Donnelly (D-Indiana)
"This morning, I contacted Indiana State Police Superintendent Doug Carter and made sure state police offered to fully assist the Carmel Police Department and the FBI in bringing those behind the repulsive acts of desecration at the Congregation Shaarey Tefilla to justice. The cowards responsible for these crimes always hide from public scrutiny precisely because they know their actions will be soundly rejected by their neighbors and are not consistent with who we are as a society. We will work to help find those responsible and hold them accountable to the fullest extent of the law." — Gov. Eric Holcomb
"I am appalled by the despicable and hateful act of antisemitism perpetrated yesterday against Congregation Shaarey Tefilla in Carmel. I urge all citizens of Carmel, Hamilton County and throughout the state to join me in speaking out against this awful act of intolerance and bigotry. Actions like this have no place in our community and I hope the perpetrators are swiftly brought to justice." — Rep. Susan Brooks (R-Indiana)
"Sickened and appalled by the cowardly act of vandalism at Congregation Shaarey Tefilla; a beautiful synagogue in Carmel, Indiana where I have many good friends. Those responsible must be held accountable. These vile acts of anti-Semitism must end." — Vice President Mike Pence
Anyone with information about the vandalism is encouraged to call the CPD tip hotline at 317-571-2580.