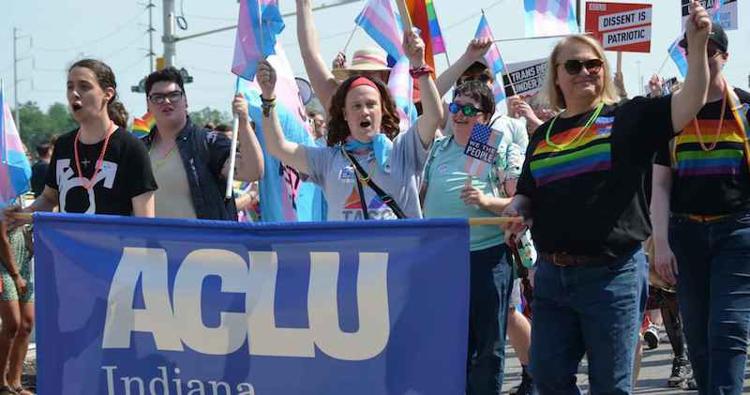 The American Civil Liberties Union of Indiana has announced the launch of a statewide LGBTQ Rights Project. It's an initiative meant to create more focus and resources for the ACLU of Indiana's work defending and advancing the rights of LGBTQ Hoosiers.
In a press release earlier today, Jane Henegar, executive director of the ACLU of Indiana, explained the necessity for the project.
"We have made great strides here in Indiana, but our work is far from done," says Henegar. "LGBTQ community members continue to face attacks on their constitutional rights by business owners, school administrations and elected officials across our state.
"Whether it be a transgender student's right to use the correct restroom, or a couple's right to purchase a wedding cake free from discrimination, we will continue to fight in court and in the statehouse for fairness and equality for all of our community."
The ACLU of Indiana LGBTQ Rights Project will encompass all of the organization's current and future work including current legal action, the Transgender Education and Advocacy Program (TEAP) and advocacy work such as pushing the Indiana House to vote "no" on Senate Bill 65, which could prevent schools from discussing any LGBTQ issues without express written permission from parents.
"We are seeing attempts to use religion to discriminate, such as the recent Masterpiece Cakeshop ruling at the national level, and the 2016 Religious Freedom Restoration Act here in Indiana" said Katie Blair, advocacy director at ACLU of Indiana. "The LGBTQ Rights Project is fighting to ensure no member of our community faces discrimination based on their sexual orientation or gender identity."
Currently, the ACLU is suing the Evansville school system on behalf of a transgender student denied the ability to use the restroom that corresponds with his gender identity. The student, identified as J.A.W., has been diagnosed with gender dysphoria, is under a doctor's care, and is currently undergoing hormone therapy. The school has prevented J.A.W. from using the male restrooms and threatened discipline if he does so.
The ACLU of Indiana maintains that denying the student the right to use the male restrooms violates both the Equal Protection Clause of the Fourteenth Amendment to the United States Constitution and Title IX of the Education Amendments Act of 1972, 20 U.S.C. § 1681(a).
In their suit, the ACLU of Indiana is asking the court to require the school district to allow J.A.W. to use the male restrooms and similar facilities in its schools without penalty.
Closer to home, the Brownsburg school corporation is dealing with a teacher's refusal to call transgender students by the names they have chosen. The school requires signed paperwork from a doctor and parental permission in order to change a student's name in the school's official records database.
At the end of this past school year, Brownsburg orchestra teacher, John Kluge, resigned over the district's requirement that he address a student by a new name matching that student's gender identity. After having second thoughts about quitting, Kluge tried to un-resign and asked for his job back. The school declined to reinstate him. Now he's claiming the school's policy violates his First Amendment Rights.
"I'm being compelled to encourage students in what I believe is something that's a dangerous lifestyle," Kluge told reporters early this summer. "I'm fine to teach students with other beliefs, but the fact that teachers are being compelled to speak a certain way is the scary thing."
Helping to bring awareness and educate communities like Evansville and Brownsburg are among the many missions of the LGBTQ Rights Project via the Transgender Education and Advocacy Program (TEAP).
"We are working with grassroots advocates and activists and providing them with leadership development and support for community outreach and education," says Kit Malone, Transgender Education and Advocacy Coordinator.
"In the case of Brownsburg, it was fortunate that the school had a policy in place to ensure the rights of transgender students were protected," Malone says. "More schools should have policies on the books to protect kids from bullying and discrimination.
"The situation in Brownsburg can open up conversation and education opportunities in the community and the TEAP program helps to make community events and forums possible for communities to have larger conversations.
"Ultimately schools should be a safe place for our kids and the refusal to call a child by the correct name, or to allow that student to use the correct restroom, can be extremely emotionally damaging for students and can expose them to bullying."
Since its beginning in 1953, the ACLU of Indiana has deployed its resources to fight for LGBTQ rights. That mission continues through a unique base of resources to defend civil liberties through advocacy, education and litigation. At a national level the ACLU brought its first LGBTQ rights case in 1936 and founded the LGBTQ Project in 1986.
Learn more about ACLU Indiana's LGBTQ Rights Project (www.aclu-in.org)