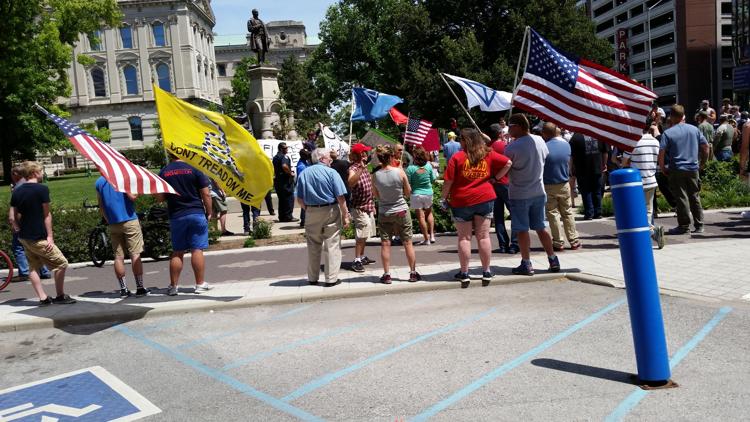 At 10:00 a.m. on Saturday, June 10, the March Against Sharia protest began in cities across the country and in downtown Indianapolis.
ACT for America representative Randy Kemp had already set up a microphone at 200 W. Washington Street, adjacent to the Indiana State House grounds. An armed man in helmet and camouflage — with an "Oath Keeper" patch on his shoulder — stood beside Kemp alongside several women holding pink signs reading, "FAKE Feminism: You can't be for women's rights and also [be] for Sharia."   
Just as Kemp started speaking, around 30 counter-protesters came up behind him on the State House lawn. Many of them dressed in black, wore masks, and carried signs — one read "REFUGEES WELCOME: RACISTS GO HOME." Around the same time several dozen anti-Sharia protest supporters — including flag holders for the white nationalist group Identity Evropa — took their places on the sidewalk along Washington Street.
It wasn't long before several protesters and counter-protesters came within spitting (or punching) distance of one another, yelling at each other. IMPD had around 20 officers on the scene and some of them quickly formed a cordon line between opposing groups with bicycles.  
This March Against Sharia was one of 29 organized in cities throughout the U.S. by ACT, which describes itself on its website as "the nation's largest nonprofit, nonpartisan, grassroots national security organization... focused on educating, engaging, and mobilizing citizens and elected officials to impact legislative outcomes to protect America."
The Southern Poverty Law Center calls ACT a hate group; "the largest grassroots anti-Muslim organization in the country."  
Evansville-based Kemp is the Southern Indiana representative for ACT, which claims that it is anti-Sharia, not anti-Muslim. Sharia is the set of religious laws based on the Quran, subject to interpretation, that Muslims follow in daily life. ACT claims that Sharia threatens American democracy; the Washington D.C.-based organization has had a large role in promoting state laws throughout the U.S. banning Sharia.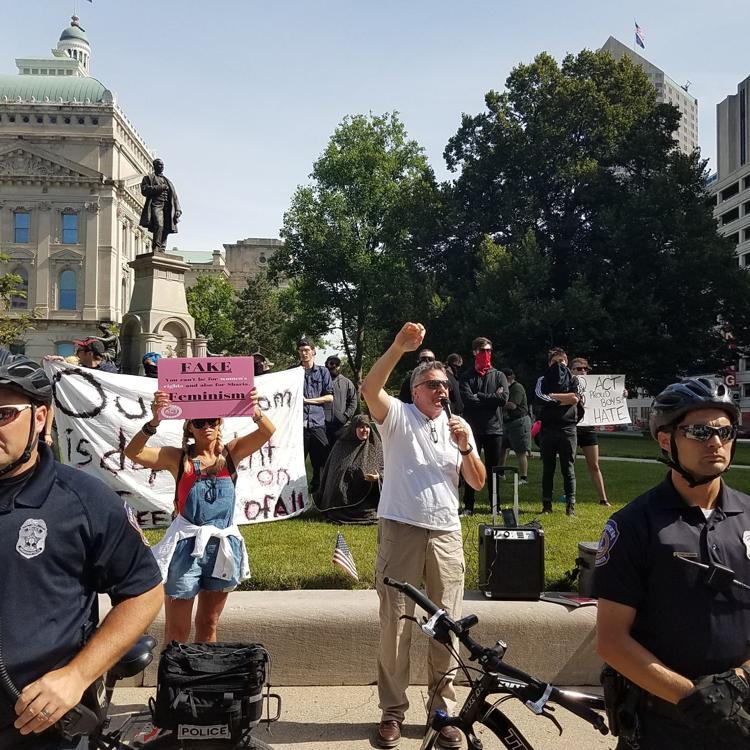 "We want to help peaceful Muslims to understand what our points of view [are] to protect them and to protect America as a whole," said Kemp. "The 1.8 million peaceful Muslims.... Why aren't they protesting against genital mutilation and honor killings in the U.S. and around the world?"
Kemp says that the billboard put up recently along I-465 disparaging the Prophet Muhammad was not put up by ACT.  "I believe the Muslim Brotherhood did to show that they're always the victim,"  he said without evidence to back this claim.
During times at the mic, and in interviews with NUVO, Kemp mentioned "the 356 million Muslims who aren't peaceful."
This figure promulgated by ACT is not supported by senior political scientist at the RAND Corporation Angel Rabasa whose research suggests a much lower number, by several orders of magnitude, of Muslims vulnerable to radicalization.
Kemp and his supporters, including Greg Fuller — "an expert on Sharia Law and the Quran" according to Kemp — often had trouble getting their points across at the mic, because they were drowned out by the chants of protesters and counter-protesters.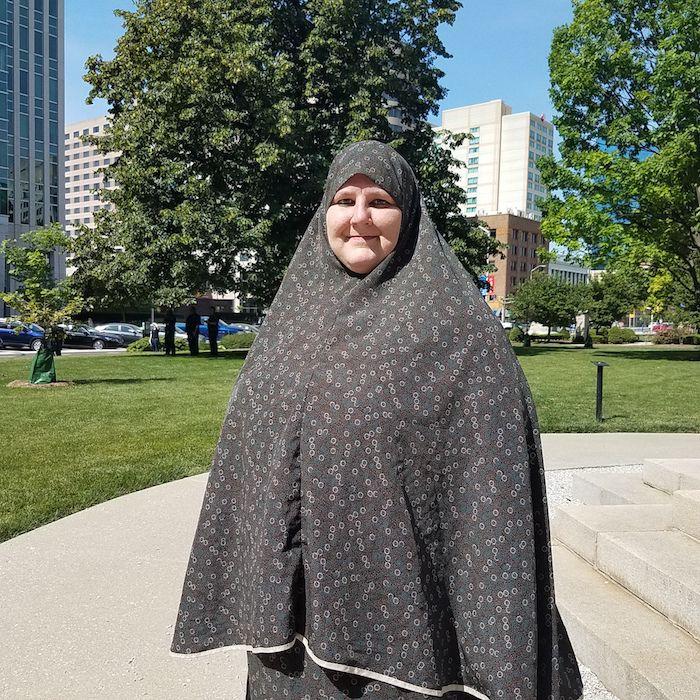 At a certain point Kemp offered one of the counter-protesters — a woman dressed in a long hijab with no face-covering — a chance to speak and handed her the mic.
"My name is Cory," she said. "I was born American, raised as Christian, converted to Islam. I found it to be a faith of peace... I understand American values such as freedom of speech...  I also understand that the people behind me came unorganized as a resistance to show this city that your hatred will not stand.  I'm against female genital mutilation and it's not legal in the USA."  
(Since 1997, it has been illegal in the U.S. to perform FGM on anyone under the age of 18.)
When an anti-Sharia protester shouted "My God doesn't have sex with a 9-year-old" she responded by saying, "The Prophet, praise be his name, is not God. It's a basic misunderstanding of Islam. So what happens is our dialogue gets blocked and we end up sheltered from each other."
Cory Cutsinger lives in Carmel.
"'I'm here countering the protest of Sharia Law in America, because it's absurd," she told NUVO. "One of the tenets of Sharia is to observe the laws of the nation that you're in." She called the anti-Sharia label on the protest "a dog whistle to white supremacists."  
As fate would have it, the anti-Sharia protest and the Indy Pride Parade —celebrating the LGTBQ community — were being held at the same time, just a couple of blocks away from each other. This fact was not lost on Brad Brewer, who lives just east of Indianapolis. He was wearing a pro-Trump T-shirt and holding a "Don't Tread on me" flag. (ACT for America founder Brigitte Gabriel is an avid Trump supporter.)  
"What Sharia specifically stands for is things like female genital mutilation [and] the striking down of homosexuals and transgender," he said. "We're having the Pride Parade across town. That would not be very acceptable in a place where Sharia Law is in place."
The anti-Sharia protest was scheduled until 2:00 pm but Kemp and his supporters left around 12:30. The counter-protester contingent left at 12:51. The white nationalists, and some bikers who had joined them, left shortly afterwards. The police started pulling away around this time as well. No one had been arrested, although police had to warn some protesters and counter-protesters back from each other.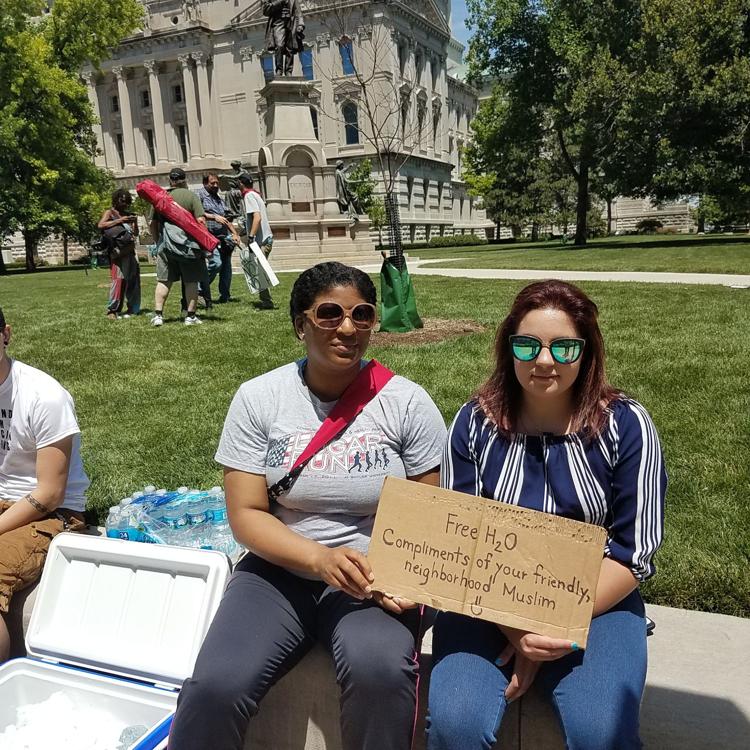 A young woman named Mennah Elsarrag stayed on after most everyone else had left. She offered free water from an ice-packed cooler to any takers, from all sides. Her cardboard sign read "Free h2o. Compliments of your friendly, neighborhood Muslim.
"I'm trying to put a face to the stigma," she said. "A lot of people have never met a Muslim.  I'm constantly told I'm not a typical Muslim but what is a typical Muslim? We're not as they portray us."