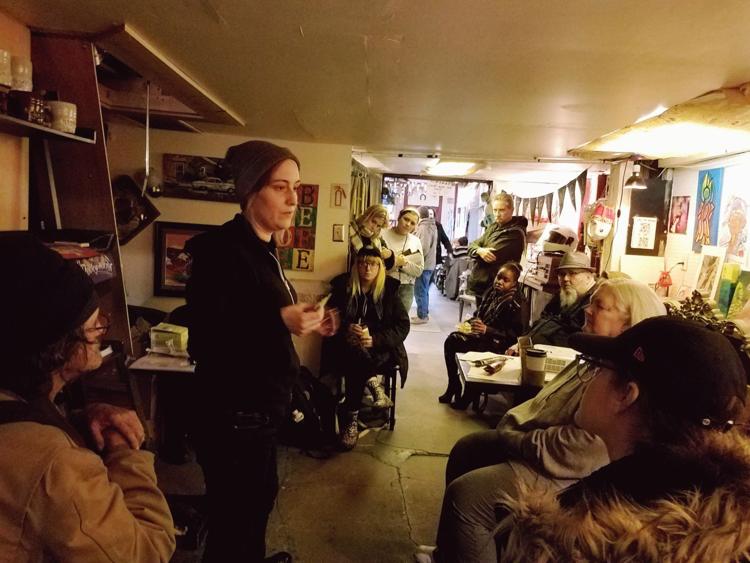 In the early afternoon of March 9, a Narcan training took place in the back room of Rabble Coffee at 2119 E.10th St. The training attracted a crowd of over 30 from Near Eastside Indy and beyond.  
While busy Rabble founder Josie Hunkler managed the front end of the shop—steaming cappuccinos and lattes—Jes Cochran, Overdose Prevention and Harm Reduction Coordinator for the Indiana Recovery Alliance, led the training in the back.
Narcan is the brand name of Naloxone, a drug that blocks the effects of opioids and is used to treat overdoses.
Cochran explained how to identify, and then how to respond to, someone who is suspected of overdosing. This training had the participants injecting Narcan into oranges using syringes to practice the administration of Narcan.
After the training, the participants were able to receive a free kit consisting of three vials of Narcan, three clean syringes, and instructions. The whole exercise was explicitly about saving lives, not about passing judgement.
"We're going to give them a second to acclimate," Cochran said about a scenario where someone has just returned to consciousness from an overdose. "This is the support part. After you give someone Naloxone is not the time to tell them I'm disappointed that they're using. This is not the time to yell at them because they took too much, all right?  Save it for later, if you've got to go there."
Josie Hunkler keeps a supply of Narcan nasal spray behind the cafe counter for those who need it.  
And considering the grim statistics—more than 1,840 people died of an opioid-related overdose in Indiana in 2017 according to the CDC—it only makes sense that a community-minded coffee shop owner like Hunckler would want to be part of the solution to this problem.
Hunckler started Rabble in 2015 together with her sister Kindra and Kindra's husband John Nolan. Since then, Rabble has served as much as a community center as coffee shop. In this space, community partners often come in to host informational sessions and tutorials on everything from resume and cover letter writing to the benefits of CBD oil.  
Hunckler has also expanded her own role as community partner recently by participating in IndyEast Art Peace, jointly spearheaded by the Arts Council of Indianapolis and Near East Area Renewal. In this program, teams consisting of community members—each team including an IMPD police officer—came up with proposals in 2018 to use art as a means to increase community engagement. Through this increased engagement, they hope to decrease crime in Near Eastside Indy.
Hunckler participated in one of the three-person IEAP groups that met monthly over the latter half of 2018. The sessions that she describes as "a little slow going at first" came up with a proposal for a community writing center.   
"We weren't forced into anything ever," she said. "We were encouraged to come into it with our different perspectives. And, over the course of a year, I ended up going from a hater to a joiner and being all about it ... I was encouraged by the Arts Council to bring in my own ethics, so that's why I made the pitch for the writing center."
With her team, Hunckler presented the community writing center to a "Pitch Night" that took place as part of the Near Eastside Neighborhood Summit that took place on Feb. 5 at the John Boner Community Center at 2236 E. 10th St. Other proposals presented by the groups included an outdoor theater/park, a "IMPD Cares Mobile," and a sidewalk art project named "You Are Here."
The Summit attendees were able to vote for their favorite projects; the organizers of IndyEast Arts Peace will use this guidance to ultimately decide how much attention to devote to each proposed project.
Continued Hunckler, "I signed up because I had a little bit of pressure from my neighborhood [Near East Area Renewal] CDC to apply and participate because they thought I was already doing a good job with placemaking in the neighborhood. And that was helpful.  At first I was a little critical of that sort of approach, because I'm more of the mindset that if you provide for the people, you'll see crime reduction, you'll see a healthy community. … After I started working specifically with Julia Muney Moore of the Arts Council, she really educated me on how it can actually make a difference and she's very wise about the nuances of how art in a gentrifying neighborhood can lead to displacement ..."  
But there's a fair chance that Hunckler, at least with the hosting of the Narcan training, will have the chance to indirectly assist someone outside the immediate vicinity of Rabble.  
Because not all training participants were from the Near Eastside of Indianapolis. Such was the case for Indy resident Jan DesRoches, 69, who was visiting Rabble for the first time.
"I work with a rehabilitation agency, and we often work with people who have addiction issues," said DesRoches. "My other reason is that my brother passed away from a drug overdose and I found him, and I don't know that at the time I'd found him [if he'd been gone for long]. I just want to know if there's something I could have done."