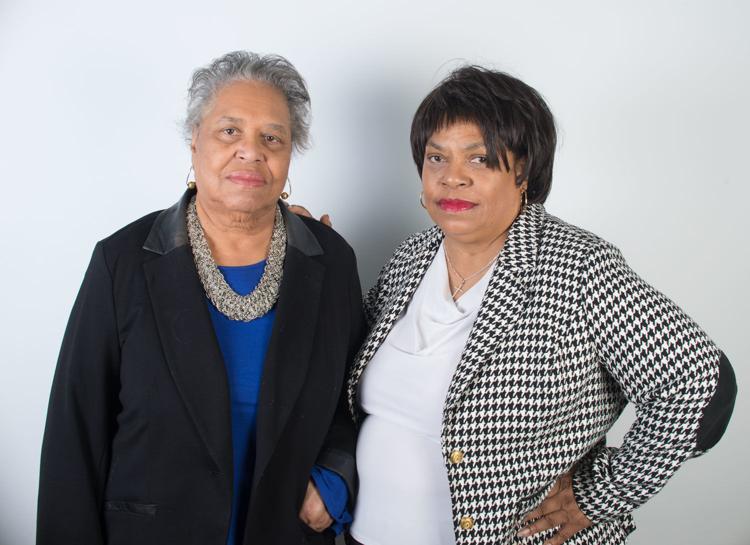 When Jean Breaux and her mom Billie Breaux stopped by the NUVO offices on March 28 for a photoshoot for this week's cover story, we took the opportunity to ask them some questions.
Billie, who witnessed Robert Kennedy announce the death of Dr. Martin Luther King Jr. in Indianapolis, became the first two-term president of the Indianapolis Education Association. After that, she became a state senator in the Indiana General Assembly. Her work was crucial in the recognition of Martin Luther King Jr. Day as a celebrated holiday in the state.  
Jean Breaux followed her mom into the state senate, and has been representing the 34th District since 1996.
NUVO: Jean, did you remember Billie talking about events at the park?
JEAN: I memorized all the Bobby Kennedy speeches. I had Look Magazine with RFK and JFK. When Robert Kennedy passed, my mother must have sent a letter to Ethel, because we got all of these cards by Ethel, signed by Ethel Kennedy. They had little poems on them; they were really into poetry. I memorized all of the poetry, just everything that came in with the Kennedy name on it. I always wanted to have a large compound; I wanted to live on a compound.  I wanted to have like a dozen brothers and sisters. I was just sort of mesmerized by the whole Kennedy aura.
NUVO: When did it occur to you that you could follow in your mom's path?  
JEAN: Well I always said that I didn't want to follow in my mom's past. Because she was gone a lot.  She was engaged in a lot of conflicts, it seems, and there were all of these people yelling and screaming at her and I thought, you knew ewwwe.  But without me knowing it, I was following in her footsteps. I was a vice president of my class in high school. I was vice president of my class in college.  I worked on Ted Kennedy's campaign in college. I went door to door… It was in me without me acknowledging it. [...] I just felt [her mom's seat in the senate] needed to stay with a strong African American voice.
NUVO: Billie: I assume that you and your daughter have worked on some of the same issues.  How does it feel that your daughter is working on some of the same issues that you worked on?  
BILLIE: Well it's really very gratifying, because one of the things that you learn after being in this business for quite some time is that the issues don't change.  The issues stay the same. And I know that they still have a strong voice and I know that she's going to be speaking for the things I cared about, she now cares about.  
NUVO:  So, Jean, what are some of the issues that you are working on now?'
JEAN: I have been carrying gun legislation since Stand Your Ground with Trayvon Martin. [Stand Your Ground is the Florida Law that figured in George Zimmerman's acquittal for the murder of Trayvon Martin]. It has failed to get any kind of a hearing but I'm thinking maybe now, might be the time to strike and I might be able to get some movement because of the initiative of the Parkland kids. So I'm going to work on that over the summer. My real passion, what I'd really like to see changed, is some kind of comprehensive sexual education program. So we can really reduce the unplanned teenage pregnancies, which are going down. But there are really far too many of them and they really affect communities and lives of young people and families and I just really think that if we could really just have a comprehensive approach to this whole discussion, then we would see an impact. [...]  I author pretty much every year an equal pay [bill] so that their might be some parity between what women earn and what their counterparts earn as well. My issues tend to be progressive which is why sometimes it's difficult to get them any traction in the Legislature because we're a much more conservative legislature.
NUVO: Billie, How does it feel coming up on the 50th anniversary event in King Park?  What are some of the thoughts going through your mind?
BILLIE: I guess the thing that hits me the most are the words that Kennedy spoke, the issues of hatred and violence; it's so meaningful today.  We don't need that. What we need is a lot of love and passion and understanding. So although it's been 50 years and there's been some change, it seems to me that now I'm most most hopeful because of the young people in Florida and throughout the nation. The things that impacted me about that march is not just that it was about gun violence in schools, but it was very inclusive. They included everybody and that's what we need in this nation today.