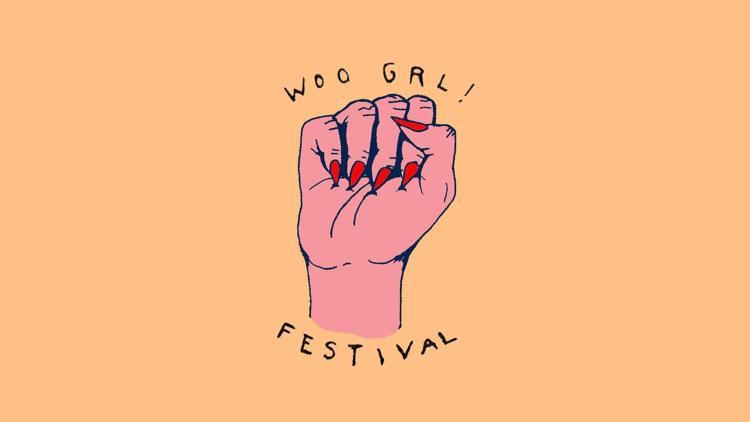 Nicole O'Neal is tired of playing shows that don't feature other female artists.
"You have to really advocate for filling spaces with other bands that are inclusive," says the bassist/vocalist of Indianapolis band Wife Patrol. "And, if you don't do that yourself, you are probably going to end up with a bunch of dudes [on the show]."
It's this sentiment that sparked the start of Woo Grl Fest — an all-day Indianapolis music festival dedicated to highlighting women and underrepresented performers in the Indiana music community. Slated for Saturday, April 20, Woo Grl Fest will feature 24 acts performing across two all-ages stages at Pioneer and Square Cat Vinyl in Fountain Square. Tickets to the festival are available here, with proceeds benefiting Girls Rock Indy.
About one year ago, Kristin Newborn (who writes music under the name KO) made a public callout, asking female musicians from Indiana to share links to their music with her. Much to her delight, the response was overwhelming.
"I made a post on Facebook asking people to throw down their favorite Bandcamp links of local musicians in Indiana that were woman-fronted, and there ended up being over 60 comments," Newborn says. "I was like, 'This is insane. I can't believe there are so many of these woman-fronted bands in Indiana, yet I rarely see them on bills.'"
Newborn eventually linked up with Woo Grl Fest co-founders Nicole O'Neal and Ariana Beedie, and the dominoes began falling into place. First off, the trio asked artists to submit an application to be a part of the festival, in order to ensure the lineup came together democratically.
"We didn't want it to be like, 'Okay. We're going to ask our friends' bands to play,'" Newborn says. "We wanted people to reach out to us and say, 'Hey. I have rarely played out in Indiana, and I would love to play.'"
Much like Newborn's initial Facebook post, the Woo Grl Fest callout was met with open arms. When asked why they wanted to play the festival, most acts shared similar feelings.
"We asked them specifically, 'Why do you want to play Woo Grl Fest?' And we heard a lot of the same things that we were feeling," O'Neal says. "Like, 'I'm tired of being the only girl when I play.' Or, 'I'm just really excited for this. To support women, to support the scene, and just to see more of myself on stage.' They want representation, and they want people to know that they're out there."
For O'Neal, this passion for gender representation in music stems back to personal experiences she had growing up.
"I grew up without having a Girls Rock," O'Neal says. "I really wish that there had been one because I felt like the outsider. I really wanted to play music."
"I started playing bass in high school, but most of the guys were already in bands and there weren't really that many girls playing," she continues. "It was hard to find people to play with, and people didn't really always take me as seriously."
For this reason, she serves as chair of the diversity and inclusion committee on the Girls Rock Indy board.
"When I first got involved with Girls Rock, especially with the diversity and inclusion committee, I really saw the opportunity to try to do what I could to help make the gap a bit smaller for girls to get involved with music, and especially for people of color to get involved with music because we often don't see ourselves represented," O'Neal says.
GETTING EVERYONE INVOLVED
For the Woo Grl Fest founders, one major no-brainer was that the festival needed to be all-ages.
"Most of us didn't grow up seeing ourselves on stage," Newborn says. "If we're going to say, 'Support women,' we also want young people to come and experience that in the scene."
Additionally, they wanted to also make sure that Woo Grl Fest was a place for transgender and non-binary artists to showcase their work as well.
"When we say women and under-represented performers, that also means the LGBTQ community," O'Neal says. "People who are transgender and people who are non-binary also need to be seen and be heard — to be recognized and have opportunities to play. Because often, they're also marginalized in terms of people really understanding them and giving them the same opportunities."
Indiana is certainly not the only place struggling with this issue of representation on stage. In a 2018 study of music festivals, Pitchfork reported that 7 out of 10 artists on festival bills were men or all-male bands. And while a group of 45, mostly non-U.S. festivals pledged to book gender-equal lineups by 2022, there still remains a very long way to go.
On a local level, O'Neal believes that there just needs to be more awareness.
 "I can't tell you how many times people have been like, 'Do you know any girl bands I can book for this?' As if they can fill up their show any night of the week until they try to book a non-all-male band," O'Neal says.
"If you're a promoter and you can't answer that question, you're not doing your job," she continues. "You're not looking out for the bands in the community because 'bands with women' is not a genre. I'd love to see that language and that perspective start turning around."
All in all, the intent with Woo Grl Fest is to encourage more women and underrepresented individuals to get involved in the music community, hence pushing the inclusivity conversation forward.
"I hope that we just continue to see more representation on stage, and even off stage," O'Neal says. "I want to see more diversity, in the engineers, in the people who are booking the shows, and the people who are running the venues. I would love to see those doors start to open."
"I just hope a lot of young girls come and see, 'You can do whatever you want. There are women out there that will support you,'" adds Beedie. "You've gotta promote women in music. You just have to. The playing field has to be leveled out."
Tell us your thoughts: How do you feel Indianapolis venues are doing when it comes to gender representation on stage? Follow this link to join the conversation.