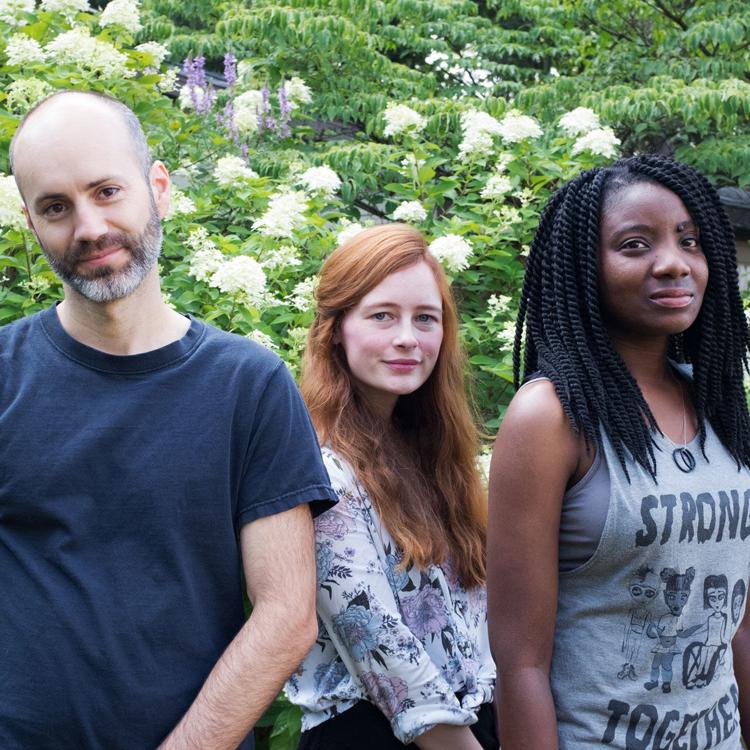 Upon walking into a Wife Patrol show, you'll quickly notice one thing: there's no lead singer. Rather than having one member at the forefront, the Indianapolis rock 'n' roll band shares the spotlight equally between its three members.
"Everybody sings," says bassist/vocalist Nicole O'Neal. "We might not all always sing together or at the same time, but everybody sings at some point, and I think that's really cool. I like that it doesn't have to be focused on one person, and I feel like you can do more with that."
Known for their crunchy, '90s-leaning sound, Wife Patrol has repeatedly impressed audiences in Indy and beyond since releasing their first batch of demos in 2016. With a knack for writing simple, harmony-infused rock songs, the trio has several shows on the near horizon, including one at State Street Pub on Friday, Aug. 10 and another at The Spot Tavern in Lafayette on Saturday, Aug. 11. The band is also one of the many featured music acts on this year's final Oranje event happening at the Coca Cola Bottling Plant on Saturday, Sept. 22.
All with their fair share of music background, O'Neal, guitarist/vocalist Greg O'Neill, and drummer/vocalist Natasha O'Neill first started playing music together in a rather unordinary fashion. "We just met through mutual friends here [in Indy]," Greg says. "Nicole posted a picture on Facebook of a bass guitar she bought, and our last names are all O'Neal/O'Neill. So I think someone was like, 'Family band?' And that was literally the catalyst." The trio gelled quickly, drawing from a myriad of influences in the process.
"At the same time we started playing together, I started making a point to listen to more women, and that really influenced me in terms of what I felt I could contribute," O'Neal says. "I also was just really seeking out three-piece bands. So I listened to a lot, and still listen to a lot, of Sleater-Kinney. They're one of my favorite bands."
Like Sleater-Kinney, Wife Patrol is constantly expanding on their sound, despite only being a three-piece. "It doesn't have to be a limitation," O'Neal says of the three-piece band structure. "You just spread things out." When it comes to songwriting, the band also takes a rather unique approach, with Greg coming up with the initial guitar riff for a song, Natasha writing the lyrics, and O'Neal making sure everything is arranged just right.
"Every song is truly a song by Wife Patrol as a collective," Natasha says. "While we all have our own individual strengths, it's what we do as a collective that makes it what it ultimately is. If you take away any one piece where we contribute, then the songs don't get where they are."
With a lineup that's two-thirds female, Wife Patrol also makes a point to empower and stand up for other women in music. "One thing that I've been learning is creating space, not just for you but for others," O'Neal says. "We recently had a show where it was going to be two bands, and we were like, 'We'd really like to have another band and be able to create room for more women on stage.'" Topics like this are regularly discussed amongst the trio.
"It's good to have conversations about intentionality [with gender representation on stage] because a lot of times it's not that there are any negative mindsets or intentions around the way things operate, but it's just not occurring to people," Natasha says. "When people aren't putting thought into it, there's an opportunity to make it better if you are intentional."
O'Neal adds, "You can't always hope that someone will do it or catch on. It's a lot of work to change a culture so you have to find those small ways that you can either invite people in or fight back when you need to. Sometimes it's just being aware."
Looking ahead, fans of Wife Patrol can expect three new songs recorded by Indiana music legend Paul Mahern. "Having Paul encourage us while setting appropriate expectations [in the studio] was completely invaluable," Natasha says of their time working with Mahern. While no release date is public yet, Wife Patrol plans on putting out a 7-inch record of the songs sometime soon.