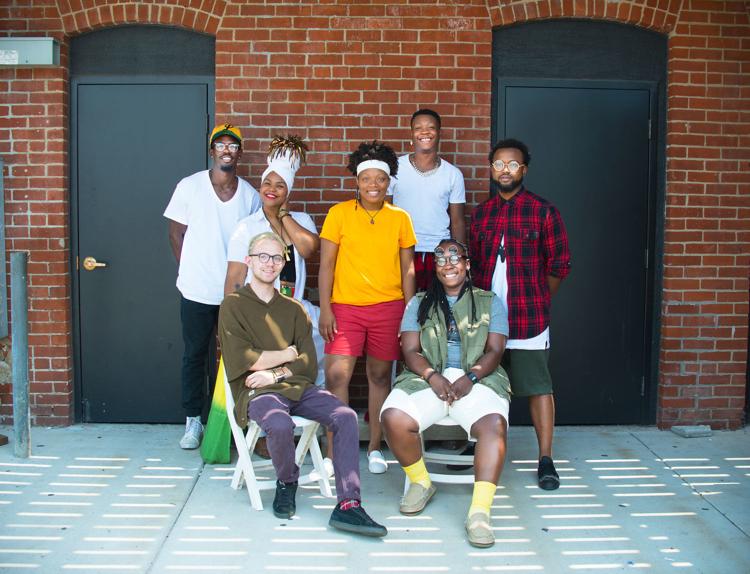 The members of TribeSouL gather on benches outside of the Kheprw Institute on the city's Near Northside before a Tuesday night rehearsal. Later that week, the band is set to co-headline a show with another new Indianapolis favorite, Clint Breeze and the Groove. For now, though, they sit and reflect on their recent rise all the while exuding an aura of warmth and sincerity.
"This tribe is a family first," says TribeSouL founder Mariah Ivey. "When we get on stage, that's an extension of how much fun we have together; that's an extension of our collective genius and collective creativity. It comes to life on stage."
Born and raised in Indianapolis, the ethereal Ivey sings and raps in TribeSouL while also interjecting powerful elements of spoken word. Her longtime knack for poetry and musical upbringing helped Ivey foster a talent for strategically constructing rhymes.
"It's crazy because I was born within a very musically oriented family," Ivey says in an interview done separately from her band earlier in the year. "Everybody in my family does something artistically. My mom is a vocalist. I have seven aunts, and they all sing. My father is a playwright. He's also a musician and plays drums. My siblings all play instruments and dance. So I actually started writing raps before I started writing poetry at a very young age."
After pursuing poetry for a while and even going on an East Coast tour, Ivey eventually decided to go down the music route after moving back to Indianapolis following some time out of state.
"Poetry became music seriously for me in 2014," Ivey says. "That's when I wanted to exercise my emceeing abilities. I wanted to become an emcee and study that craft as much as I studied poetry. That was the moment where it was like, 'OK. I'm a poet, I'm an emcee, and I'm a vocalist, and I'm going to pursue all three of them.'"
Around this same time, she decided to put a band together to perform alongside her. "I was going to release a project, and it was kind of a mix of poetry, rap, and singing," she says. "I wanted to do a show, and it was called Liberation Unplugged. I just hit up my friends and people that became family to me at that time."
Although she probably didn't know it at the time, Ivey was planting the roots for one of Indianapolis' most exciting bands of the future.
SUBSCRIBE TO THE TRIBE
As members of the band file into rehearsal, Ivey sits at a table in the Kheprw Institute, checking in with those who have yet to arrive. Between sending out text messages, she turns to me, clarifying why the band is now called TribeSouL rather than Mariah Ivey and TribeSouL.
"I took my name off of the front because it's more of a collective," she says. "I wanted to give voice and space for the other members in the group, and I think you get that when you see the show. It's never just me at the front the entire time."
One longtime member of this collective tribe is vocalist Ty'is Burks, who has a voice as smooth as it is expressive. Burks and Ivey met around the age of 16.
"When I think of a tribe, I think of a group of people coming together to do something," Burks says. "With it being TribeSouL, we're all very soulful. We're all influenced by different inflections, whether it be church or R&B or neo-soul or jazz or blues. It [the name] fits because we're a tribe of artists and like-minded individuals coming together for one purpose, and that's to create music and vibes and energy."
This new, simplified name is indicative of the overall collective nature of TribeSouL, Ivey explains.
"When you think of a tribe, each tribe has something that is very unique to them," she says. "Each tribe has a few signature things that make them that tribe. Out of that tribe come more people. Out of that tribe come more creation and more ideas. When I think of us, I think of that."

She continues, "We are a tribe that has a lot of individualism, but it still works as a collective. [We have] a lot of different personalities and different styles, but at the same time, when we walk together and we move together in other places, we're an anomaly. We're not like everybody else."
Another member of the TribeSouL collective is emcee/vocalist Boogie Gorman, who started pursuing music more seriously after a nudge from Ivey.
"Mariah is my best friend," Gorman says. "She pulled me into a show that she thought about and came up with a couple years ago called WordPlay. She was like, 'Best friend, you're tight. You should do this show. Just do it, for me.' So I did it. From then, it's just been nonstop creating music."
Although every member of the group may come into TribeSouL with his or her own set of skills, the collective's overall nature is one that explores new horizons.
"Tribe kind of pushes you to get out of your comfort zone, which is what I love," Burks says. "You can't be in Tribe and still do the same thing that you've been doing. It makes you want to work harder.
"When I got in Tribe, I considered myself a background singer. I did not want to be in the front. I did not want to lead. But with Tribe, they made me fall in love with music all over again. They made me fall in love with the stage because I had really bad stage fright. Now when I get up there, you probably can't even tell that I have stage fright."
While pushing the limits of its own members, TribeSouL also presents audiences with a sound that's often boundless. Although they may lean heavily on elements of hip-hop and neo-soul at times, the group refuses to pigeonhole itself to one particular genre.
"If I feel like being in a reggae space, that's what we're going to create," Ivey says. "But we're hip-hop too, so we're going to incorporate that. And at the same time, we're into soul and jazz and some alternative. We're going to make a rock song because why can't we? It's literally whatever we feel."
This freedom to explore is one that's also at the heart of TribeSouL, as Ivey encourages members of the group to express themselves how they want to on stage. "When you're on stage, if you want to sing it, sing it," she says. "If you hear it, play it. If you hear it, sing it. I'm never going to be like, 'You need to sing this particular 'oo,'" she says. This unique live element is yet another reason why Indy audiences are subscribing to the Tribe.
"Every show is an experience," Ivey says. "It's never just a show. It's never just a performance. How can we make it authentic for you if all we do is perform the same routine, rehearsed stuff? No. We're just going to do what we feel up there, and whatever happens, happens."
WHAT'S AT THE SOUL
Those who have been to a TribeSouL performance know the live experience is much more than a concert—it's a meditative journey. While the group certainly has fun up on stage, they also make sure to remain open and honest with their audience, reflecting on whatever it is that might be on their mind. "One big thing that I've learned personally from Tribe is being transparent," Burks says. "As an artist on stage, you control the atmosphere, you create the energy, and you have to be OK with being transparent. I would say that's one big thing with all of our music. Whether it be emotional or a love song, we allow ourselves to escape to that place to relay that message." In particular, TribeSouL plays a song written by Burks called "Why Try?" that reflects on relationship struggles in a candid manner.
"The thing about being an artist is…whatever you talk about, whether it's five minutes or 10 minutes, the people that you're singing to have to listen," Burks says. "That's your time to say exactly how you feel. No one can cut you off. No one can stop you. Everybody has to hear exactly what you're saying and the emotion that you're relaying."
As a band made up of mostly minorities, TribeSouL always makes a point to speak on topics such as equality and mental health too.
"Everything in life is about balance," Ivey says. "As much as we do have fun on stage and as much as we talk about turning up and being ratchet sometimes, we have a strong spirit of social justice. We can't get up here and not talk about what's happening around us, what's happening in our world, what's happening to people that look like us and feel like us, and see life and live life through the same lens that we do. So to be on stage is to show people that I identify with you, and I'm using my gift and my talent and my voice to be an advocate for you."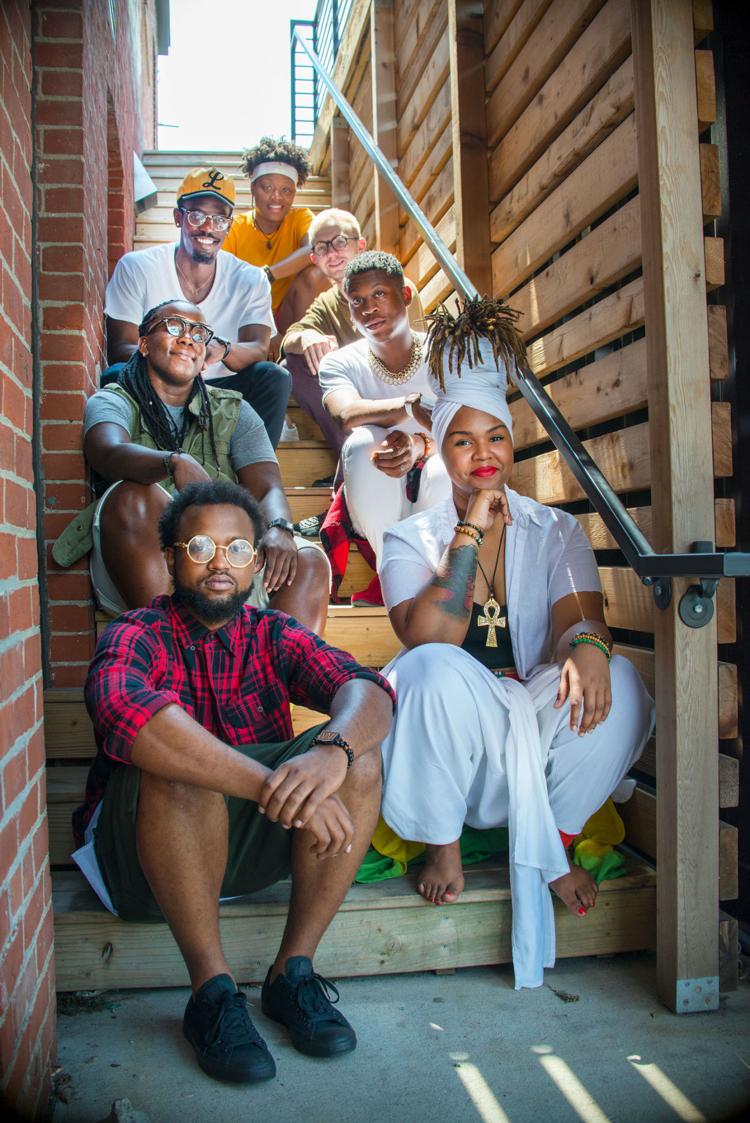 She continues, "That's the thing that artists do well. We make it OK. We get on stage, and we talk about stuff that you're going through that we're probably going through too and/or have been through, and we're making it OK to feel. There's healing in transparency. Let's be honest in our work. Let's make honest art. Period."
With Gorman and Ivey both spitting rhymes up on stage at every show, TribeSouL also hopes to make a point about women in hip-hop. "My point is very simple," Gorman says. "Don't praise me because I'm a female and I rap. Praise me because I'm good at it. That's it." In fact, the group regularly performs a song emphasizing this notion.
"No female, just emcee—that's it," Ivey says. "I think her and I have done a decent job of pushing our craft to the forefront and taking the attention off of the fact that, 'Oh, I'm just a woman and I rap.' That's not even a thing. We've done a decent job, and we're still doing the work of eliminating that label of female emcee."
But as fans of the band know, TribeSouL is not always so serious. With every performance, in fact, they mingle fun cover selections into the set, from Bob Marley's "Jamming" to Kendrick Lamar's "Alright." "I feel like we do certain covers because a lot of our stuff can sometimes be real heavy," Burks says. "It shows outside of all the social justice and the love and heartbreak that we talk about, we can have a little fun too. We can get up here and be crazy. We're not just a one-trick pony. We have so many different avenues and things that we do."
Later this month, TribeSouL will release their first official song as a band. Titled "#TribeWithUs/Saturday Love," the track combines two separate ideas into one cohesive tune. Following the release of "#TribeWithUs/Saturday Love," the world can expect to see even more of TribeSouL.
"A project is in the works," Ivey says. "More visuals. More content. You can expect all of that from us. A possible tour. Merchandise. So many things will be happening over the next few months, so everybody should just look out for it. And when they see it, when they feel it, when they hear it, come tribe with us."