Bassist Nick Tucker, and guitarist Joel Tucker of the Tucker Brothers Group are indeed biological brothers, and if you're a fan of live music in Indianapolis, you've likely seen one, or both of these siblings performing in your favorite neighborhood club, or playing with Clint Breeze and The Groove. 
These days Joel and Nick are focusing their energy on the release of the Tucker Brothers group's sophomore LP Writing Prompts. The brothers are billing the LP as a "collection of songs dedicated to the past jazz musicians from Indianapolis," but this is no mere rehash of greatest hits from the Wes Montgomery or Freddie Hubbard songbook. Writing Prompts contains eight wonderfully crafted original pieces composed by Joel and Nick.
In addition to the brothers, Writing Prompts features the work of Evan Main on piano, Sean Imboden on tenor sax and Ben Lumsdaine on drums. The Tucker Brothers Group are celebrating the release of Writing Prompts with a show at the Jazz Kitchen on Saturday, July 29. The brothers also appear every Wednesday night at the Chatterbox.
Kyle Long: I want to jump straight into your new record Writing Prompts, because I think it's going to touch on a lot of points regarding your musical education and other important influences in your musical development. I really love the concept behind Writing Prompts. In the album notes I read that the music on this record was written to pay homage to some of the giants of Indianapolis jazz, like David Baker and Wes Montgomery. Essentially you're focusing on a certain aspect of a player's sound or style as a sort-of writing prompt for the compositions you both contributed for this the album. What inspired you to take this approach?
Joel Tucker: I saw that there was an opportunity for a grant, the Amplify Indy grant through Musical Family Tree. This was last year when I was already in the process of writing some of the music for Writing Prompts. So it made sense to apply for the grant because we're amplifying Indianapolis on this album by tying all these Indianapolis musicians like David Baker and Wes Montgomery into it. I wouldn't be where I am without these musicians. I've listened to them for years now. So I decided to write a grant proposal to create an album dedicated to these musicians, but using our own musical voices, and performing our own music. It's not an album that's trying to sound like anybody else.
Indianapolis is a huge contributor to the jazz world. An upper echelon jazz city!
Kyle: Joel, you wrote the album notes and I liked the way you expressed that point in the notes. You mention that you're not trying to mimic the sound of any particular player or a particular era of time, because jazz is is a living music that's continued to evolve and progress over the years.
So with that in mind, how have you taken the influence of the players and translated it into your own sound?
Joel: That's definitely one of the hardest things to describe in words, because as jazz musicians we learn other players solos, and their music, and their compositions as a practice tool. Through learning their original solos, we develop our own language. It's just like how we learn to speak. The sentences that we put together are made up of the same words that everybody else uses who speaks the English language. But the way that we say them, and the order in which we put together our words is unique. That's the same process we use in playing this music. So we're continuing within the tradition, but putting the music together in our own way.
Kyle: Nick, on this subject of finding inspiration in the work of past jazz greats from Indianapolis, I'm curious when you became conscious of the enormity of the music history here. To some extent, I think we all grow up in Indianapolis hearing about Wes Montgomery, J.J. Johnson, Freddie Hubbard and some of the other star players. But there is an entire encyclopedia of great jazz musicians who came from Indianapolis.
You play bass, so I'd imagine you're familiar with names like Leroy Vinegar and Larry Ridley. These people are major cornerstones of modern jazz music and played on some of the biggest records ever made. While they may not be household names in Indianapolis, any jazz fan around the world would recognize the brilliance and greatness of dozens of musicians like Ridley that came from Indianapolis.
Nick Tucker: Absolutely, and I can think of one specific example that really drove home the importance of the history of Indianapolis jazz. I was maybe a junior in high school, and I went to play this gig with some high school friends. I can't remember everybody who was in the band but I think it was Kenny Phelps, Rob Dixon, and Melvin Rhyne was playing organ. So I find out after the gig that Melvin Rhyne was Wes Montgomery's organist, and we got to play a song with him!
I remember going home and trying to figure out all the records he played on and realizing, "Oh wow, this guy's really important!" After I left for college and came back to Indianapolis, he was still here at that point, and I got to play with him a few more times. It was really valuable for me.
When I was a little older I learned who Larry Ridley is, and that he was from Indianapolis. I went back and found all these Blue Note records he was on. I was like, "Wow this is a bass player that came from Indianapolis and really left his mark on the world."
What Bill Lancton
's Summit proved on April 18 is that any original composition can transfer its inner soul to guitars in any configuration — solo, duet, trio or as a quartet.
It wasn't one particular moment where I was like, "Indianapolis really is important." It was more like learning over time. I'm still learning about more people every. People who maybe didn't move to New York and get world famous, but they did so much for the community here. I think it's really cool to talk to older musicians here and find out about the history of Indiana Avenue and everything that was happening. Joel and I are both in our twenties, and so much happened before we were even born. So it's really cool to find that stuff out.
Kyle: One of the musicians you pay tribute to on the album is David Baker. You have a track on the album titled "Blues For D.B." In the early 60s Baker played on some very important records by George Russell. But Baker isn't just known for his work as a musician, he was also known as one of the greatest jazz academics in the world. He started a groundbreaking jazz studies program at I.U. in the late '60s. Joel, in the notes for the album you wrote that everyone in the band had a chance to study with David Baker.
Joel: Yeah, we all had a chance to be under his wing for a bit in some shape or another, be it in a big band, or taking a class with him. That experience was really important to all of us.
Kyle: Nick, anything you want to share regarding David Baker?
Presenting Kyle Long and Carrington Clinton's three conversations -- recorded over three years -- concerning Clinton's project Clint Breeze, and its live manifestation, The Groove. 
Nick: There are countless stories. I remember one time in the middle of class he nonchalantly started going on about how one night he was over having dinner at John Coltrane's mom's house. He talked about how 'Trane had his saxophone out and he was fingering stuff through at the dinner table. Out of the blue he would just come out with these stories, "Yeah, one time I was over at John Coltrane's house." Knowing somebody that had that much of the history in them was really special for us.
Kyle: Joel, moving beyond the influence of Indianapolis jazz, there's one particular track you wrote for the album I wanted to ask about. Tell me about "Standing Rock". There's some really interesting guitar work in that piece, but I was curious about the title.
Joel: Right, I wrote that during all of the protests that were happening at Standing Rock. I thought to myself, "What can I do, as maybe even a small gesture to help in bringing this situation to light?" I couldn't realistically go out to Standing Rock myself, so I decided to write a song about it. In the tradition of jazz, a lot of times players would write about political issues that were happening. I know Charles Mingus was a proponent of that.
It's sort of a somber ballad, but there's some angry improvisation with Sean at the very end where it builds. It was a track that we recorded in one take, and that was it. The guys in the band took what I wrote and added their own voices and made it sound awesome. We're all politically kind of on the same page too, which helps.
Kyle: Finally, I wanted to ask you both about the current state of Indianapolis jazz. We've talked a lot today about the historic side of the scene, but there are amazing things happening today. In addition to your own group, both of you play in Clint Breeze and The Groove, a group mixing hip-hop and jazz in a very unique way. There's also groups here like Native Sun, and Premium Blend who are doing important work. Of course Rob Dixon is always making incredible music.
As we close, are there any thoughts either one of you would like to share about the scene today?
Joel: For me Indianapolis is a perfect city for a millennial to be in. It's super affordable, and it's big, but not too big. The music community is especially amazing to be in because everybody sort of knows each other, and there's a bunch of opportunities for everybody to get to play together. Like with Clint Breeze and The Groove, there is the jazz element there, but we get to play with a bunch of hip hop MCs. It's super cool to be part of that.
In this city you can create opportunities for yourself very easily if you have the will to go out to jam sessions and meet people. That's sort of what I did when I first moved here. I would go out to the Chatterbox to hang with Sophie Fought, and Zach Lupidus and I got to know them on a deeper level than just going out and hearing them play. That helped me get in the scene with my own music. So it's definitely a place where you can make things happen for yourself and create a nice living out of it. That to me is super important, because you want to be able to live in a place that is supportive of the music.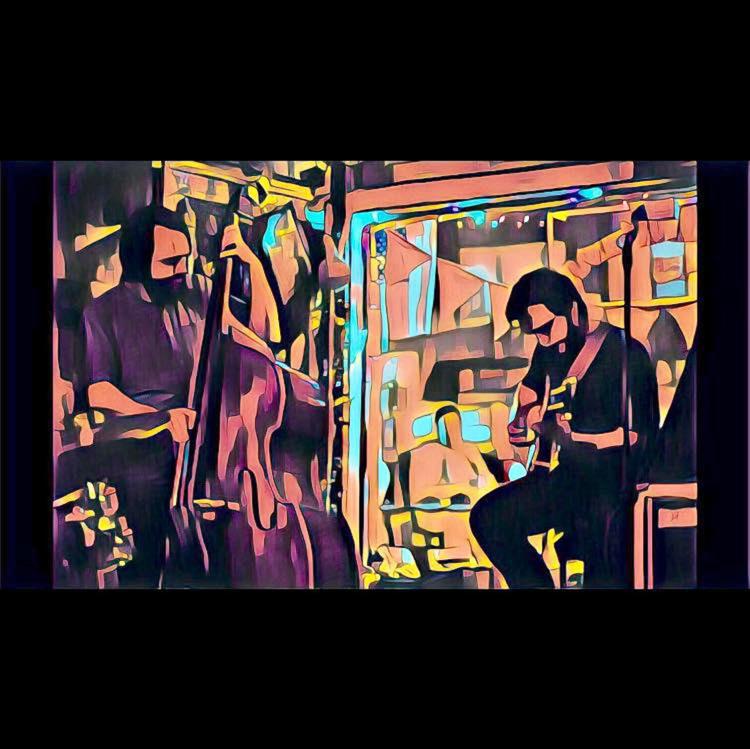 Nick: Building off of what Joel said, our experience with Clint Breeze and The Groove has been really cool. It's exposed me to a completely different scene that I probably never otherwise would have gotten involved in. It's cool to see people from the jazz community branching off and working with folks from the hip hop community, or from the rock community.
I've been back in Indy from grad school for five years now, and I feel like since I've moved back I've I've tried to grow friendships and make connections, and really carve out like a little scene for me, myself, and all my friends. I think that Indianapolis allows us to do that, and it's just kind of an added benefit that it's our hometown, and we can have pride in that.