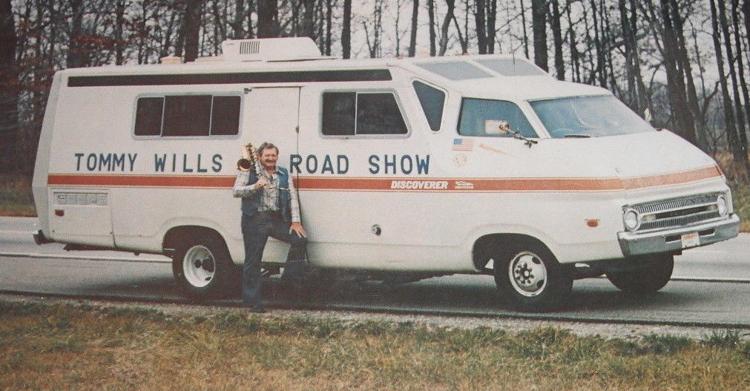 Midwest music legend Tommy Wills passed away on October 20. An Indianapolis resident since 1970, Wills was a fixture of the Hoosier live music scene. From the 1940s into the 2000s, Wills could be found leading big bands and small combos in a wide variety of settings, from the clubs of Indiana Avenue to the grand stage of the Indiana Roof Ballroom.
While Wills enjoyed a prolific career as a performer, I believe the saxophonist's most enduring contributions to music were achieved through his work as a recording artist and record label entrepreneur. Wills was a pioneer of independent music in the Midwest, developing innovative distribution strategies for the many labels he founded in Ohio and Indiana. The music Wills released on labels like Gregory, Terry, Airtown and Juke has gone on to attract a large international cult following.
And it's Wills' work on wax that I'm going to focus on in this remembrance of the saxophonist's life, as I try to make sense of his robust and complex discography. I deeply regret that I never had a chance to speak with Wills in-depth about his work in the record business. Fortunately, former NUVO writers Jason Yoder, and the late Chuck Workman were able to document some basic facts on Wills' life.
Wills was born just outside the Indiana state borderline in Middletown, Ohio on August 7, 1924. Wills began performing big band jazz professionally as a teenager, forming his own 15-piece ensemble at age 18.
"We could only play on weekends because half of my band was still in high school," Wills told NUVO in 2009. It was Wills' group the Artists of Rhythm that first brought him to Naptown in the 1940s, where he recalled joining after-hours jam sessions with fellow saxophonists Jimmy Coe and Pookie Johnson.
Wills sustained a lifelong devotion to big band jazz, but it was his ability to adapt to a variety of genres that propelled his long and fruitful career. That said, many Wills fans might be surprised that his 1955 debut release "Let 'Em Roll" was a rocking jump blues number in the style of Louis Jordan.
Wills continued recording for Hamilton-based labels for the remainder of the 1950s, cutting a pair of singles for Estella Dodd's Esta label. And in 1959 Wills founded Terry Records, his most successful label. Wills' own output on Terry leaned heavily towards rock and roll. In 1960 Wills released the wild "Mama Loocie" as Tommy and The Tomcats, and in '62 Wills tried capitalizing on the twist wave with "Aw Shucks, Go On Twist" issued as Tommy Wills and His Twisting Tomcats. The Terry years also saw Wills cutting his first of many takes on the evergreen R&B instrumental "Night Train." These recordings illustrate Wills' growing mastery of the raw and grinding sounds of the R&B sax idiom.
But Wills could not suppress his love for the sounds of the big band era, and in 1962 he began issuing his own recordings of jazz standards on a Terry-offshoot label called Gregory Records. Wills hit a bullseye with his first Gregory release, a take on the big band classic "The Man With the Horn." Wills issued the track as "Man With A Horn," and though the single never charted, Wills stated in multiple interviews that he sold over 500,000 copies of the disc. The record also provided Wills with an honorific title he'd use for the remainder of his career, "Man With A Horn."
The late 1960s saw Wills starting yet another label, Airtown Records. Wills debut release on Airtown is one my favorites in his catalog, a raw and raucous take on "Night Train." Issued as "Night Train '66 Style", the instrumental disc features some of Wills' finest work as an R&B sax stylist.
Wills recorded a variety of interesting Indiana rock and soul groups for Airtown, including fantastic records from Muncie area bands like Spoon, and Virgil Murray's Tomorrow's Yesterday. But Wills' biggest release by far on Airtown was from the Union City band The Vondells, their 1968 release "Hey Girl You've Changed" is a major record in the UK Northern Soul DJ scene and routinely sells for $2,000 and up on the collector's market.
It was during his time operating Airtown that Wills hit on an innovative new method of securing mass distribution for his releases. In the days before the internet, radio airplay was one of the only ways for an artist to be heard outside of a regional market. But for an independent label, getting a track in radio rotation was not an easy feat. So Wills decided to bypass the politics of radio airplay, and pitch his product directly to jukebox suppliers.
The move paid off. Wills changed the name of his label to Juke and in 1970 set up shop in Indianapolis. Wills' new take on music distribution didn't go unnoticed. On April 10 of 1971 the national trade publication Billboard published an article on Wills titled "Small Labels Jukebox Action Sets Stage for Airplay Push." The piece praises Wills "reverse promotion" technique, explaining that Wills "launches his records via the jukebox market and then follows through with station promotion."
In '69 Wills recorded the "New Soul Yakety Sax," while company players at the label issued takes on other familiar tunes. I guess the logic was that the average jukebox listener wouldn't be overly concerned if it was an unfamiliar artist playing their favorite instrumental track.
That's not to imply that the music on Juke was artlessly produced. Wills released one of his most popular recordings on the label in 1973. Wills' fantastically funky organ groover "K.C. Drive" remains the most collectable release on Juke, and was even reissued on 45 in 2006 by the perpetually cool London label Jazzman Records.
As the 1970s were winding down Wills was enjoying a career as a popular live performer whose music was featured on jukeboxes across the United States. But Wills had never scored a hit on the Billboard charts. That changed in 1979 when Wills landed an album cut from his Have Horn, Will Travel - Western Swingin' All the Way LP on the Billboard Hot 100 country chart. Wills had started dabbling in country music in the mid '70s with a series of 45 RPM releases on the Country International label based in New York.
Wills' improbable hit was a syrupy sweet rendition of the 1928 Carter Family chestnut "Wildwood Flower." The song entered the Country Hot 100 at Number 100 on January 13, 1979. It stayed in the Number 100 position for one week before completely disappearing from the chart altogether. A small victory, but a victory nonetheless.
The arrival of the 1980s brought a whole new approach to music-making and music promotion. MTV, hip-hop, drum machines and synthesizers redefined the language of popular music in America. Approaching 60, Wills largely withdrew from the recording industry, and returned to his first love: big band music.
In the early '80s Wills purchased the music libraries of the Ted Weems, and Eddie Howard orchestras, huge names from the big band era. And Wills took that music on the road. By all accounts it was an extremely successful venture. A September 12, 1982 article on big band music in the Indy Star lists Wills impressive touring schedule for the year, which included "nine weeks in Florida, in addition to tours around the Midwest, including as many as 28 one-nighters in a row."
Wills largely continued working in the big band style for the remainder of his career. Wills cut two CDs during the '90s, Swingin' the Blues With the Big Band Sounds in 1998, and Happy Holidays in 1999. To my knowledge, these were the last recordings of Wills' career.
While I am saddened by Wills' passing, there's no question he led a long and productive life. It was a life worth celebrating for sure, and the Indianapolis Jazz Foundation did celebrate Wills in 2009 when he was inducted into the Indianapolis Jazz Hall of Fame. Wills' name and legacy will continue to live on through the incredible catalog of music he recorded and released. Personally I'll miss my interactions with Wills on Facebook. He often punctuated my historically themed musical posts with his own anecdotes, and always encouraged me to write more. I appreciated those kind words more than he ever knew.