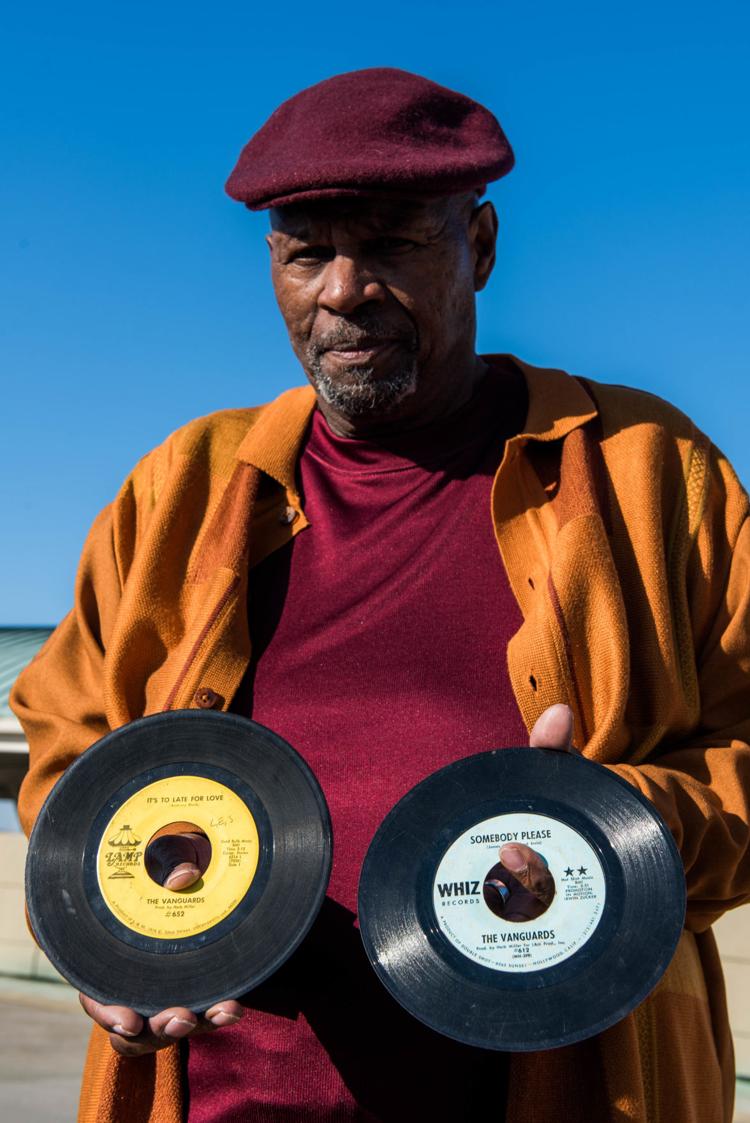 In late 2018, Now Again Records in California will release the first ever anthology of the legendary Indianapolis soul label Lamp Records. I have an abundance of NUVO coverage planned for the collection's release, including interviews with nearly every major figure associated with Lamp. 
To kick off this year of Lamp-related coverage, I want to focus attention on the label's first, and most influential release: "Somebody Please" by The Vanguards. 
For a quick comparison, think of The Vanguards as Indy's version of The Temptations. 
The Vanguards were led by James Davis, a dynamic soul vocalist who'd built his chops singing doo-wop in the halls of Shortridge High. After graduating from Shortridge in the early '60s, Davis spent a couple years overseas in the military. Davis formed The Vanguards immediately after returning home, and by 1969 The Vanguards were dominating the Indianapolis soul scene. 
Cue Lamp Records' co-founder and artistic director, Herb Miller, who'd heard The Vanguards singing at the now-defunct Dave's Lounge on W. 16th Street. With encouragement from the influential WTLC soul jock Spider Harrison, Miller signed The Vanguards to cut the first release for his fledgeling label. The featured track on the single was "Somebody Please", a devastating breakup ballad penned by Davis, with assistance from early Vanguards' guitarist "Cadillac" Paul Irvin.
Both Davis and Miller had high expectations for their debut effort, but neither one could've anticipated the song's incredible rise. "Somebody Please" was an immediate hit in Indianapolis, and quickly began to break into other markets. 
An Indianapolis Recorder article dated September 20, 1969 announced the song had hit the number one spot in both Columbus, Ohio and Orlando, Florida. That action attracted attention from national distributors. Double Shot Records picked the release up and issued an edited version of "Somebody Please" on their subsidiary label Whiz. By the end of the year "Somebody Please" had hit the Billboard R&B Hot 100, climbing all the way to #49 on December 9, 1969. 
"Somebody Please" set the gold standard for Naptown soul, and it's one of the most important pieces of art ever created in Indianapolis. The record's rapid ascent on the national charts is certainly impressive, but the enduring appeal of "Somebody Please" is even more compelling. 
Since its release in 1969 "Somebody Please" has maintained steady interest from soul music fans around the globe. In recent years the song has attained an almost viral popularity online. There are probably over a dozen YouTube users who've uploaded the original Vanguards' recording of "Somebody Please" onto the site. 
All told, The Vanguards' classic easily has over twelve-million views on YouTube alone. 
Through the years "Somebody Please" has attracted significant interest from R&B vocalists. The first cover of the song was recorded in 1969 by Billy Keane. Keane cut a mid-tempo take on the ballad for the Shreveport, Louisiana label Ronn Records. One of the more fascinating recent versions is by K-Ci & Jojo, lead vocalists of the iconic '90s R&B group Jodeci. K-Ci & Jojo recorded "Somebody Please" on their 2013 album My Brother's Keeper.
But, maybe, the most interesting embrace of "Somebody Please" has come from the Chicano community of East Los Angeles. The first major indication of the song's importance on the West Coast came from its inclusion in the beloved late-'70s/early-'80s compilation series East Side Story. "Somebody Please" also makes frequent appearances on the track-lists of copycat compilations like Lowrider Oldies and Shady Side of Town.
 "Somebody Please" has been sampled and covered by a wide variety of East L.A. artists. In 1997 the influential alt-Latin rock band The Blazers recorded "Somebody Please" for their Rounder Records' released album, Just For You.
 "Somebody Please" has also been sampled by numerous East L.A. gangsta rappers. The best example being Lil' Blacky's revenge themed take from his 2000 album Big Ballin'. Lil' Blacky's version inspired other chopped and screwed remixes of The Vanguards' ballad. 
You'll also find superb versions of "Somebody Please" from young Latina vocalists like Divina and Trish Toledo. A quick search on YouTube will reveal scores of East L.A. tributes to the song, including Spanish language versions, and videos featuring Spanish language subtitles. 
It's interesting how Los Angeles has adopted this Indianapolis creation as their own, while The Vanguards' legacy remains badly neglected here in their hometown. 
Neglected. Not forgotten. 
The Vanguards' work is still cherished by a generation of Naptown soul fans who grew up with their music during the early '70s. That point was illustrated for me personally last week. I had just pulled in to the Indiana State Fairgrounds for a DJ gig. I was blasting "Somebody Please" on my car stereo. The parking attendant looked to be around sixty-years-old, with a bored and tired expression on her face. That expression changed after I pulled up. 
"Oh my god! The Vanguards," she exclaimed. "I need to jump in that car with you!"
Look out for my interviews with Vanguards' founder James Davis, and Lamp Records' co-founder Herb Miller later this year in NUVO.