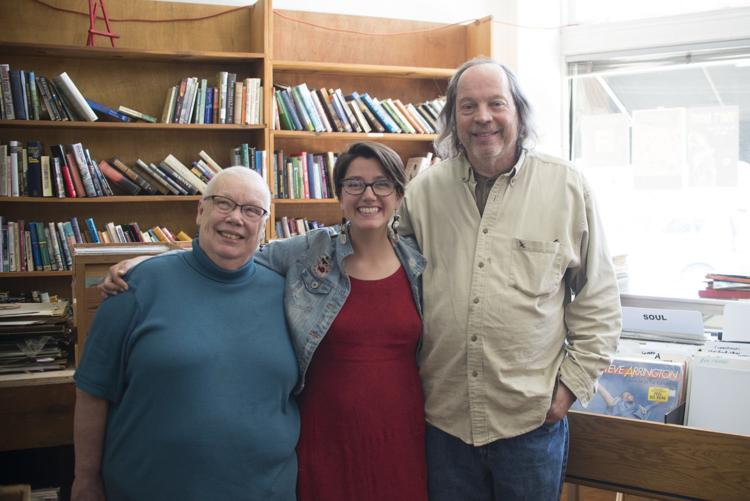 When Bookmamas and Irvington Vinyl announced their dual closing in March, book and vinyl lovers in the city certainly felt their hearts sink a bit. Luckily, this feeling will only be temporary, however, as the pair of shops has been purchased, and they are set to reopen under the new name Irvington Vinyl and Books this June.
Now under the ownership of local writer/community organizer Elysia Smith, the shop will continue with its legacy, offering up a unique selection of vinyl and books. Local vinyl collectors will be especially excited to hear that Smith has purchased a portion of previous Irvington Vinyl owner Rick Wilkerson's massive personal record collection to sell in the store, ensuring there's a "petri dish of what was in the shop to analyze and create continuity from." She's also made sure to consult with both Wilkerson and former Bookmamas owner Kathleen Angelone in developing her plans for the space.
"I have built up a lot of rapport with Rick and Kathleen over this process, and it's been wonderful," Smith says. "I really am spending a lot of time talking to them about what they did in the past and how I can ensure that the community Irvington Vinyl and Bookmamas supported before continues to feel supported, while also bringing in people that will invigorate it, grow it, and make it more dynamic."
Also the former owner of the often-heralded Missing Link Records (which was open from 1993 to 2008), Wilkerson is moving out of the city and will be focusing his time on other music-related endeavors. These include a book he's been working on for years and his record label, Timechange Records.
"My fondest hope when Kathleen and I decided to wind this thing up was that we would find somebody to succeed us," Wilkerson says. "It didn't look like we were going to, so we went into the liquidation. And then, right at the beginning of the liquidation, Elysia came to talk to us, and I was like, 'Wow. That would be awesome if we could figure something out.' Against all odds, it happened."
Wilkerson continues, "I'm just really glad to be able to look back and say it's still here in some form—that we didn't leave an empty space behind. There's a vital and probably growing business coming in here, [being run by] people with energy and youth on their side, and also a lot of knowledge. I couldn't be more pleased with whose hands it's going to be in."
This sentiment is one that's shared by Angelone, who first opened Bookmamas back in 2007 before eventually bringing Wilkerson's Irvington Vinyl shop into the space in 2014.
"I'm excited that she's young, and she has energy," Angelone says of Smith. "She has a vision, and she has passion. She can just move it forward. I had gotten to a point where I was becoming more tired, and I had some health issues. It was just getting to be too much for me. But I think this is just a match made in heaven to have her come in here, take over, and move it in her own direction."
In addition to operating as a shop, Smith also wants Irvington Vinyl and Books to act as a hub for creativity in the Irvington community. As a writer, she especially plans to open up her doors to book lovers. "I'm really excited about the opportunity the bookstore presents for me, especially after drowning in the literary community for the last year here," Smith says. "I plan to open up the space quite a bit, especially in that front room, to create a venue for poetry readings, book clubs, and all sorts of literary events." She also hopes to draw Irvington's younger generation into the shop as well.
"There's an elementary school a stone's throw away, and I want to make sure I'm in that school saying, 'This is how to become a writer,' to little kids, making sure their parents know that we're a resource just as much as we're a bookstore and a record store," Smith says.
Of course, the store will host its fair share of music events as well. With all of the programming she does at the shop, though, Smith has one primary goal. "I want to provide wonder with what I'm doing at Irvington Vinyl and Books," she says.
The city can expect to get a taste of this magic starting on June 30, when the revamped record store is set to open its doors to the community once again.