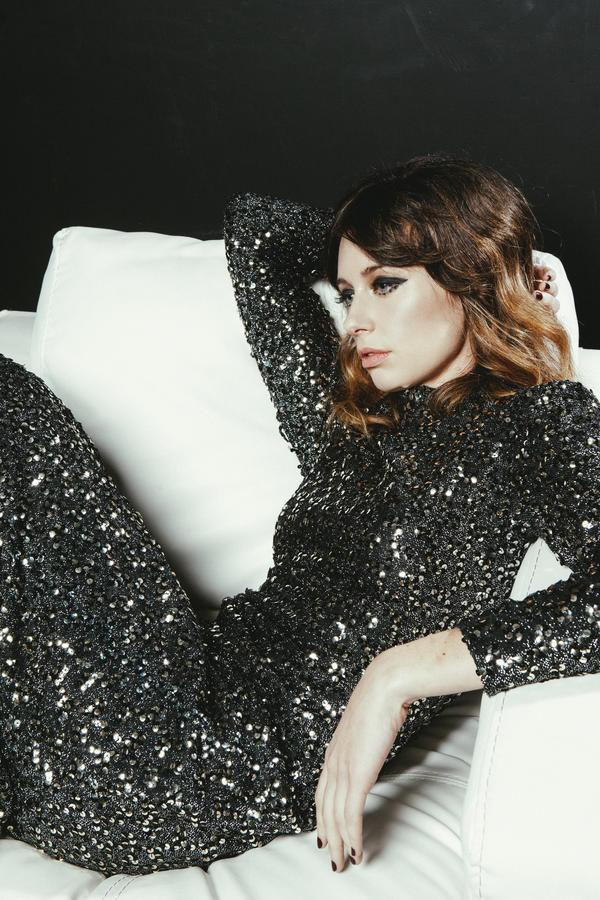 It's not lost on Lera Lynn that you could do something else with your time than come to her show. In fact, she considers it "a miracle" if you are there.
That's not a quote from an overly humble artist, nor is it steeped in sarcasm or self-deprecation. Instead, Lynn is keenly aware that the artist-audience relationship is something treasured, a gift that someone would use their time to listen to and support someone like herself.
The miracle of patronage, so to speak.
"This is something that I've been thinking about a lot this year as I haven't been touring a ton," says Lynn when we reach her before her show at White Rabbit Cabaret on Friday. "We've just been doing a few shows here and there, and I've been writing a lot instead. Stepping away from touring, the bit that I have, has really given me a lot of perspective on how amazing it is that people care enough about the music that you're making to go buy a ticket and drive their ass to the show and be there. I mean, that's a miracle.
"When you're touring and performing every day, you get tired and kind of take that for granted," she continues. "You're pulling every bit of energy you have just to get up and perform well, so you sometimes don't have the energy to step back and realize just how special all of those moments are. I feel so lucky to get to do what I do. The further I get into it, the more I'm trying to really be present and take this in, because it doesn't last forever."
Rosanne Cash's last album is an exploration of the (emotional, musical, historical) ancestries that shape us. She plays the Palladium this week. Here's our conversation.
Lynn hasn't toured as much in 2017, instead choosing to retreat to write for a forthcoming new album to be released in 2018, but that hasn't stopped her from compiling more and more live highlights. Most recently, she's returned from a successful fall tour with John Paul White, the male half of the now-dissolved duo The Civil Wars, and even a recent pair of sold-out shows in Russia, of all places. The latter appearances are the continued benefit of having appeared on the second season of HBO's hit show True Detective.
"My music was exposed, obviously, to a lot of people that it wouldn't have been exposed to without that experience or opportunity. Luckily, a lot of those people have stuck with me. They've heard the True Detective stuff, did a little digging and found the music that I have written from my own identity and liked it. Have become fans. So I feel really fortunate for that."
Two years after her appearance on the show, Lynn admits her involvement remains a mystery of sorts — she's uncertain how to exactly connect the dots that afforded her biggest career opportunity. (Another miracle, perhaps?) No matter how it happened, the shadowy singer-songwriter, whose music includes seductive riffs and rich narratives in equal measure, is very grateful for the platform.
"I'm really not sure as to how it happened," she says. "After all this time, the thing I've come away with is it is a giant mystery. I have a great manager, and she'd worked with T Bone Burnett on the Raising Sand album with Alison Krauss and Robert Plant. That's one of my all-time favorites. She'd been sending T Bone my music in the mail on CD for a while, I think, because she knew that we would work well together. However, T Bone will tell you that he found my music on his own, somehow, so that still is a mystery to me.
"I'm sure he liked the music, obviously, but I think in this business, your compatibility is kind of everything, and we were compatible from the get-go. At lunch, he said, 'I'm working on this series called True Detective. Have you ever heard of it?' I was like, 'Uh, yeah!' And he said, 'Cool, do you want to come to L.A. and write some songs with me for it?' I said, "Fuck, yeah!" So the next thing I knew, I was in T Bone's living room."
From there, things moved swiftly and organically, as one opportunity cascaded into the next. One minute she's a songwriter invited to help shape the soundtrack, the next she's appearing in half of the season's episodes.
"I think I was there for a few days," she recalls with a laugh. "I played them for Nic Pizzolatto, who's the writer for True Detective, and a producer and they were into it. Then T Bone was like, 'How about she's the girl in the bar singing the songs?' And they were like, 'Cool. Sounds good.'"
As Lynn comes through Indianapolis on a short Midwestern stint, she will be treating fans to some unreleased tracks as she works them out for a new album, for which Lynn is aiming for a "spring or summer" release. The songstress hopes fans at the White Rabbit Cabaret won't mind serving as musical guinea pigs.
"It's still too soon for me to know what songs are going to make the cut on the record," she says. "It's really helpful to play them for people, though, because I'll walk away from it and go, 'That bridge could be better', or 'That lyric is stupid.' I'm usually pretty private with the progression of my songs. I usually don't show them to anyone until they're completely done. But, hey, here's to turning over a new leaf."